(Pictures, of chickens are couretsey of SundownWaterfowl. Hope you enjoy them, and as mine become avialble I will post them as well... Thanks to SundownWaterfowl...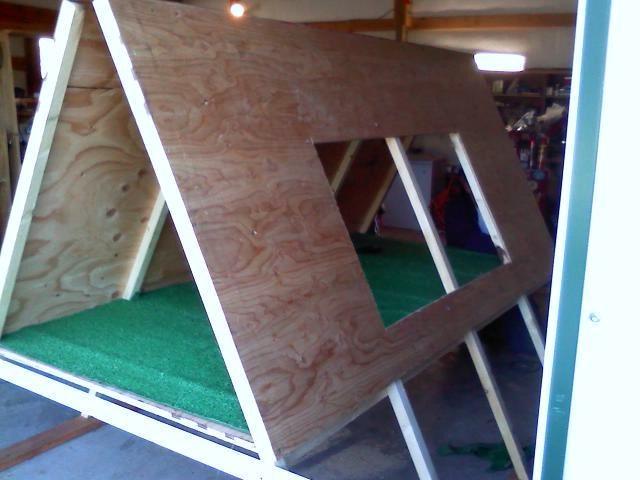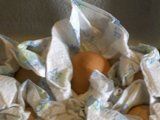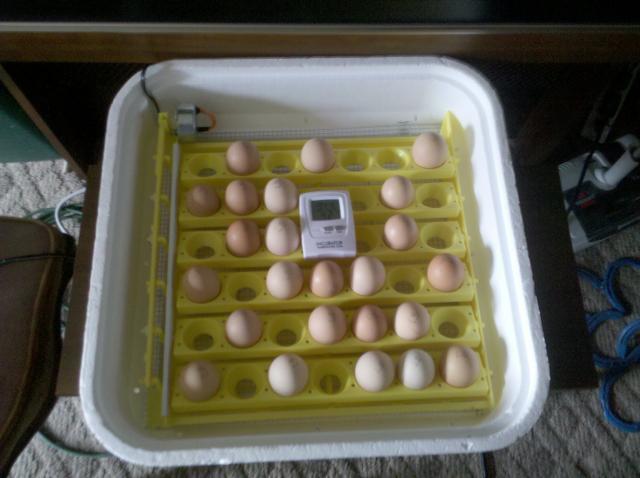 Pictures, from Left to Right, My Chicken Tractor (condo)...
, Me receiving eggs from post office, unwrapping eggs, after 24 hours at room temp. placed eggs in "Bator"...

March 29;
Wow, my last update was about 20 days ago... How do I know, other then the obvious, the dates. MY CHICKS HAVE HATCHED~!!! Yea us. Not all of the 24 however 8 have. While candeling I disscovered I lost one. Sad but a learning experience, which this whole process is for my family and I. Ok, so onto the hatch, started last night, late then continued throughout the day until we reached 8. Oh it's crazy how funny these guys are. They are clumbsy and then some. They have crushed each others heads while they were trying to sleep, which they do often. Running along, BAM, they fall on a head, noo big deal... I'm dying laughing. Any how, they are all feeding and drinking great, I had a friend over today who asked me why I had marbels in the water? I said because they could drown without it. She replied I've never had one drown, just then the chick that was wetting it's beek~ Fell dead ASLEEP right on the rocks...
The chick woke up and scurried off. I have a good size
brooder for them, at 1st I set the feeder accross the middle to block off half, I soon moved it because chicks were actualy climbing over it to cool down, so I think, Never the less they all seem to be doing great~!!! Come On The Rest Of YOU~!!!
In Reference to MY COOP~ The Tractor...
All the doors are assembled and installed, pictures coming soon. is just to keep the wood splinters off while I continue to complete this never ending process...LOL~ The green grass
It will require heavy tires, large, because of the size. If your currios it's; 4x8 around the top, one full sheet of plywood on each side, and 6 feet high overall. Built solid with joist under the floor next to the visible 2x2's you see verticle. Also 2x2 running the length of the floor under side. The 2x2's verticly are attached to treated 2x4's at the bottom. I'm 6'0 200 lbs and can lay inside.
If you would like to see more picture's, not of me lying inside
,... or have questions, feel free to contact me at

[email protected]

I'm glad to assist you.
While I'm in the early stages of building my chicken tracktor and having a good time doing it, there is a lot to learn in this process.
It seems every day that goes buy I have made changes to the coop, the hen boxes, repositioning or resituating things, etc. However, with that said I am winding down my finishing project.

I have recently found the breed I'm interestd in, Brahma's, probably 5 or 6 hens to start with. My coop has become larger then I first expected it however I am very comfortable with the sound structure, 5 hens is all I'm looking for and Brahma's are a large breed.
In the Pacific North West we have a variaty of unwanted creatures that are not going to be welcome in the feeding or roosting area, which I have addressed during the build proccess. One item I think I will venture towards is a small electric fence to run along the bottom wires which will be laying flat on the ground aproxamatly 12" away from where the bottom boards rest on the ground...
Update, March 9th; Recieved my eggs on Monday the 8th, Funny how that felt like me picking up a birthday package from the post office. Not that I was exciited or anything...
Brought them home aand took them out of the package and found NO broken eggs, how blessed is that? Let them sit out for 24 hours then plaaced them into the bator yesterday. The tepmperaature continualy went up and down, keeping me very frustrated trying to miantian a perfect 99.9 F... Finaly gave up and am happy to say they are sitting at 99.6 with little fluctuation in that temerature. Keeping my fingures crossed and praying everything goes well for ALL MY PEEPS~!!!
Well today is and the coop is not finished. lot's of changes were made, you'll see my pic's upcoming. Not major changes however, every change takes a few extra minutes. For example, I placed rectangle vents on the outside of each end, doing this ment repositioning 4 hinges, 2 on each end. Agian, nott much however, time consuming...It's all good~!!!March 1st
Tomorrow, I should be able to comlete everything, les the stain, paint, and decorative stenciling. This should be completed whithin the following week depending on the weather, fingures crossed..♥Febuary 20th, 2010


Well, until next time~ Roost~Ya~Later


One note here before I sign off tonight; The pictures of the Brahma chickens I'm curently posting are not mine. These picture are proprietary to Sundown Water Fowl.