The beginning of our BLRW's (scroll down for more current updates!)
In the spring of 2010 I ordered two batches of BLRW eggs from different breeders. One breeder had BLRW from the Lowell Barber line and the other breeder had BLRW from Bill Braden's line. I ended up with a pullet of each. Wynona is our L. Barber pullet and Willow is our B. Braden pullet. I think the type is better on our Barber pullet, but her coloring is more golden than mahogony. Our Braden pullet is gorgeous in her coloring. I also ended up with a cockerel from the Bill Braden line, but he had a single comb so he had to go. I then picked up a gorgeous BLRW cockerel from a local breeder and they were not sure of what line he came from. So we named him Wyatt and his coloring is a bit on the golden side as well.
We hatched our first batch of chicks from Wyatt and Wynona in November of 2011. Willow still isn't laying yet at 32 weeks!!! Along with our own eggs, we ordered two more batches of BLRW eggs to go in at the same time. We had one chick from the Foley's line hatch and another single chick hatch from an unknown line, and 5 of our own chicks hatch. I'd love to get some eggs from a quality breeder with the correct mahagony coloring this spring. Ideally it would be from a pen with blue and black birds, as all my BLRW's so far are splash in color. If you know of anyone with a pen such as this selling hatching eggs, do let me know!
Here's a shot of Wyatt in late August 2010: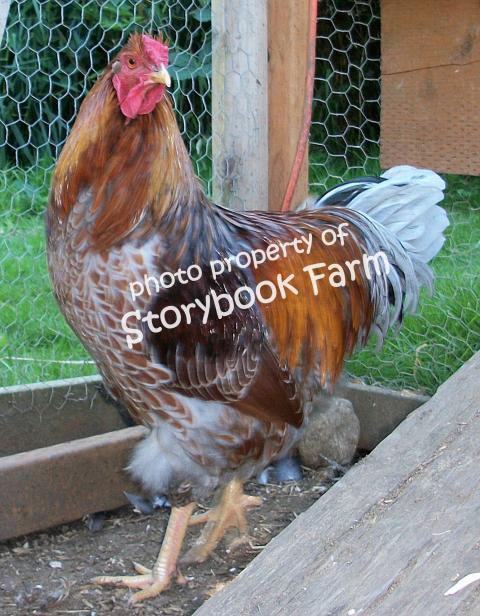 Wyatt in Jan 2011:


Here's Wynona in August 2010: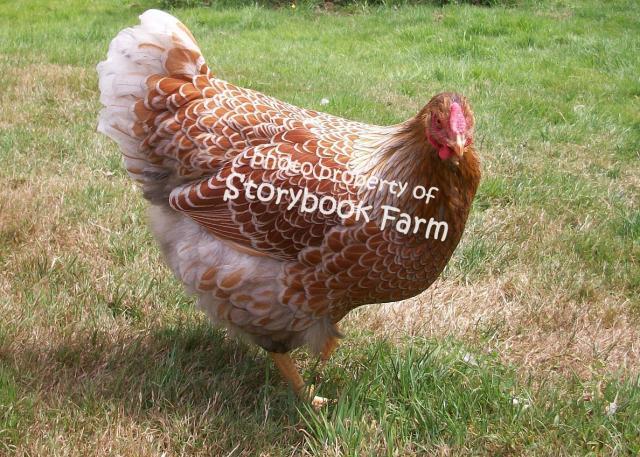 Oh! And let's see. Wyatt won Champion Large Fowl Cockerel and Wynona won Champion Large Fowl Pullet AND Reserve Best in Show at the Evergreen State Fair 4-H Show at the end of August 2010!
Here is Willow in Jan 2011:


Willow's lacing: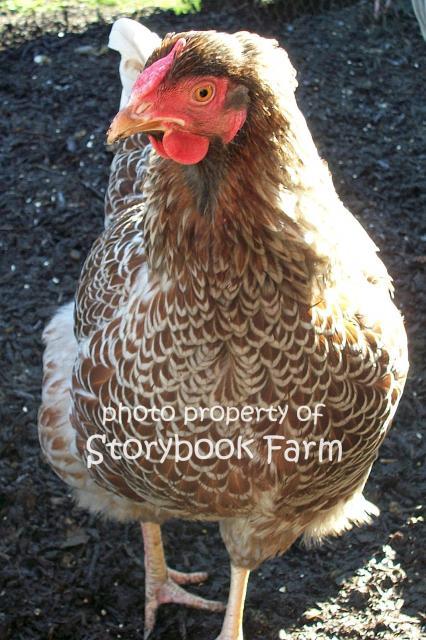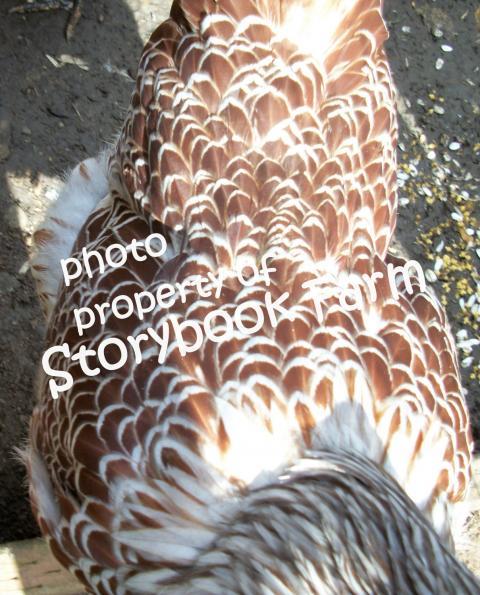 The girls, Wynona on the left, Willow on the right:


And some of the chicks we hatched out in November 2010:
This is the one Foley line chick we had hatch, with the yellow leg band:


The chick below with the orange leg band is the one chick to hatch from the "unknown line".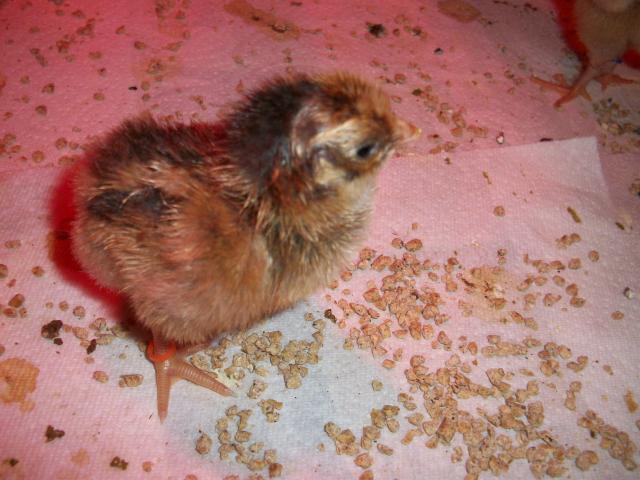 The other 5 BLRW chicks that hatched were all from our own Wyatt and Wynona eggs.
2011 News on our BLRW's:

Realizing that our flock appears to be all splash, I was anxious to get some color into it and began searching for someone willing to offload some darker chicks to me to help move our project along. In February of 2011, we acquired a few dark chicks from another local breeder. We came home with 3 dark baby chicks from fellow BYC'er Cowgirlgrace. Unfortunately, one little chick didn't make it after the long drive and ferry trip home. Then 2 months later, we lost another when the birds pig-piled in the corner while cleaning their pen, we had one break a leg and had to put it down. So we are down to one, and he appears now to be either a very very dark blue or black cockerel! We have named him William and here are two photos taken in June 2011. Still has a lot of growing up to do! But I can't wait to get him in the breeding pen! Breeding him with my splash hen's will create all blue chicks, IF he is actually black.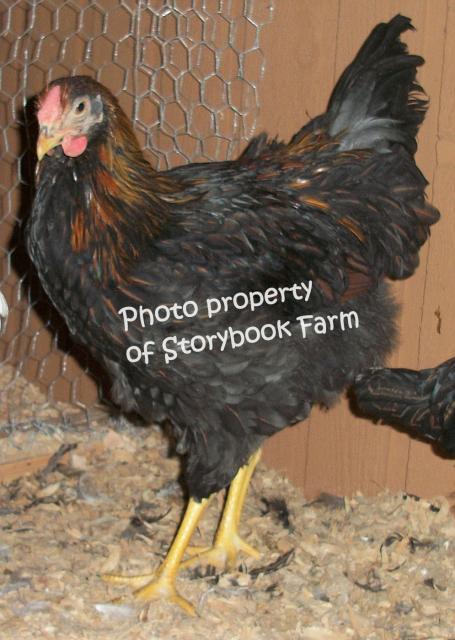 Also, some exciting news is that in hatching some of Willow and Wyatt's eggs out, we had some blue chicks hatch! Which means that Willow has to be a very light blue hen. All this time we thought she was splash! When we hatched Wynona & Wyatt's eggs, we only got splash babies, so it has to be her! Unfortunately we sold them all, so we will have to hatch a few more to keep and see how they grow out.
We also bought another batch of hatching eggs from a breeder who has birds from Foley's, Paul's Poultry and Blue Poultry and we have 5 chicks growing out from that hatch, two are definently dark chicks, one may be a light blue and two I think are splash.