Chicken Ala Coop


I decided to build my first urban coop when i moved from the country off of 2.75 acres onto a huge corner lot in a town with 1500 people. I got and idea while on byc one night for my coop and heres what it ended up looking like.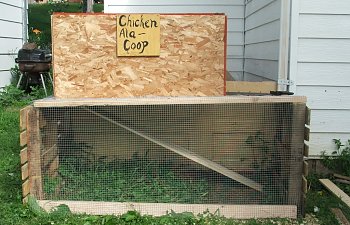 ​
Supplies
List
2 - 1 Inch Hinges($1.29)
1 - Pound Staples($2)
1 - Piece 3x6 Hardwearcloth($5.00)
2 - 3x3 pallets(Free)
3 - Sheets of 2x4 OSB plywood($10.00)
8 - 1x4x6($9.00)
2 - 2x4x6($3.00)
1 - House Door(Free)
4 - 2x2x2(Free)
Chateu De Coop
Here is my second coop thats attached to my other coop for new birds.
THE WHOLE SETUP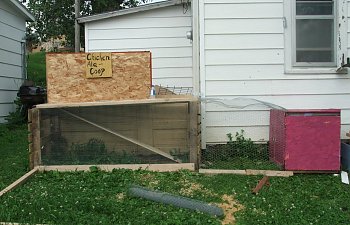 IN 20 DAYS I WILL HAVE SEREMA AND VORWERK CHICKS!!!!
CREATED JULY 13th 2009
​