BOSSY. RIP - October 29, 2009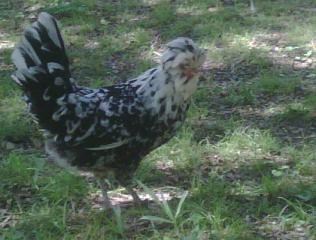 Bossy was ruthlessly attacked and wisked away by a red tail hawk with a wing span of 4 feet.
I got Bossy along with 3 other Mottled Houdans in March of this year when she was about a week old. The other four ended up being roos and were adopted by my dad. She was the lone Mottled Houdan in my flock of 4 Breabranters (2 roos & 2 hens), 4 BB Red hens, and 2 Buffs.
Bossy was my favorite. She was the last one to become friendly with me. It was a challenge getting her to trust me. She was also the first to start laying. I will miss her.
I love you Bossy. You will always have a place in my heart.