Hi, I'm Beth. I grew up on a small farm in rural Carroll County, Ohio. I grew up with a huge family (my dad is one of 12 kids and my mom is one of 4). Most of us are very close and I love that. I am so blessed to have such a closeknit and loving family. I wouldn't know what to do without them!
​
My immediate family: Dad, Mom, Kim, me, and Bob



This is my dad's side of the family: 10 of his 11 siblings, their spouses, and many of their children and grandchildren. We're scattered throughout several states but still try to get together when we can.



The Herrington Girls: Mandi, Kim, me, and Marie. Sadly (and happily at the same time), I am no longer a part of this elite group, since I no longer carry the Herrington last name.

Growing up, we raised hereford and herford cross-bred beef cattle, as well as pigs on my parents' farm,and we also make about 200 acres of hay. I was active in 4-H and FFA and went to The Ohio State University and earned a degree in agriculture.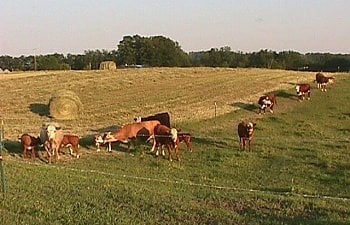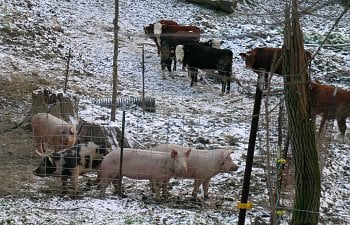 Now I'm back home in Carroll County working in a job that I enjoy most days - I get to help farmers with planning grazing systems for their livestock in 6 counties in Eastern Ohio. I love helping the farmers. I've met some wonderful folks through my job.​
​
I started dating the man of my dreams in May of 2006 and we were married on June 28th, 2008 on his grandma's farm. We grew up 5 miles from each other. I've always known who he was - he played little league ball with my younger brother! We ran into each other after I came back from college and got to talking and there was definitely a spark there, but we both were afraid of the age difference, so neither of us said anything. A few months down the road, he started flirting with me at a tractor pull and pretty soon we were inseperable. Even though we both told each other that we wouldn't have much time to spend together with both of us working fulltime and helping our families farm, we ended up finding a little time to see each other each day. We both felt truly blessed to find in each other someone who loved to farm, placed high importance on family, knew how to work hard, and shared the same values and faith.

We bought our first home on Jan 30 2009. We own 42 acres, a house, and a garage. We have chickens, pigs, and 2 beef steers here right now. We have cattle at my dad's farm and hope to move them here after building more fence this spring. More than anything we wanted a farm so we can raise our livestock and eventually a family. It is important to us to raise our children on a farm where they can learn real life lessons as well as the meaning of hard work. I dream of eventually being a stay at home mom and trying to help support our family with products we can sell off the farm (beef, pork, chicken, eggs, as well as craft items). For now we try to be content making hay on about 250 acres for his family, helping my family make about 200 acres of hay, and helping both our families with their cattle.

We are both volunteer firefighters. We love being able to serve our community in this way. It is heartbreaking every time we see a family lose their home (and it's even worse when someone loses their life - fortunately we've only experienced that once since we've been on the department), but it is fulfilling to be able to help in some way.

Quick facts about me... I love spending time with my husband, spending time with family & friends, working on the farms, animals, camping, photography, quilting, hiking, 4-wheeling, truck and tractor pulls, drag races, Chris LeDoux's music, helping out a neighbor or friend, county fairs, reading, looking at the stars, Wild Cherry Pepsi, baking, cooking, and many other things. I am completey in awe of the beauty of God's creation all around us.