​
​
​
Designed, Developed, and Built by Louie Renew, Deborah Hoover, and Ricardo at Deb's Place.

​
I was at work one day, when I met a fellow co-worker, named Deborah Hoover. We immediately became friends after learning about each others enjoyment of raising Chickens. Deb wanted a really cool Chicken Pen and I liked to build / design things. She wanted it done before she deployed to AFG and I had some Army leave time to burn. A cute chicken pen with a turkey pen attached is what she desired, so I drew up a PowerPoint Decision Brief for my friend Deb to make this desire happen. It was during the construction phase of the V.I.Peep Lounge that Deb found the website www.backyardchickens.com. This website began to create more ideas for the final outcome of the structure. Deb wanted a water reclamation system so that she could turn on a faucet that came from the holding tank which would then feed each of the watering pans.
​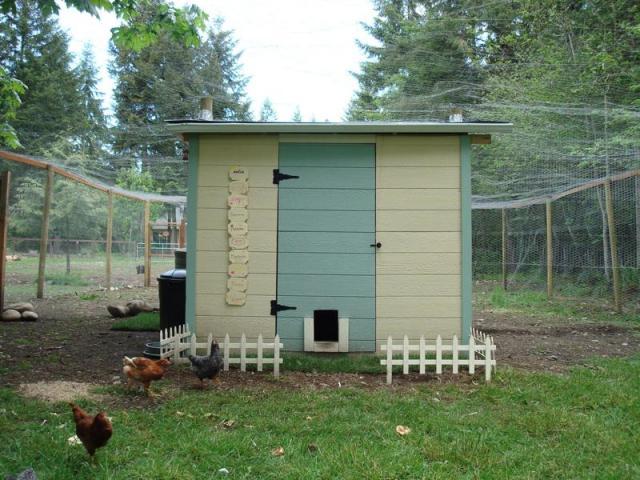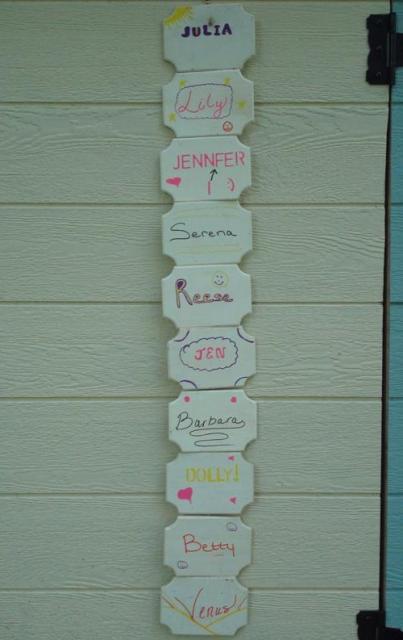 Deborah decided to name all the chickens and to post their names on the left side of the chicken house. Julia ended up not being a chicken, but a rooster and is now called Dick.
Deb also added a white picket fence, set of wind chimes, and a thermometer. The first day that Deb was painting the fence the Rooster formerly known as Julia, decided to crawl under the fence getting all of her feathers white. The chickens were climbing all over the fence and Ricardo and I were laughing.

The chicken shack is 8 feet wide, 7 feet high and 8 feet long on the inside. The door is 2 1/2 feet wide by 6 feet tall. The complete poultry enclosure (fondly called a Pterodactyl Pen) is 38 feet wide by 86 feet long by 8 foot high. A thick strand of wire was attached to the top of each pole making a web above to role out the chicken wire onto. The chicken wire was then attached to the frame along the top of the poles.
I installed gutters to collect the water on both sides of the structure. The water is collected from off the roof and makes a corner to run down on the side of the structure to a rain barrel. The downspout collects the water from the gutter which then is gathered by a valve. The valve is connected to a pipe which then goes to the rain barrel. If the barrel fills up with water, the valve then dumps the water onto a small stream bed (dug and rocked by Deb) which travels through the Turkey pen. There is a spigot at the bottom of the rain barrel with two hoses connected to it that run to the Turkey and Chicken watering pans.
Deb did all of the painting. She painted all of the out buildings around her house in the same trim colors, so everything looks super cute around her place.​