I have three locations. The main chicken house, the Nursery and the Silkie Chalet.
The Main Chicken House
Even though we are zoned Agricultural and live on 4 acres, the lady who owned the farm and still lives in the main house established some standards. One of which is that each property is to have only one detached out building. I have a barn and a Shed. So when building a Chicken House, I wanted it to be low profile and appear to be an addition to the shed. I love this Chicken House because I built it with my Dad. He died October of 2006 and this was the last project that he and I worked on and it will always have great memories for me. He was a Carpenter / Painter by trade and always insisted you never cut corners. Specs are as follows:
4 ft. high at the tallest point

4 ft. wide

12 ft. long

The roof, floor and walls are all studed out with 2X4 16 inches on center

The interior walls are made of plywood

The exterior walls are made of T1-11

The roof and all walls are insulated with R13 insulation

Electricity run from the shed with a switch being in the shed

Light Ficture on a timer when needed

Has a storm window in the end

Roof and Floor is made of 3/4 inch treated plywood

Floor is covered with vinyl flooring for easy cleaning

Roof has 30 year shingles to match the house and shed

Rain Gutter on the front with water carried under ground out into the field

Egg entrance in the back

6 nest boxes

Inside 16 ft of perch (4 inches side up)

1 Chicken Entrance

2 Human Entrances for cleaning and feeding

On the front under the roof overhang, there is a Screen window for ventilation
I was fortunate enough to come across a office remodeling job. They were removing all of the interior walls which were built with 2X4 studs. I was able to have all that I wanted which really helped with the expense of this building. My Dad being in the business had a lot of extras laying around that went into this as well, like the little storm window.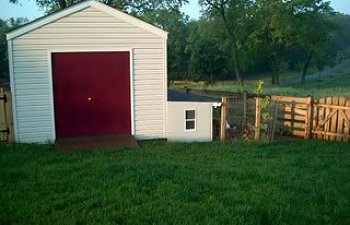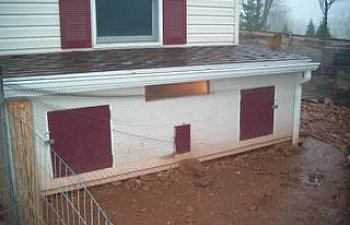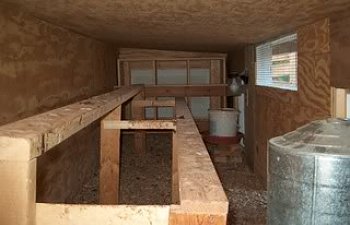 Helpful Hints to you -
If you are thinking about building a chicken house, read through BYC I got a lot of ideas and gotchas to avoid by reading BYC. Don't be ashamed to go Dumpster diving. You can get a lot for free.