Maison de Poulet de Bayou
"Bayou Chicken House" at Easter Creek Farms
This coop does not come with sketched out design plans...but hopefully what you can glean from it is some ideas of how to repurpose found items creatively to make a functional coop. As soon as I priced hardware cloth...I knew we were going to have to take a less-than-traditional route when building our chicken house! I tried to make an accurate list of items used so your creative juices can start to flow!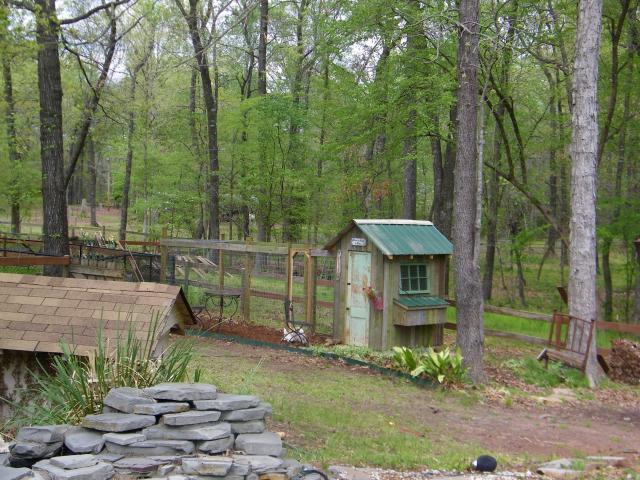 The view above is what I see from my kitchen window...in the foreground you can see the waterfall that goes to our pool. I can keep an eye on my hens from the house which is nice.
Well, I did it...I talked DH in to building the coop of my "vintage/repurposed" dreams. How, you ask? Well...by telling him two very important details...one-it would help clean out his workshop of scrap wood, etc so he would have more room to work on his 54 Chevy...two-it wouldnt cost us anything because we had enough salvage to build my design. I was almost 100% honest...almost.
I wanted my coop to have some "Louisiana flair". I have always been intrigued by the Ron Atwood paintings that decorate local restaurants and offices in Louisiana of little candlelit cabins on the bayou with spanish moss framing them so perfectly. So...after a couple of sketches using some architectural salvage we had laying around as the design base...construction started.
Some coop details...4x6x6 house with (3) 14"x14" next boxes. We plan on having a 6x20 foot run and also letting them free range while we are outside within the confines of our fenced backyard and patio area. We are working only with reclaimed and free supplies...so we had to get creative. My favorite parts are the antique door and window that will be installed.
​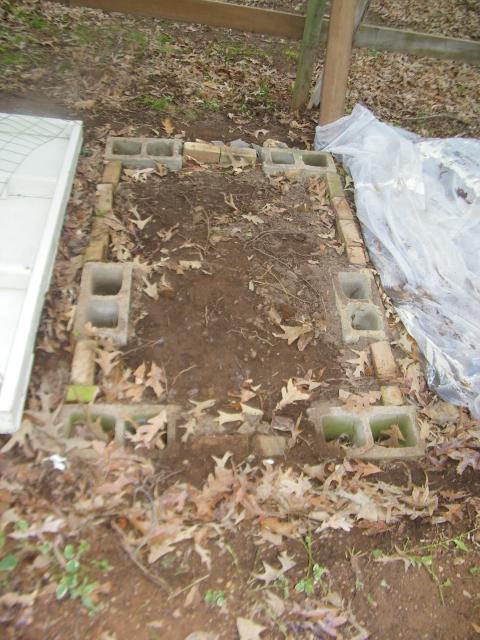 Here are some photos of the beginning stages of the coop project....notice we attached wire to the underside of the floor before flipping it over. This piece is constructed with a single piece of scrap marine grade plywood that was 4x6. We dug a trench about 6 inches deep and placed and leveled bricks for this floor to sit on. After painting the floor, we installed 12x12 tiles that were left over from a coffee shop remodel that we did a couple of years ago with flooring adhesive. The floor also used scrap pressure treated 2x4s for supports underneath- also found in our barn ...this entire bottom section, although pressure treated, was painted with left over exterior paint.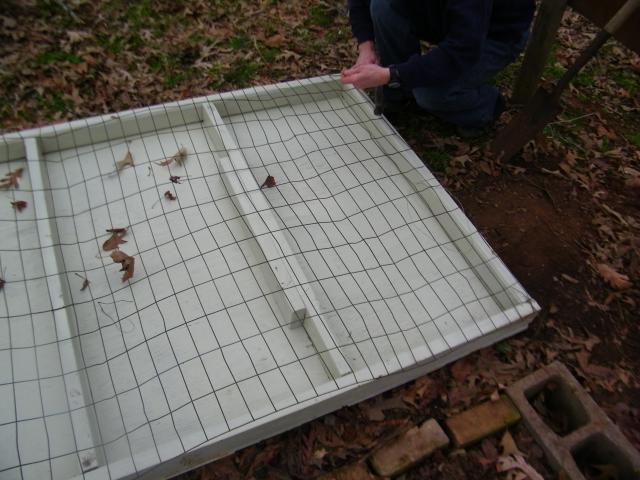 My son got in the action by helping paint the framing...The exterior will be be pressure treated, but all the framing above floor level is not, so we are covering it with a coat of good exterior paint.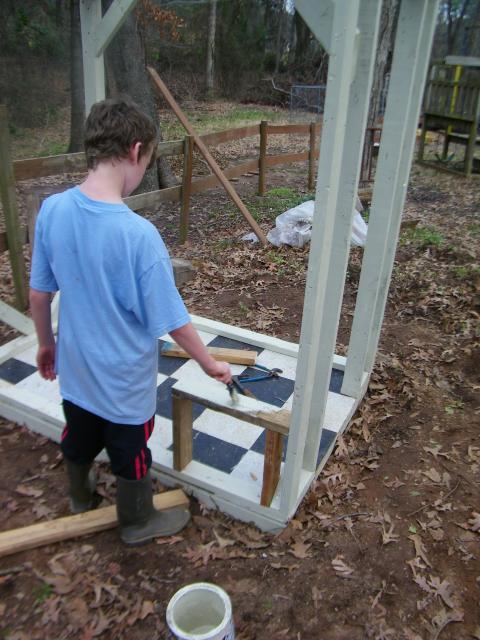 The coop has rafters and nest boxes in place! Yay! The rafters were from some scrap 2x4's that a friend of mine had left over from a remodel. I put a request out on Facebook to a all my realtor friends asking if they had any investor clients in the process of remodels who may have some scrap lumber they would like picked up to help clean up the site. I got numerous responses...but only a couple that had wood that was long enough for us to use.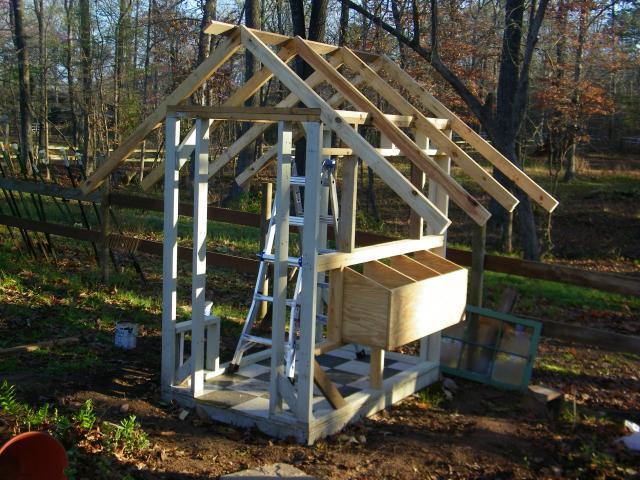 We decided to take down a section of three rail horse fencing on the back of our property when we combined two paddocks. From this, we got numerous 8' and 10' pressure treated deck lumber which had been used for the fence rails. We chose to side the chicken house with these boards.
The green metal roofing was left over from a horse barn addition. DH had to cut the pieces to length but he fixes airplanes for a living, so cutting metal was no problem. We used this material on the roof and also on the roof "hatch" that lifts up over the nest boxes.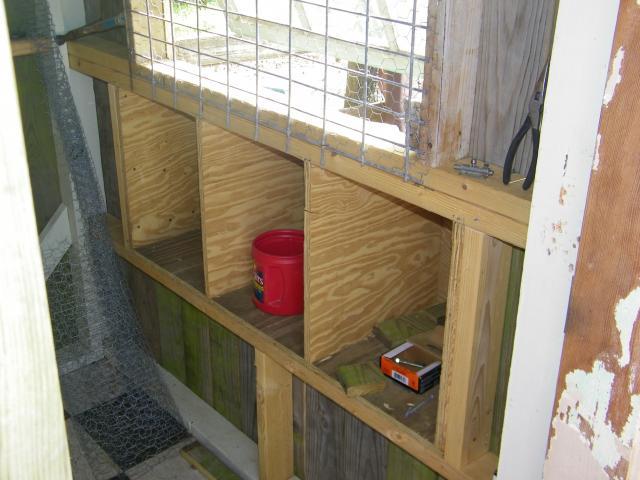 The window is lined with both heavy duty livestock panel and chicken wire for when it is propped open in warmer weather. The entire area is completely shaded with old growth hardwoods...and even in the hottest weather, the hens will have natural shade.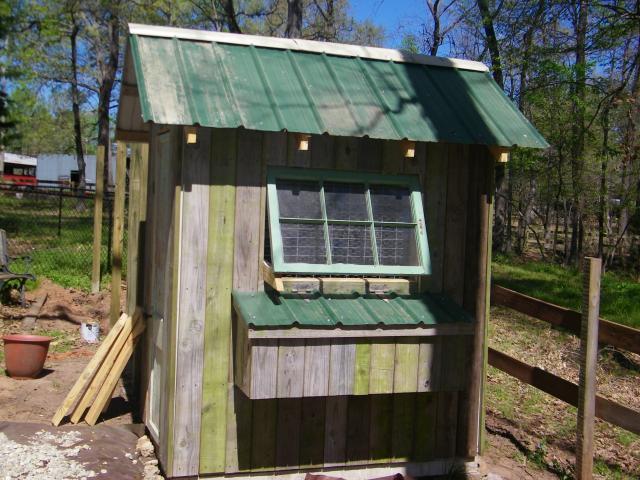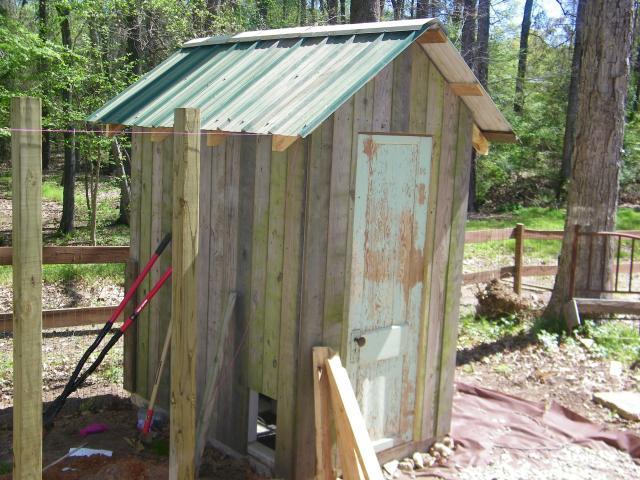 We have started on the run and chose 2x 4 welded wire. Has anyone priced hardware cloth lately? Sheesh! Anyway...the run will be 6' widex6' highx20' long. I want to be able to stand up inside to clean. We purchased 2 50' rolls of 48" welded wire and six 8' 4x4's. This is all we have needed to purchase so far(fingers crossed). The run will also be covered to protect against hawks. We arent sure how we will do this yet...but we will incorporate some shade cloth that we special ordered for our barn and did not use. It already has the grommets for lacing. We buried the fence 12' all around and then bent several inches of it outwards some to form an apron. Once that was done, we dropped rocks all along the perimeter before packing the dirt back.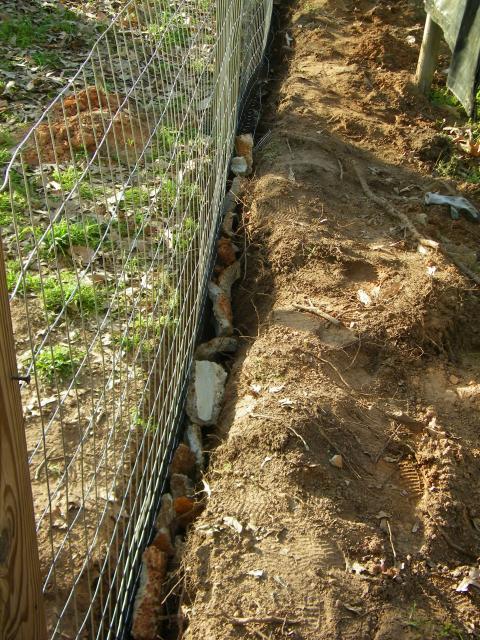 DH made what I consider an ingenious come-along out of a more rigid livestock fence panel scrap to assist with stretching the welded wire fence on the run. This same 2x4 fencing will cover the top of the run as well.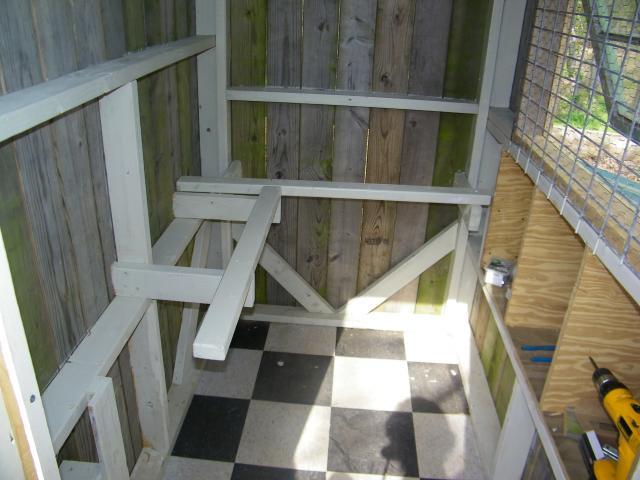 Just a look at some of the perches that have been installed. What is still missing in this photo is the "assist perch" in front of the nest boxes and the lip to keep eggs and bedding in the boxes. One more perch will be installed at about mid-window height.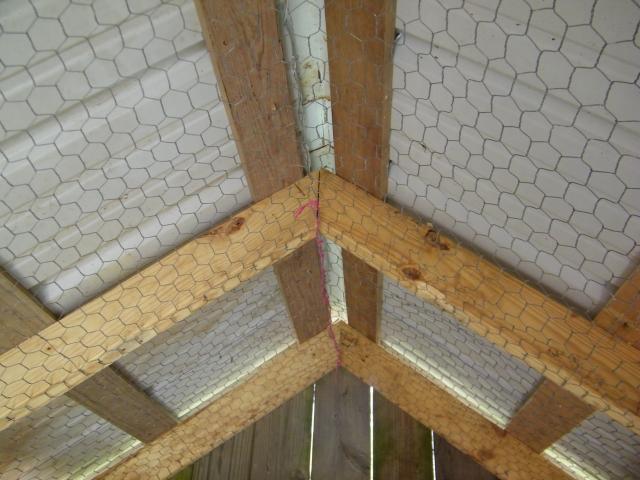 There were virtually no spaces large enough to worry about, but as an extra precaution we went ahead and lined the ceiling with chicken wire anyway.

here is an interior pic of the pop door. The rope will pass through the front wall so it can be opened and closed without entering the coop.
We have more than one barn, and for you barn owners out there, you know how things tend to "accumulate". We were able to ust about complete this whole project with found objects and some creativity.

List of Supplies

bricks that served as base were from a hearth that we tore out during a remodel of our home.
(50) 10' pressure treated deck boards reclaimed from paddock fence we removed-used for siding, some structural, and perimeter of run fence
14 scrap 2x4's ranging from 6' to 10' free from various sources some pressure treated some not
4x6 piece of leftover marine grade plywood used for constructing stall walls in barn(used for floor of coop).
various other scrap pieces of plywood used for pop door and nesting box construction. The bottom piece of the nesting box is the only pressure treated piece in the box construction. All the plywood we used was left over scraps from building stalls.
The roosts were made by disassembling a ladder that was used for my son's old platform bed.
various 1x4 scraps to attach roofing to rafters
24 sq feet of vinyl floor tile squares free from previous project. We also had saved half the bucket of flooring adhesive...
vintage window found in barn
vintage door from theater set tear down(it is a 6' door..someone cut it down for the set design and it worked so much better than an average 7 foot door for our needs)
1/2 a roll of 4' chicken wire left over from kitchen cabinet door reface project
1/2 gallon exterior off white paint left over from painting horse jump standards
various pieces of McElroy green metal roofing product left over from the construction of our covered arena along with a few cap piece scrap. my husband cut the metal to size
hinges for nesting box lid from old stall door
hinges for run gate and coop door from old stall doors
hinges for large window from old stall doors
hardware used to create pulley system for pop door was found in box in tack room.... O-rings used for horse cross ties and hanging water buckets
The rocks we buried along the fence perimeter were actually large chunks of concrete that we busted off of fence posts that were part of the same paddock tear-down that we got the fence boards from.
The only items we have purchased were six 4x4x8' (
6.97
each at Lowes)for run posts and 2 rolls of 50' x4' welded wire fence (
37.00
each at Lowes). We also purchased a couple of sacks of quickcrete for the posts.
We used galvanized deck screws and horseshoe type fence nails for most of the construction that we already had on hand.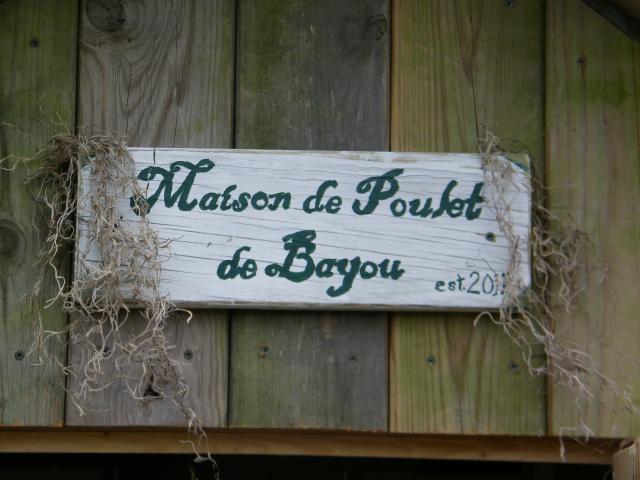 J
ust a quick note...we will lock the hens up at night in the chicken house. Future "upgrades" include placing abotu 4' of roofing over the section of the run closest to the coop to provide shelter for food and the hens in the elements if they choose to go outside. We also have a 4x10 foot piece of heavy duty shade cloth that was custom sewn with grommets to fit on a section of our barn that we no longer use. We may or may not use this as part of the run covering. It would help during light rains, but since shade really isnt an issue..it may just serve as a leaf catcher which isnt appealing. We will monitor the temps in the house this summer and will consider installing a solar vent fan if we feel it is necessary for ventilation. We have gutters that we will install this summer and once installed I would like to place a rain catchment system behind the coop for watering purposes. Although we have water access near the coop...it would be a way to conserve(since we dont practice much water conservation with the pool!).
​