From our first married Christmas. I didn't have that many cookie cutters yet. - TheChickenLady
​
Aunt Florence's Christmas Cookies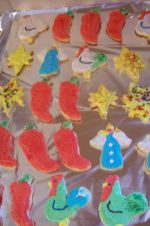 Cookie Dough
3/4 C. shortening (make this amount a combination of shortening and margarine)​
1 C. sugar
1 egg
1/4 C. milk
2 tsps. baking powder
3 C. flour
3 tsp. vanilla extract
Dash cinnamon
1. Combine all ingredients.
2. Roll dough on floured surface to thickness appropriate for cookie cutters (~1/4").
3. Place cut-out cookies on greased cookie sheets.
4. Bake at 400 degrees for approximately 6 minutes. Oven temperatures vary, so watch closely. They should be slightly golden.
Frosting
1/2 C. shortening
3 1/2 C. confectioners' sugar
5 tbs. milk
1/2 tsp. vanilla
1. Combine all ingredients. Beat until smooth.
2. Divide into portions and mix in food coloring as necessary.​
Images copyright. All rights reserved.
This page was created in Notepad by Angie.
​