My name is Marcy. The screen name "" is from the PBS tv show Between the Lions. In every episode, they have a story about Chicken Jane. My kids like the cartoon chicken. chicknjane
On May 13, 2009 I brought home my first baby chicks, a 1 week old Sex Link Rooster (Roaster), 2 day old Red Sex Links (Henrietta and Zelda) and, (Oops) 2 Buff Orpingtons (Hanna and Pixie). The Ag center made a mistake and gave me 2 BO's instead of Sex links. I spent countless hours on BYC's website and Reading Storey's Guide to Raising Chickens, Chicken Health Handbook and a couple other books I can't remember at the moment. I read somewhere that roosters need 8 - 12 hens to keep them happy so on June 10th when I was offered 2 free Gold Laces Wyandotte pullets (Goldie and Sylvia), I had no reason to say no. Now these birds have single combs, not rose combs, so they are not genetically perfect, but they are beautiful to me. I soon realized that Sylvia was developing a bigger, redder comb. Yep, Sylvia was actually Sylvester. So with the tiny little 16 s.f. coop that we had already out grown, there was no way to accommodate 2 roosters without building a bigger coop. I was already in love with Sylvester so there was no getting rid of him. So by July 8th my DH had delivered a beautiful 8 'X 10' coop. I then got three more Red Sex links (Eloise, Madaline and Cleo, a.k.a. the triplets) hoping that 8 girls would be enough for 2 roosters. We then adopted a 1 y.o. Australorp and her 12 mixed breed babies, 2 were carried off by hawks, 5 are pullets (Sasha, Red, Esmerelda, Rouan, Rowena) 5 roos (meat) and we were given 6 barred rock/plymouth rock/partridge rock mutts from my husbands friend 4 pullets (Lucy, Ethel, Jewel and Roxanne) and 2 roos (Rocky and Splash) all by July 28th. Then on August 5th I received 15 meaties. Unfortunately, 10 died within 24 hours of receipt for unknown reason. We converted our old shed into another coop (#3) and on October 20, 2009 received the 25 Pullet Rainbow pack from MPC. (My husband loves a good deal and so he couldn't let me pass it up.) 10 birds get processed next week and the triplets were given to a friend who lost his hens to a weasel attack. The triplets were a little mean to my preschoolers, so it was a win/win situation for us. By now, I have lost count and my mind.
Roaster

in the wild flowers

Goldie

and

Sylvester

(fromerly known as Sylvia)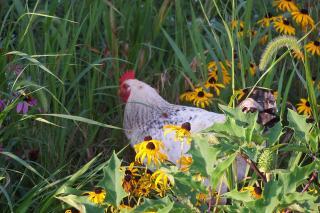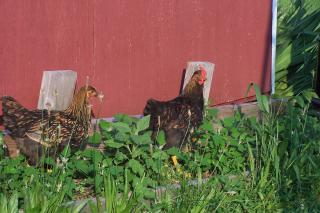 Here are the 25 Rainbow pullets from My Pet Chicken I received 10/20/2009. I have no idea what they are and I'm as excited as a child at christmas just waiting to find out what breeds they grow up to be.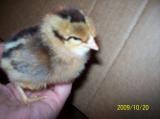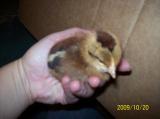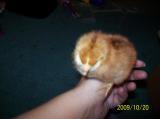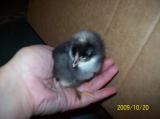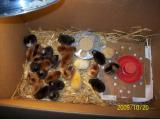 We have named our little homestead

Fuzzybutt Farm


We have three chicken coops #1 for the meaties called "

Coop de grace

", #2 for the forever chickens "

Coop de villa

" and for the newest layers "

Coop d' etat

" though they will never really over throw the permanent members of the Fuzzybutt Farm, there will always be a constant changing of regime to maintain a steady laying of eggs.
We do not intend to sell our eggs, we just want to be able to provide our family, friends and neighbors with a supply of eggs and have enough to give away to anyone who needs fresh eggs.