Welcome to the Coop Library!
​
We decided early on that chickens, especially Literary Ladies and Bookish Boys, deserve adventures and grass- two things they just can't get stuck in a stationary coop. To that end, we designed a traveling home for these oh-so-special birds. So now, when the chickies eat all the grass in their yard, we simply hook the Coop Library up to the truck and move it on to some new, fresh grass- and fresh ADVENTURE!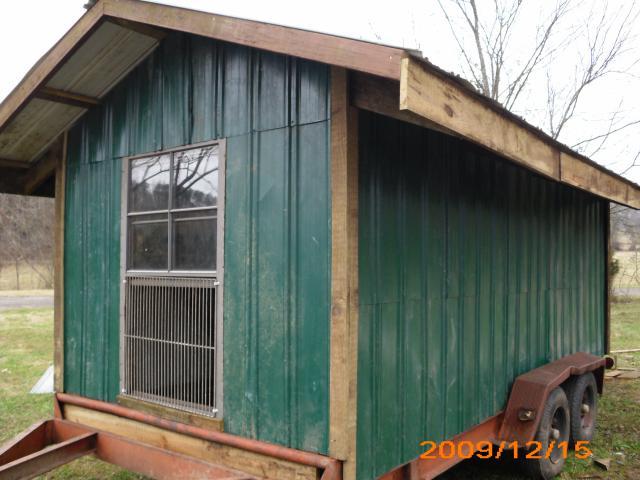 ​
The plan: Create a movable home for the chickens, complete with a yard, 2 sections, and all the other goodies.
The materials: Luckily for us, my grandfather never let's anyone get rid of anything and it finally came in handy! The only thing that needed to be purchased for the ENTIRE coop was a bag of metal roofing screws.
old hay wagon: free

stacks and stacks of wood: free

25 sheets of 20 ft tin roofing: free

2 doors: free

window: free

nails and screws: free

old shelves: free

nest boxes made from old beehive boxes: free

gate: free

fencing: free

roof turbine: free

55 gallon drum: free

1 bag metal roofing screws: $15

labor: $250 (thank heaven for my friend, Danny Do-All)
Total: $265
Next Page: T[FONT=times new roman,times]

h
e Framing