As our girls grow faster and faster we in turn work harder and harder, rushing to get their coop done. They are still angels, nestling on the side of their box quite content to simply watch the happenings around them. If one of them accidentally loses her footing ending up on the bathroom floor, they all let me know in a harmonious cacophony that I need to come and help them back in. I must admit I do love how they call out to me.
http://3.bp.blogspot.com/_z5C22BmhDXE/SjlZwG_LhJI/AAAAAAAAAk0/e8cb6z4L5u0/s1600-h/Chooks-1.jpg
Anyway onto the coop. After I spent hours looking at photos on the internet, admiring different coop designs and aesthetics I came to Ethan with the basic needs and my "wish" list. He then sat down and sketched out a preliminary design.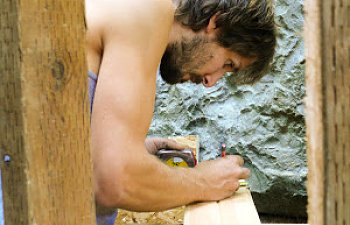 Let me mention right now Ethan had never built a coop before and scarcely glanced at the ones I had so painstakingly selected. Knowing his standard of excellence is as my own I decided to simply step back and let him go for it. Here is the work in progress.
http://1.bp.blogspot.com/_z5C22BmhDXE/SjlX_TokZbI/AAAAAAAAAkU/LxXKMEJA0uw/s1600-h/Coop-1.jpg
Ethan let me purchase a few "must haves" from the ReStore including shutters for their ramps.
And this lovely red window for light.

Ethan puts such time and care into all that he does. Already it is taking shape and I love his design. He is patiently giving me my way on the aesthetics allowing knobs here, trim there etc. Me and the chooks are pretty lucky girls!
Did I mention that my husband is amazing!