This is my recycled coop. The materials we used was either something we were no longer using any more(rabbit hutch), Left over chicken wire from another project, and the "coop" was from a neighbor up the road who was going to throw it out due to the dog chewed on it a little and the front doorway was broken in half. So our MINI-COOP RUN cost us a total of $5 dollars!! only because hubby forgot to bring home more staples and had to buy from local hardware store.
This was put together
in just a day's time. From a 10' 5 compartment rabbit cage that wasn't being used by us anymore. And a Play house that was headed for the garbage hole. All it took was some staples to fix chicken wire to top of run and screws for the wood, house, and windows.
my chickens love it.
this is after all screwed together due to missing end clips and to make sure it is seccured.


We put the inserts from the rabbit cage over the windows so the birds could look out and have air flow when nice.
This is how it looks from inside looking out.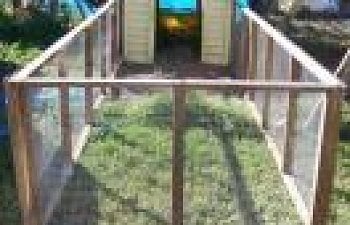 This is a straight shot at the run. We used the top and bottom of the rabbit cage (10') for the lenght and at the end we used the final 2 inserts from the rabbit cage. We plan on later putting hindges and a latch to be able to let birds out and in.


This is the most finished shot I have that at least turned out. We put a piece of fiberglass as a door access to pull out the water and clean them out. We have an access thru the roof of the "coop" itself if we need to. We installed 2 roosts. And a heat lamp for the really cold nights we can turn it on for them.
We plan on adding a nest box to the out side of one of the windows, if we plan on keeping "bigger" chickens in it. My hubby put it together mainly for the young ones that we are raising up before they are "big" enough to run with the big birds.