My Family and I live in the mountains of Northern Idaho near the Canadian border. In trying to be self sufficaint we decieded to start a small farm our first step is chickens!! We just finished our first coop and I decieded I was totally in looooove with BLRW and have to have my own therefore we have started on our second coop for just them! My husband is a contractor so my coops are going to be insulated and fully electrical! I am excited to say that I am building my BLRW coop myself! And I am going to start making "smallish" coops to sell! Here are a some photos of the first one I sold and my unfinished first coop.. I'll add some of my BLRW coop when I get it finished!
Here is a photo of a coop I made for my mom my BLRW coop looks just like it I just added 4 Large nesting pop out boxes to it.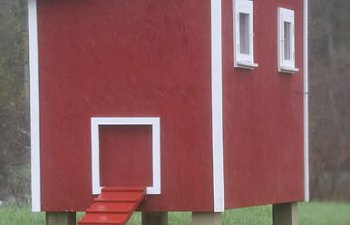 and an interior photo of my BLRW coop.