Erin's Chicken Barn
Well, after moving from the big city of Phoenix, Arizona to a tiny town of Baldwin, Michigan last year I have been wanting to enjoy our new found freedom and start the "farm" that I have always dreamed of. We already had horses we brought with us on our move (as well as 3 dogs, 1 cat, a saltwater fish tank, and about 50 gouldian finches!); but I wanted something more. After a bit of persistant pestering of my DH, he finally gave in and said yes to me getting chickens! Yeah! So I set about building my first chicken coop...
I want to thank nwmud and nwgirl here on BYC, as I found their coop page online and instantly fell in love with their coop. It was just what I was looking for! Hopefully they don't mind but I copied their basic design for my coop. My coop measures 8' x 4' x 6' tall in the front, sloping down to 5' tall in the back. The floor of the coop sits 2' off the ground, and the bottom 2' section is screened using hardware cloth. The girls will be able to exit from the pop door in the floor to get to the mini-run below, and can also exit the side door of the run for some supervised free-range time (at least until I'm more comfortable letting them out by themselves!)
I began by framing the coop with 2x4's, then used what I think is called T-111 siding on the outside of the coop.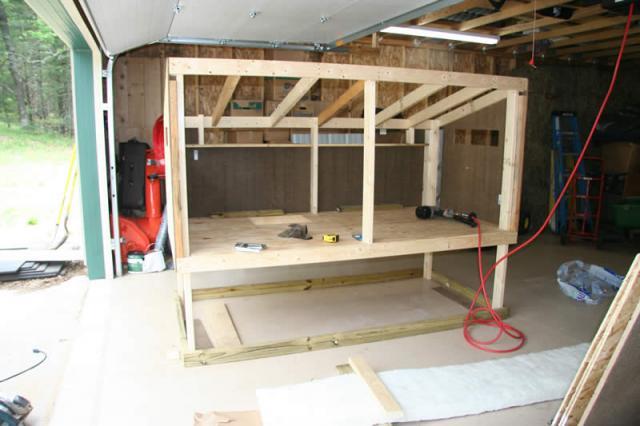 Here's another picture of the siding going on. You can see the insulation rolled out on the floor getting ready to go in as well.
As I was worried about the girls getting cold in the winters here, I decided to insulate the coop. I used rolled insulation in the walls and foam insulation in the floor and ceiling. All insulation is covered by interior plywood to prevent them from munching on it. Here you can see the insulation on the side, the back has already been insulated and covered with interior wood sheeting.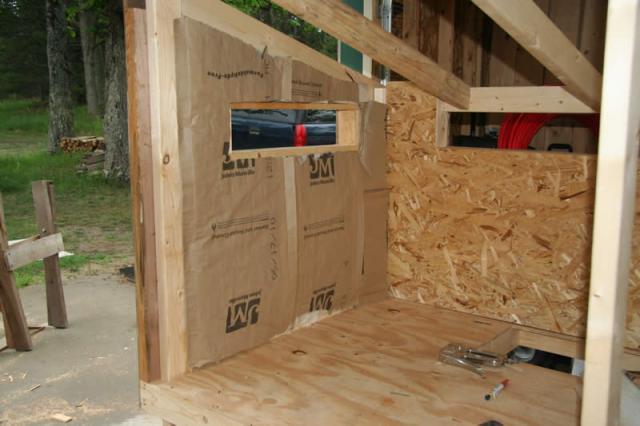 At this time it was time to do some basic painting. Much like the plan I copied; I opted for the traditional barn look of red with white trim. I also installed vinyl flooring inside the coop to make clean up easier.
To build the front doors as well as the vent doors, I used the wood that was cut from the openings and started by giving them a good coat of paint. Then I built the frame/trim seperate using a brad nailer and glue; painted the trim white, and when all were dry I nailed/glued both together. They went together quite easily this way. I made the trim pieces slighly larger than the openings so that the trim would overlap. To make the windows, I made a similar framework from 1x2's and routed a grove on the back to make a place for the plexiglass to sit. To allow the windows to close flush, I drilled out a notch for the clamps that would hold the plexi so that they would not stick out.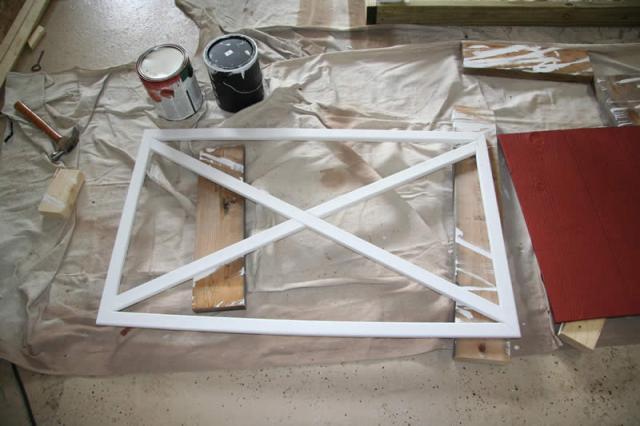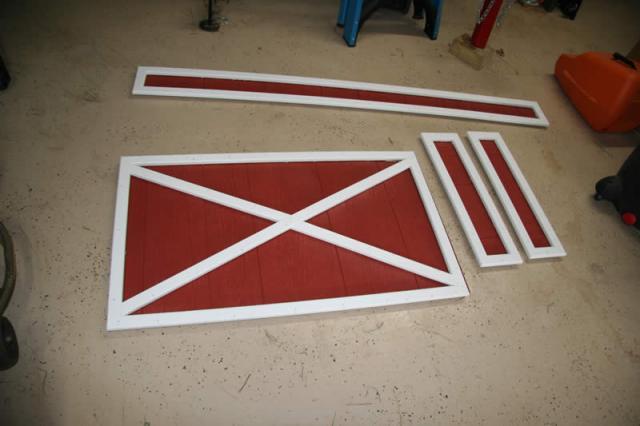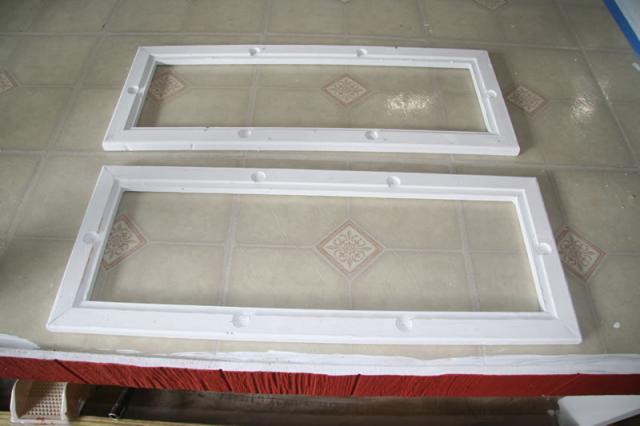 Now I just had to install all the doors and vents and screen in the bottom mini-run portion. I used stay-open hinges on each of the windows and vents that allow me to open or close them as much or as little as I want to. Took a little fiddling to make them work with the hardware cloth that covers all the window/vent openings, but got them working great now.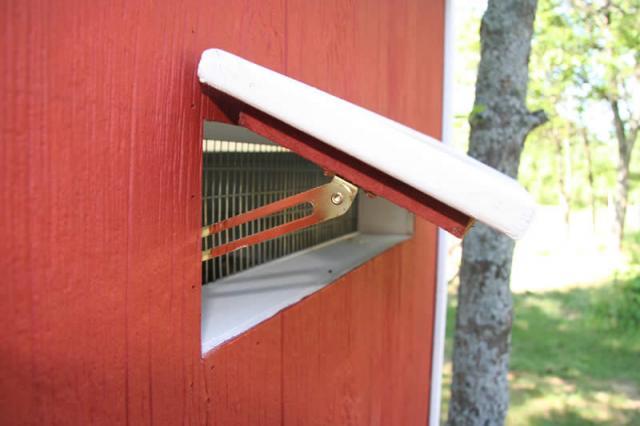 And here is the final coop (at least for now!)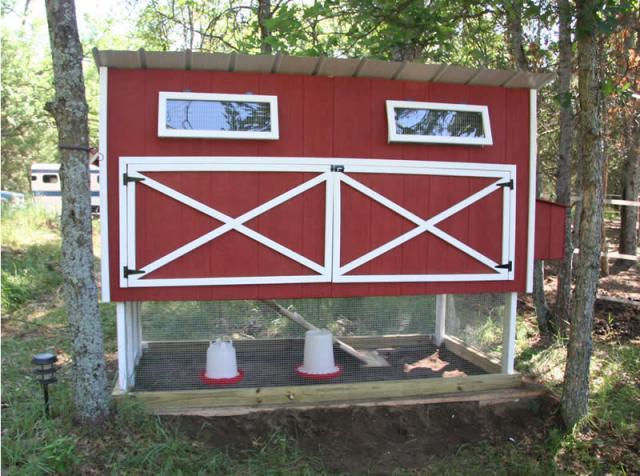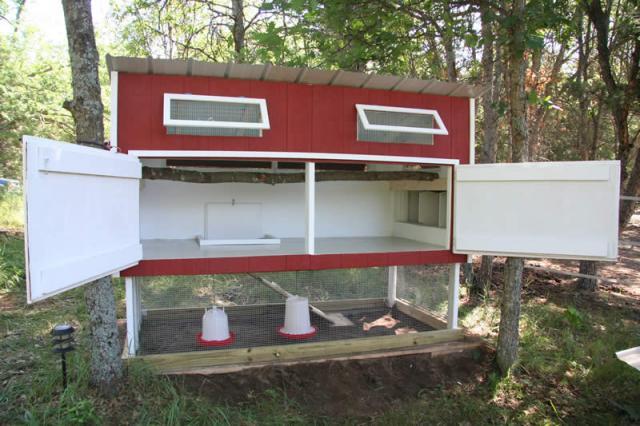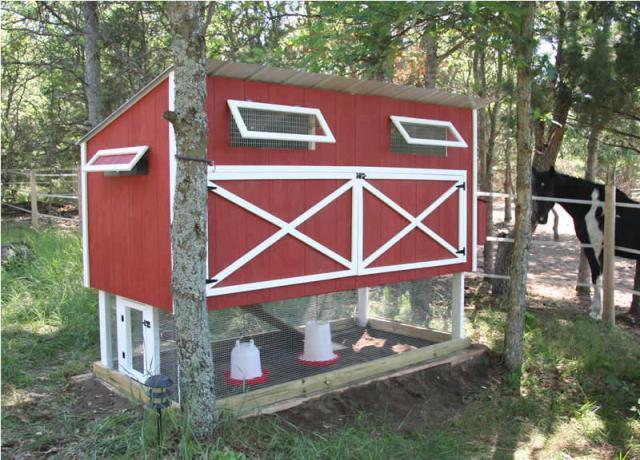 One thing I realized I didn't plan too well was an easy way to access the bottom run portion of the coop. Right now, in order to get in there to feed/water or clean, I have to crawl in through that little door! Let me tell you that's not a pretty site to see me try to squeeze through there LOL. So I think that will be a project this weekend before I even get any chickens is to put another (larger) access door down there. We are actually in the process of having our house built right now, so in a few months when the house is done we will actually be moving (not far - just a few acres over as we are building on our own property) - so the coop will be relocated to it's final resting spot in a few months as well (most likely in the fall). Once it gets to its final destination, I hope to build a large attached run onto the coop as well.