[FONT=tahoma,arial,helvetica,sans-serif]
Newest post - chick-a-chick page, added Week 6 photos and weight.....





~April 27, 2009~

[FONT=tahoma,arial,helvetica,sans-serif]
Hello All !!!
I am super new soon to be chicken momma, I have ordered our very first babies... 8 bantam chicks (minimum order for my area) from MY PET CHICKEN - 4 bantam Easter Eggers and 4 bantam barred rocks - they leave Connecticut on June 8th and arrive on the 10th and I am giddy with excitement. As the day draws close I will be adding my brooder and coop and run photos. My partner and I will be keeping 4 birds because that is all we have room for and 4 will be given to friends, family or will be sold on craigslist. I live in Humboldt county, near old town Eureka with my partner Brian, our 10 year old Min Pin and part time with Brian's 2 amazing children. Besides my long time obsession with chickens we have started our first mini victory garden and have been trying to live more sustainably. Hanging the laundry in the sun, using re-usable bags and recycling with a vengence. It feels so good to live more naturally and free from some of the contraints of modern living. We listen to the radio all day, do not have a TV but love the internet. [/FONT]


Hanging out...​

[FONT=tahoma,arial,helvetica,sans-serif]

[URL='https://www.backyardchickens.com/forum/uploads/26708_img_0029.jpg']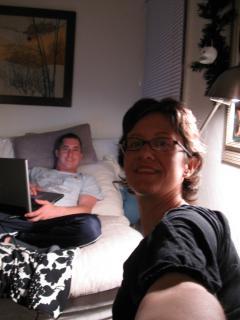 ​

​

[/URL]


[FONT=tahoma,arial,helvetica,sans-serif]

Minnie girl taking a nap......

[/FONT]​

[FONT=tahoma,arial,helvetica,sans-serif]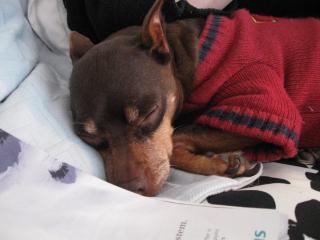 [/FONT]


[FONT=tahoma,arial,helvetica,sans-serif]

Just the start of half of the garden....

[/FONT]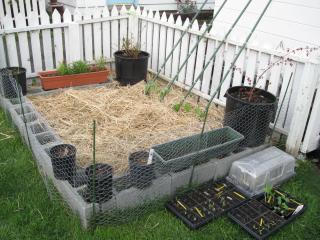 [FONT=tahoma,arial,helvetica,sans-serif]

see you soon....

[/FONT]


~May 3, 2009~
Hello again !
So the arrival of my chicks is drawing closer and we finally had a little sun up here in the Pacific Northwest to do some work outside. My parents gave me an old coop that they raised ducks in 3+ years ago and had been sitting in their duck run doing nothing. My step father built it VERY well, so Brian and I took it out, sprayed it down, cut down the legs (we are getting bantams) and have had it sitting on the side of the house that our chickens will be living when they go outside. Today I started pulling off the old un-useable chicken wire .......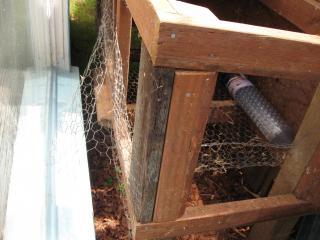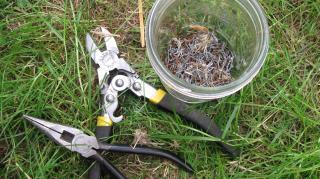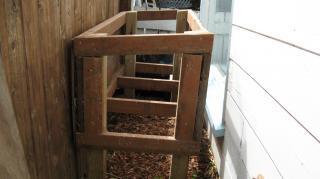 Start of the day. Looking at the front of the coop, Tools of the trade..... Just the good bones remain. This is where the
this is where the nesting box will be built and below run will be attached. 6 or 7 feet at 5.5 feet high
that, there will be a small gate so my girls can be let with roosts and a people door so we can clean
out into our garden. it out.

It is now ready to be yanked and taken to our brilliant friends' house to be built in pieces and then brought back and installed into the space. We rent this house so nothing can touch the fence or house. I know they will create something amazing, the sketches are done, we are just waiting for another sunny Sunday.
Cheers for now.....

~May 18, 2009~
3rd draft of the coop and run, not to scale but here it is any way.....






[/FONT]
[/FONT]