Fermenting is a simple process which involves soaking chicken feed then feeding it to your chickens. It is similar to a sourdough starter! And there are so many benefits!
T
he Benefits
It is easier for your chickens to digest, especially if you are feeding them pellets or crumbles. Even grains get softer after soaking.

Your chickens will eat less. Soaking expands the food, and chickens also digest the fermented feed more thoroughly.

It is harder to spill than dry food. But even if a bit is spilled, the chickens will gobble it up. Sometimes it takes them a while to get used to fermented feed, but once they do they love it!
Tests have shown that chickens who eat fermented feed lay more eggs and they have thicker shells. By this I mean female chickens; roosters won't lay eggs no matter how much fermented feed you give them!

Fermenting brings out probiotics that strengthen the chickens' immune system, making them less likely to get sick.

It adds more nutrients! Good for gut health too!

The chickens have shinier feathers, look healthier, act healthier, and are healthier. Some people even claim that they poop less and that their poo is less messy and smelly when they are fed a diet of fermented feed!

As said before, the chickens love it!
Now you're probably thinking, "how to I get this marvelous food?" Hold your horses, I'm getting there!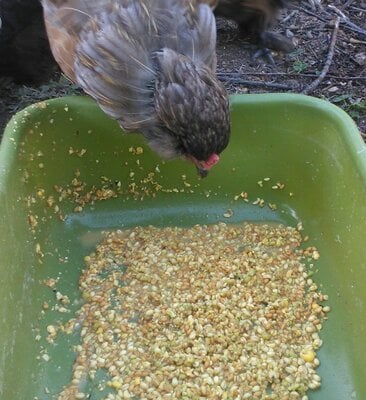 How To Do It
First, gather all your suppplies. You will need:
The size of your bucket depends on how many chickens you have. I use a one-gallon bucket for my flock of 10-20 chickens, mixed standards and bantams. If you have a very small flock you could probably just use a kitchen container.
A loose-fitting lid for the bucket
Make sure the lid is not tight! If it is, it will explode and make a mess. As long as a bit of air can still go out you should be good!
Currently, I'm using a brand-new paint stick. It is a bit flimsy, but food doesn't stick to it and it is just the right size. That should give you an idea of what to look for in a stirring stick!
It is nice (but not necessary) if your chickens can reach in without standing on the rim or jumping in, but the sides should still be tall enough to keep the food in.
I like a 1 cup scoop so I can easily keep track of how much my flock eats per day. But if you don't care about that kind of thing, it doesn't matter.
The water should be drinkable. More about chicken feed later!
1. Put your chicken feed in the bucket. I wouldn't dare fill the bucket any more than half-way with feed. You still have to add water, and the feed swells a lot!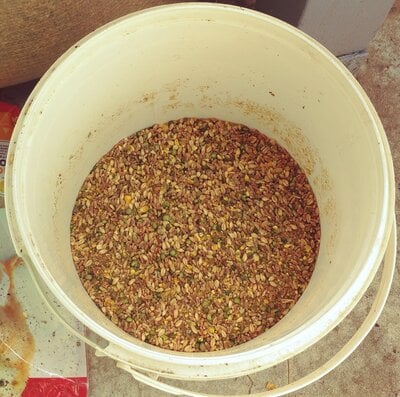 Feed in the bucket.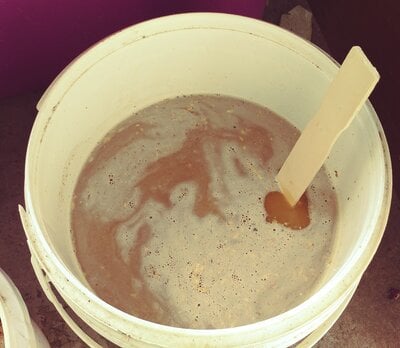 Water has been added.
Add enough water that it is about two inches above the food. Stir and set the lid on.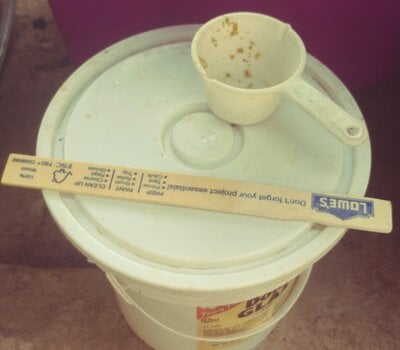 Loose-fitting lid on bucket. You can also see my stirring stick and scoop on top.
2. During the first day, check it at least twice to make sure you have enough water. After this, try to keep the water level about one inch above the food.


This feed needs more water!
3. Around day 2-4 it will be ready (by "day two" I mean 24 hours after you started fermenting). I have been told that finished ferments have a smell that is hard to describe (the best adjective somebody gave me was "sort of fruity"), but because my nose doesn't have a good sense of smell, I judge the bubbles.

When you stir normal chicken feed in water, a few bubbles are sure to come up. But when the ferment is ready, it will bubble excessively at the slightest of pushes from the stirring stick. You will know it when you see it, but if you are new to fermenting it might just be easier to go by smell.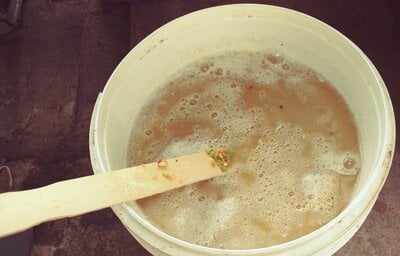 A healthy ferment! Notice all the bubbles.
4. Once your ferment is ready, scoop some out into your shallow container. I drain most of the juice in the scoop back into the bucket.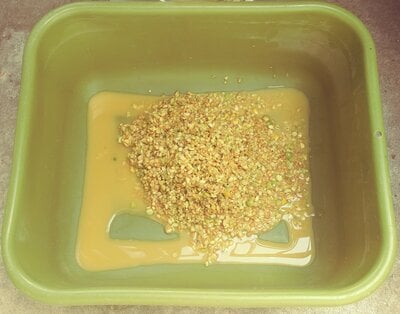 Fermented feed in shallow container.
I don't have a set amount that I feed my chickens. I prefer to scoop out less rather than more, because my chickens won't eat dried fermented feed. If they are still hungry, I can always come back to serve more.

After you scoop out some chicken feed, add some dry feed into the bucket. Here is a secret: you can control how full your bucket is by how much dry feed you add every morning. If your bucket is too full, add less feed. If your bucket doesn't have enough, add more feed.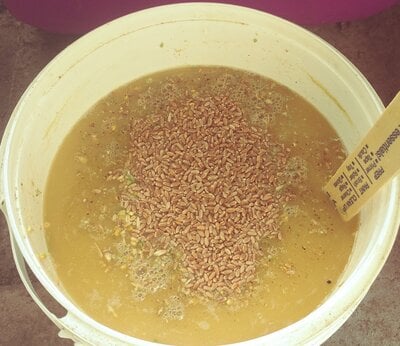 Dried chicken feed on top of the ferment, ready to be stirred in.
Anyways, check the water level. As mentioned in step 2, from now on you want to try to keep the water level about one inch above the feed. I add more water every couple of days. Once you are done with this, put the lid back on and head out to the coop!

5. Once you are in the coop, let the chickens at their feed! It may take them a couple of days to get used to their strange new food, but once they do they will forever adore it! I have never met a chicken who does not like fermented feed!
It is a race to get to the feed every morning!I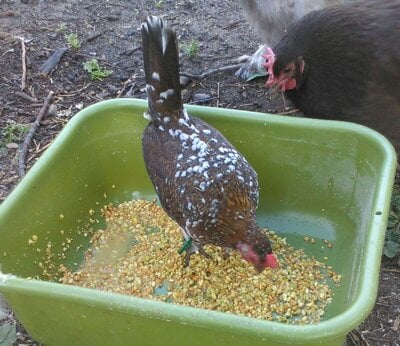 Sometimes the smaller birds will jump into the bin and eat. The only disadvantage is their muddy feet.
After the chickens are done eating, I take the bin and give it a quick rinse. This just makes cleaning easier in the long run.

Repeat steps 4 and 5 every morning!
Choice of Feed
I don't know a ton about feed choices, but I'll give you my best!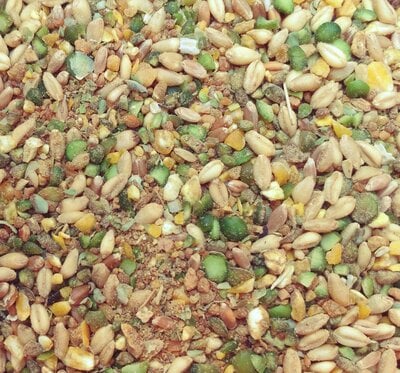 Whole grains from Big D Ranch!
Gains are best to ferment, because they have more nutrients than pellets. When grains are fermented, they open up to allow more nutrients

Pellets (and crumbles) work, but they are not the best. Fermenting pellets is like putting greens into a smoothie; yummier, but with about the same nutrients.

Corn is not the best either. It is not as nutritious as other grains. It works, but it could be better.

Kahm Yeast
After just a few days of fermenting, you may find a thin white film of something mold-like on top of your water. Upon discovering it, most people (including myself) think it is mold.

Don't panic! After some research and advice from friends, I found out this is Kahm Yeast. Its a yeast, not a mold. It is harmless, though I have heard that it can affect the taste a bit, and can make the ferment pretty smelly.

Kahm Yeast is white and grows like a film on top of the water. It almost always has bubbles trapped under the film. On the first day it is very thin with a few bubbles here and there. After that it rapidly gets stronger until it looks like a bunch of wrinkly, gray film.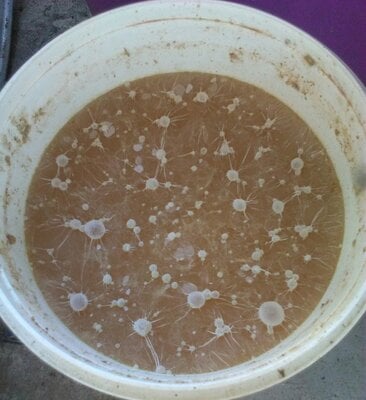 Day one of Kahm Yeast.



Day two of Kahm Yeast.
When I find Kahm Yeast, I skim the majority off and throw it away. This is one reason to keep the water an inch above the feed; to make it easy to remove the Kahm.

Over time, the Kahm Yeast smell grows. When it gets to the point where my family start pestering me (so every couple of months) I let my ferment die our by not adding any food and completely start over. I dump out all the old water and give my bucket and stirring stick a good scrub. This helps keep the Kahm down in the next batch.

I have also heard that cooler temperatures aren't quite so suitable to Kahm Yeast, though I have not done any tests on this.
Additional Notes
I take care of my fermented feed in the morning, because that is when I feed my chickens. I don't allow my adult chickens free-choice unless I am on vacation. If you want, you could feed your chickens twice or even three times per day; it is just personal preference.

If I am going on a short trip, I put extra water and feed in the bucket and let it be, but if I am going on a long vacation I let my fermented feed level in the bucket drop lower and lower, then start over when I get back.

I ferment feed outside during the summer and inside during winter. My family makes me keep it in the garage because of the smell from the Kahm Yeast.

I have not yet dealt with mold in my ferment, but if I ever do I would completely restart and wash my bucket very well.

Recently my feed bin tipped over on top of one of my pullets. The first time this happened I was near and lifted it off her. The second time I did not find her until several hours later. From her death, I have learned to stay near my chickens while they are eating from a container that is tippy.

As I mentioned before, it might take a while for the chickens to get used to fermented feed. If they refuse to eat, cut off all access to dry feed. If they are used to having access to food 24/7 it will take them a couple days to learn they should eat all they can at your one or two designated meal times. Be patient with them and don't lose hope!

For future reading you can check out this thread: https://www.backyardchickens.com/threads/fermented-feeds-anyone-using-them.645057/post-8695537
Remember, everybody's method is different. And that's okay! I would love to know what you do in the comments!