Index
Miniature Egg, Sept. 7, 2011
Minature Egg Video, Sept. 25, 2011
For many of you who have been waiting for their first egg, I thought it would be nice to publish pictures of my first eggs. I have one Delaware (24 weeks young), Rhode Island (24 weeks young) and Ameraucana (23 weeks young).
July 24 @ 08:00 PDT
Upon checking my coop, I found one small brown egg outside of the nesting box. I am assuming that this egg is from my Delaware as it is brown and I saw her in the nesting box after finding this first egg.
Look at the right bottom corner. You will see one small brown egg.
July 24 @ 16:00 PDT.
This second egg was found in the nesting box.
| | |
| --- | --- |
| | The two small eggs are from my chicks and the remaining from Trader Joe's. |
July 25 @ 11:20 PDT. Another brown egg. I still don't know who laid it, but the Amerecauna was sitting on it.

I found my Amerecauna sitting in the box. When she
finally came out, I found a brown egg.
As she is suppossed to lay blue/green eggs, I am assuming
that it's from my Delaware or the Rhode Island


Little brown egg.
After my research, I determined that this egg is
from my Amerecauna. I was waiting for blue/green
eggs, but got a ivory colored eggs.

All three eggs in a carton. All very small

July 26 @ 09:15 am PDT.

At 6:30am, I could hear the Delaware clucking mad.
I am assuming that she was laying an egg. Tomorrow, I will
attempt to go out and video her laying an egg.

Brown egg washed and ready for the carton
4 days and 4 eggs.
August 2 and 3 @ 17:30 PDT
| | |
| --- | --- |
| Row Labels | Sum of total |
| July | 13 |
| August | 9 |
| Grand Total | 22 |

I found one egg beneath the coop, in my compost.
My hens are laying eggs anywhere.
I think that this is an egg from my Rhode Island.

Egg in the poop tray. I know that my Rhode Island
is laying in the poop tray as I seen her nesting in the
poop tray. I have found two eggs in the poop tray.

Totals per month thus far.

Check out my miniature egg: Sept. 7, 2011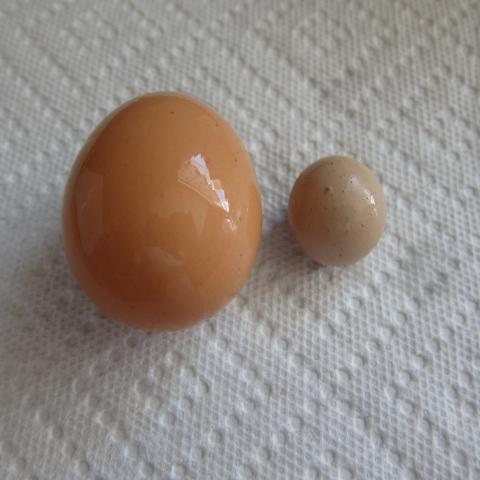 Sept. 25, 2011
I finally decided to cook the miniature egg and see what is in side. I took a video so that you can take a look for yourselves.
You can see the video by clicking the words see video.