We moved into our new home the end of July 2011, along with our 6 hens. We had to leave our old coop behind in the country, but our new home had a 6x12 ft Dog Run pen. So our chickens were put in their new temporary home consisting of this dog run and a dog crate.
Soon after, on Craigslist I found a coop with 4 chickens. I went to see the coop, it wasn't the greatest, but better than what we had. And we couldn't buy the materials to build it for the low price they were asking. So we bought this coop, with the four extra hens, and had it delivered to our home. When they delivered it, they set it next to the shed. We put the extra hens in another crate, and took them to a friend in the country. Then we cleaned up this coop, and moved our hens in.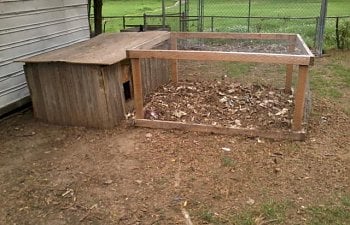 We purchased this ugly thing intending it to be a temporary solution until we build one of our own. But I am thinking we can rehab and makeover this coop to make it pretty and functional.
My huuby thinks I'm crazy because it needs a LOT of work!
The roof is simply a piece of plywood, not secured to the coop, so to access the inside we have to slide it on and off. The run in not secured to the coop, and there is no door to the run, so to let our hens out to free range we have to move the run away from the coop each morning.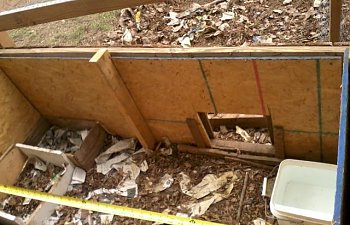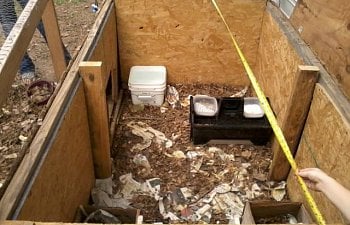 The interior has no roosts, and has 3 removable next boxes. I probably will remove 2 of them, build one newer one, and add it for a total of 2 next boxes.
This will be a challenge, and a lot of work, but I think we can make this happen! I will post pics here of each step we take to improve it! I can't wait to show you the final result!