(Some pictures of my chickens are on my other page at
https://www.backyardchickens.com/a/my-flock-17
)
Yet another homemade incubator from an old cooler. I had everything around here already but the Hot Water Heater thermostat and the lamp socket so it cost me a total of about $13 to build.
I used the directions from various other incubators here, but I'm including a diagram of the wiring that is easy to understand. I gathered the info from more than one source here and compiled it into one diagram.
The finished incubator:​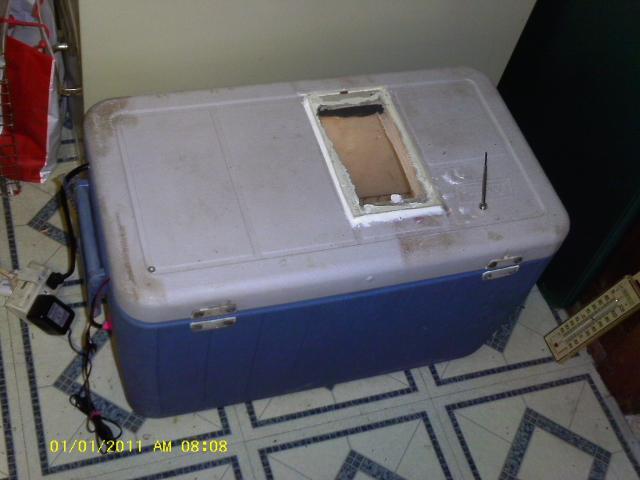 Below, the thermostat is installed the way I learned from rebelcowboysnb (visit his page, it's great) to
have the back of the thermostat face the light
and make it around 3 inches away. Since this change I have it so that the temp only varies by 1 degree. It is possible to make zero variation which I did have at first, but I'll take 99.1 to 100.4 and am not complaining.
I have also added scrap tile to the bottom as a heat sink. It really helps to keep temps stable. There are a couple of water containers in there but I normally just use the little round one you see the tubing going into.
For more detailed directions to build one, see the many great how-to's at
https://www.backyardchickens.com/chicken-coop-incubator.html