Greetings,
I've never done a personal page before, but it sounds like fun. I have lots to tell, and now that BYC made it so I can add extra pages , I think I can make this rather organized.
* About Me---> My name is Denise I'm married to my husband Tom we have a daughter together we named Paige Victoria, she's 4, soon to be 5 in Sept. I gave birth to her on my b-day so we celebrate our b-days together. I'm 37 going on 25.
Yes, That's me in the picture playing violin for my girls.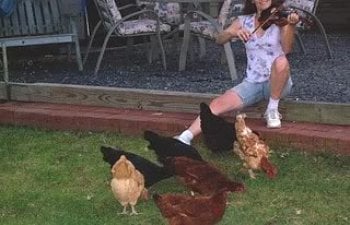 Sorry picture is pretty dark.
*My Hobbies----> My newest Hobbie of course are my chickens, I got interested in them from a friend, I had no idea they had personalitys. I had to get some of my own. I did alot of research on chickens before I got my girls, that's how I found BYC and I've been here ever since. I also got interested in violin about a year ago, taught myself at first , now I go for lessions 2x a month. I mostly play Irish & Bluegrass tunes. I also enjoy yard work and working with herbs making oils and using them in my kitchen.
My Job----> I've been a pet groomer for over 15 years. Notice I said "pet" I not only groom dogs, I also do cats, rabbits, horses, and now my chickens. Alot of people think my job is fun. "I get to play with animals all day" Let me tell you it's not. You have to be quite strong to lift those large dogs. There's never anyone avaible to help lift them when you need them too. You get bit quite often. You have to be of sound mind at all times. It is very stressful to give an animal a haircut when all they do is wiggle. You have to try to explain to an owner that I can not give her dog the hair cut she wants because she did not brush the dog. You get to clean up a pet that lives outdoors and comes in spring for that once a year hair cut that sticks so bad it makes your eyes water and gives you a headache. You also get to pick up after those that I swear are not house trained as much as the owner says they are. I stay with the job because of my love for animals. And it's the only way to make ends meet. I'm training a girl right now and she's a natural just like I was. So at least now I have help and can get twice as many done in one day to keep clients happy. With that being said, please remember to tip your pet groomer. They deserve it !!!
I'm not done yet. I didn't know it would take this much time. I'll be adding more with pictures soon.