Check out the new coop on my next page
My Easter Gift this year (2009) was somethings I always wanted, Chicks!

We purchased them form TS and are pretty sure they are sex links. If you know otherwise please let me know. Currently the chicks reside on our enclosed pourch in a huge dog crate. We try to spend time with them daily so they will be friendly.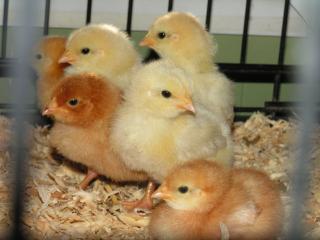 Currently we are trying to figure out what to do with an old dog house to convert it to a great chicken coop. The demensions are 4' wide x 3' deep x 4' high ( to the bottom of the roof) & insullated
the house needs to be off the ground but what next??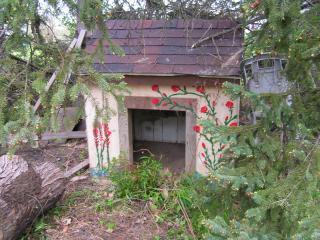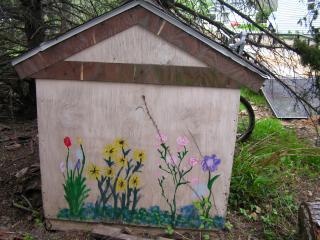 Chicks on 4-29-09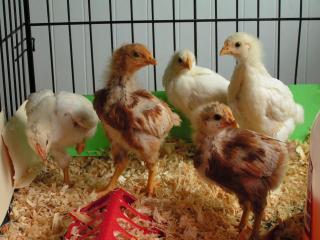 The new house is almost done. We move the old dog house and cleaned it out. I found an old changing table that we were going to burn and used the side of the changing table for the front door on the coop. I spent a total of $10.00 on the house so far. That was for the door hardware and the plastic for the "storm door" that I made for them. I found some old boards that had been sitting out side and made two nesting boxes, and a large branch for a roost.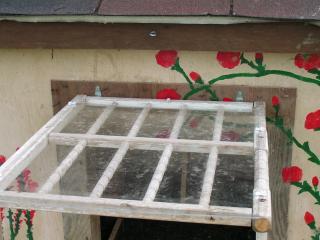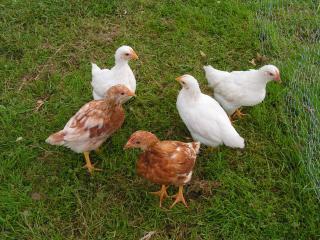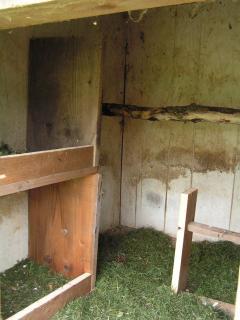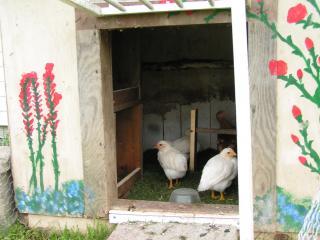 5 - 13- 2009

Next on the list is a chicken run - I found some old metal roofing that we had from a building that we had torn apart years ago. I think I'll be able to start on that this week..

6-2-2009
The run is on!
My husband to the wood worker, but this is something that I really wanted to do, so per his request, I need to say I did this all on my own. He did find the screws for me though. Thanks Hon. he did teach me quite a bit, : )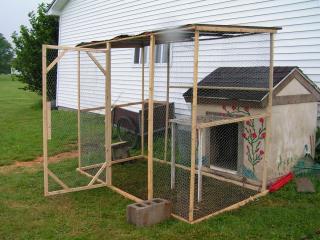 The run measures 8'long x 4' wide x 6'high. There is a recycled metal roof ontop. I would like to change this to a clear plastic one during the winter. Just a thought so far.
Here are the girls at 16 weeks. Sadly we lost one of the girls to a raccoon. There have been major changes to the run since then. Oh and we found out the white ladies are Dekalb Amberlink and the brownish ones are Cinnamon Queens, also a type of sex link. Love the names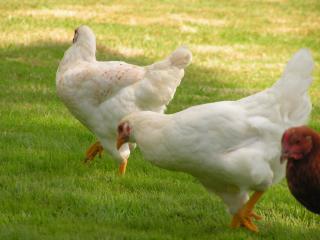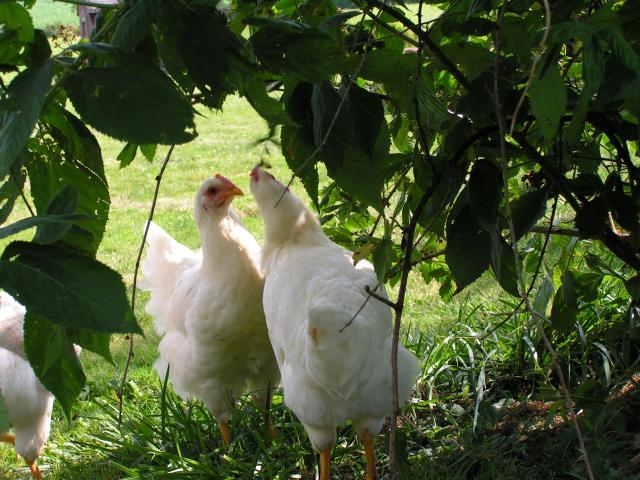 OK so winter has finally (2009) come to Ohio and I couldn't stand the idea of my 4 chicks stuck in that little box all winter, so we purchased some heavy duty clear plastic and covered the run. To my surprise this is working great. I made sure to leave openings in the corners so they would have ventulation.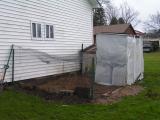 You may even notice the yard that we added to the run and coop. The chickens didn't want to stay in our yard and loved to wonder in the corn field behind the house. While out one day a hawk got to one of the chicks, and so the yard was created. I added the bird netting and it works great.

1-20-10
Ordered 4 Buckeyes, Can't wait to add pictures, that's when they arrive !!!!

​