"Hennebunkport"
This simple design was created last winter from hours of pouring over BYC coop plans. We wanted a structure that would look at home in our part of the country and had conversion potential if this chicken experiment went off the tracks.
The coop was designed to house 6-8 chickens.
As you can see my first plans are pretty rough. However, these are the basic measurements. We needed to play around with the framing for the windows and doors but the details listed below are accurate.
Plans:
It is a 6x6 structure with 5'-6" high walls. The peak of the roof is 2' from the top of the wall.
Rough openings for doors:
The Front Man Door - 32"X59"
Rear Vent Window - 32"x32"
Egg Door - 48"x 16"
Run Door - 16"X16"
Progression: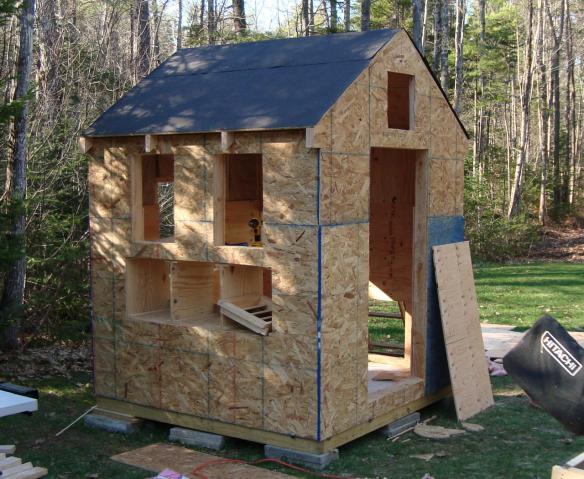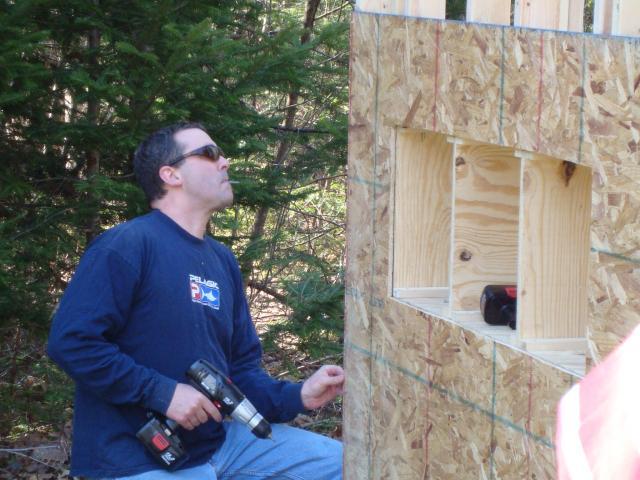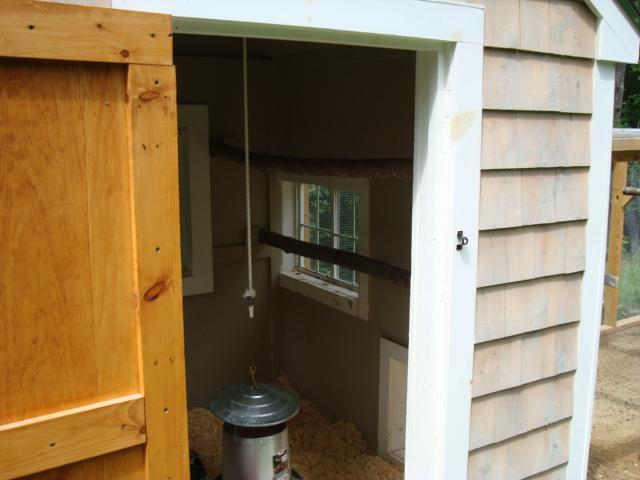 Windows:
After a some failed attempts to find small used windows locally, I ordered vinyl shed windows on e-bay.
2 - 21"x14" - These are over the egg door
1 - 18"X 27" - I placed this window as a casement when I discovered it would interfere with the run. (It was then that I wished I had better plans!)
The Nest Boxes:
I used 16"x16" boxes.
.The plan was a 4' long box with dividers 16" on center. They are also 16" deep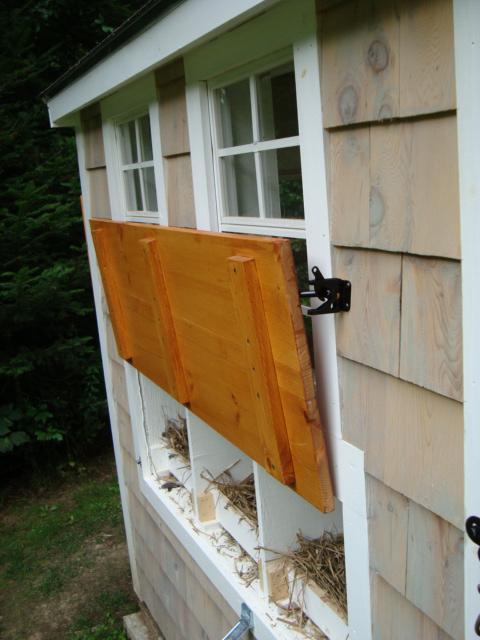 The Run:
6'x12'
4x4 base
Hardware Cloth attached with Fender Washers and Screws and 1" Crown Staples
Hardware Cloth was buried 16" down to deter digging predators.
3- 4" of Sand cover the ground
Roosts help add space and increase activity.
Siding:
We used 2nd clear cedar shakes and treated them with bleaching oil. They should age to a classic gray.
Ventilation:
The rear of the coop has a 32"X32" door that is opened whenever the weather allows. It is screened with hardware cloth and closed at night.
In addition, each gable end has a 12"x12" wooden louvered vent. (Home Depot) These are also protected with hardware cloth.
Odds and Ends:
We did insulate.
No electricity - No lights - No heat
What we would/might change:
We would have designed the run to be covered for snow/rain and provide some shade. We are currently looking at metal and PVC roofing.
What we learned:
We let our chickens free range during the day. They spend very little time in the coop and run. We should have spent more of our budget protecting the gardens! Next year... we will share our fencing strategy!!
We want to say "Thank You!" to the following:




All you BYC Members for the great advice and patience.

Buff Hooligan and CityChook... they shared their experience unselfishly and their coops were our inspiration.

Our family and friends that pitched in at every opportunity!
If we can do this ...you can! Go grab a hammer!
​