View attachment 1872647 Homestead Holdout's
Low cost; Efficient Chicken House for 6 Hens.....
This dog house was originally made using pallets and plywood + shingles from a neighbors shed tear down. Now 10 years later it is repurposed as the hen house.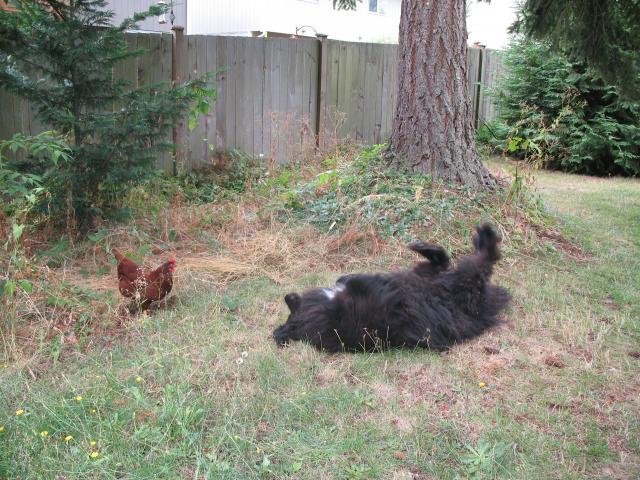 Hahaaaa that's so funny you get my old house, I get to sleep with the people in the big house...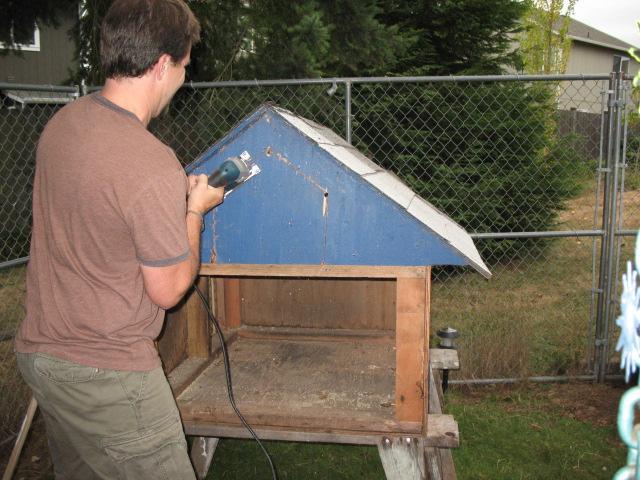 ​
Begin Construction!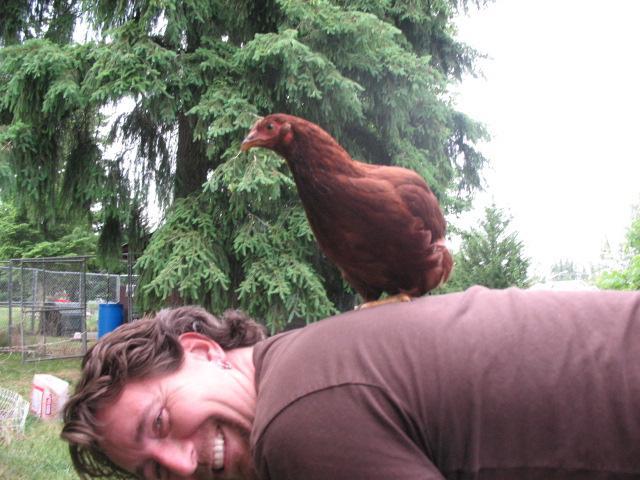 We are well aware who is Project Manager........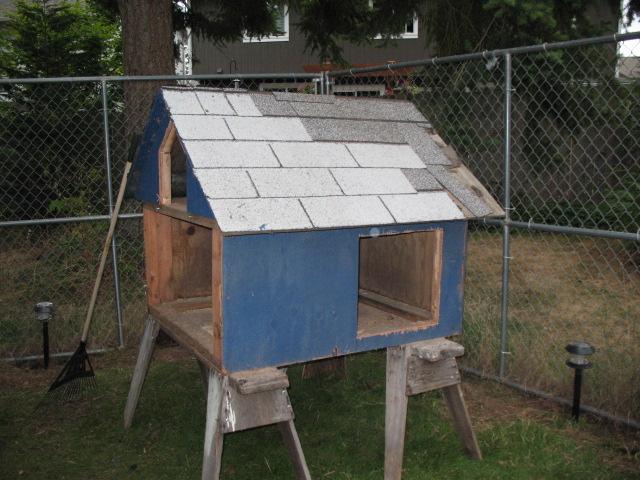 4 Doors: 1) Top door for egg collection and light/air options (also because it's cute with forthcoming "sun art." 2) Bottom/Main door will be back of nest boxes when closed, will open for easy access and egg collection 3) Poop Door! 4) Chicken access side door
Side door for poop cleanup, had to hand saw the 2x4 out of my way for easy sweeping! "poop door"!
Contruction of Base: lumber - "found around the house" 2 - 4x4's, 3 - 2x4's. The dog house is 39"x43"(x41"at roof peak), so the base is the same h/w, 30" high to allow room for food/chickens underneath. For 3 sides we used pieces of an old rabbit hutch/cage and hardware cloth. Doors are scrap plywood.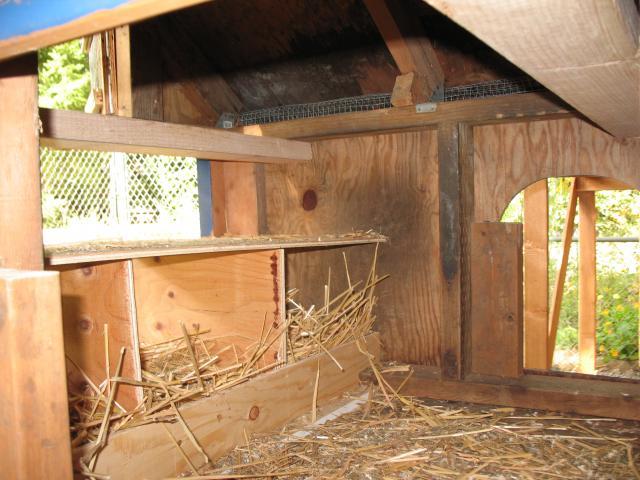 Chicken access door + 2 roosts at same level (had to go through a little trial and error to get them roosting correctly), 3 nest boxes. Ventilation, but no draft comes from open eves with hardware cloth for predator proofing.
Hmmmm, think I'll check this out...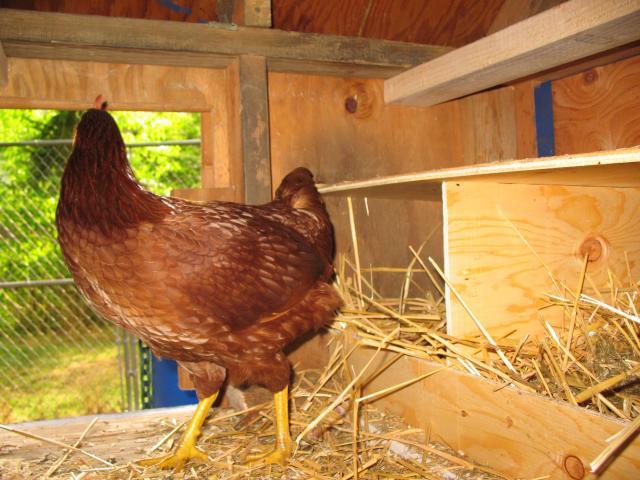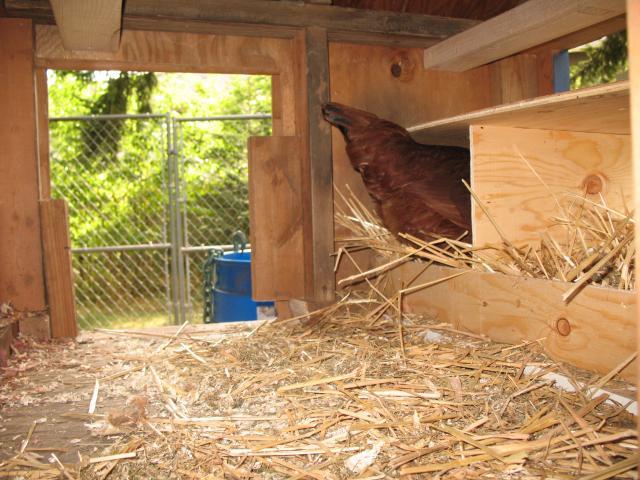 Works for me!
More roost trial and error, we added the ladder - made out of a fence board - so that they would have easier access to both 2x4 roosts. It's a total of 13" / bird - PLENTY, if they use both. Having the perfect layout in such a small space is really important.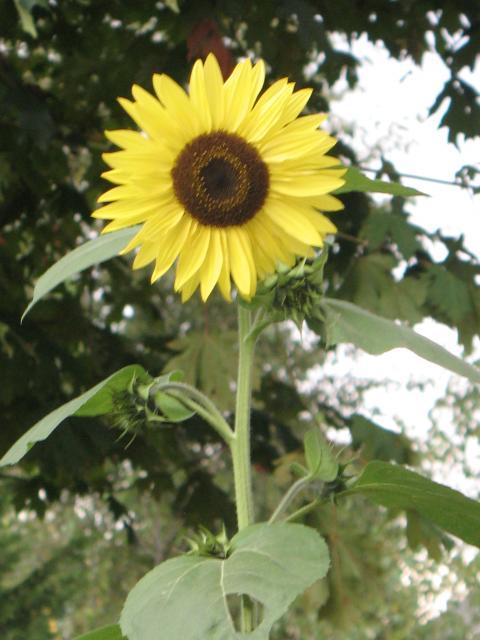 Girls have to have a little art for inspiration!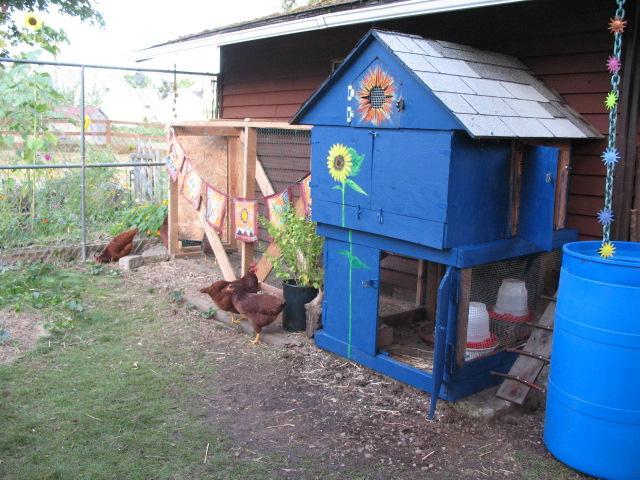 DONE (for now)!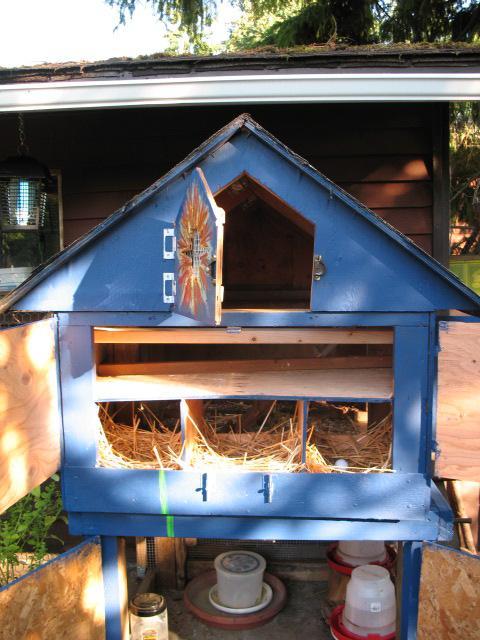 Good Night Girls.... Gooooood Chickens....xxxooo
*****************************************
Project Summary:
Lumber - "found around the house" for the base + roosts, 2 - 4x4's, 4 - 2x4's
Plywood for nest boxes and doors = about 1 sheet (left over from a skate ramp project).
Total Cost = About $55 - $20 hardware; $25 roll of hardware cloth; A little paint; Bud Lite with Lime!
Most Important Considerations:
*Clean, no-poopy nest boxes
*Predator Proof !
*Enough room for each bird to roost; ease of travel up to roost
*Easy poop clean up
*Ventilation
*Warmth
To do:
I'm going to insulate the roof with some solar cloth and weather strip the doors as well as finding an option to control how much ventilation/eve area is open. I'm from Alaska but I'm sorry, Seattle winters are COLDER! Sideways rain and the difference between dry and wet climate... Chills me to the bone, so I want to make sure the girls are cozy!
Also have a heat/light lamp I need to install up in peak of roof, that's one reason why I chose the dog house as the most heat efficient unit for them, the lamp will be above their head room so they wont be bumping into it.
More Shingles on roof
Paint trim
Plant more flowers that chickens don't like to eat
Thanks for checking out our coop!homestead holdout