~~~~~~~~~~~~~~
I have always wanted Chickens. I collected relics: (windows, door, boards) from tore down sheds, cabins, barns. The kids were on board to recycle their sandbox for a Floor Base and we were gung-ho to get some chicks . The hubby was not on board with the chickens. But it was 3 against 1. My childhood memories are vivid for chickens my grandparents had and geese my dad raised. I want my kids to have the same experiences.
I sat down to graph paper with ruler and pencil in hand. My design in my head. It was not easy. I must admit. But I finally came up with this drawing which is crude and does not take into effect that 2 x 4's are actually 1.5 x 3.5s! I also at this point in time had no idea how to tackle the roof. But I compartmentalized each phase of building so not as to become overwhelmed. Floor first...however long it takes to figure it out. Stud walls next. Nest box figuring out. Siding. windows & doors. rafters & roofing. etc. etc.... Compartmentalizing kept me from giving up. As I built each phase, I became more proficient with the tools and was able to problem solve each step and see what I needed to do next.
I showed my husband these plans and he says to me, "That's aggressive." Hahaha.
A door and some windows I've had a few years.
I love this paneled door and hardware. I did however cut off the top section as it was too tall for the size of the coop I built. Which is around 6' x 7'. It just looked better, dimensionally, a little shorter.
Painting was done on a fair middle of March Day. A rarity usually as it is usually our snowiest month. I did not take it for granted that day and got much of the painting done.
So I started with some keystone landscape blocks I got for $1 each at my hardware store. They were a discontinued product and had moss and lichen growing on them. The owner is my neighbor too which I think helped. Checked for level with a 2x4 and bubble level. Brought the Sandbox over and added 2x6 floor joists and used floor joist hangers.
Then I saved & dumpster dived for some ply wood strips and buffalo board scraps from some construction projects at work. These were some cast offs we puzzle pieced for a floor.
Here are my helpers putting the pieces together.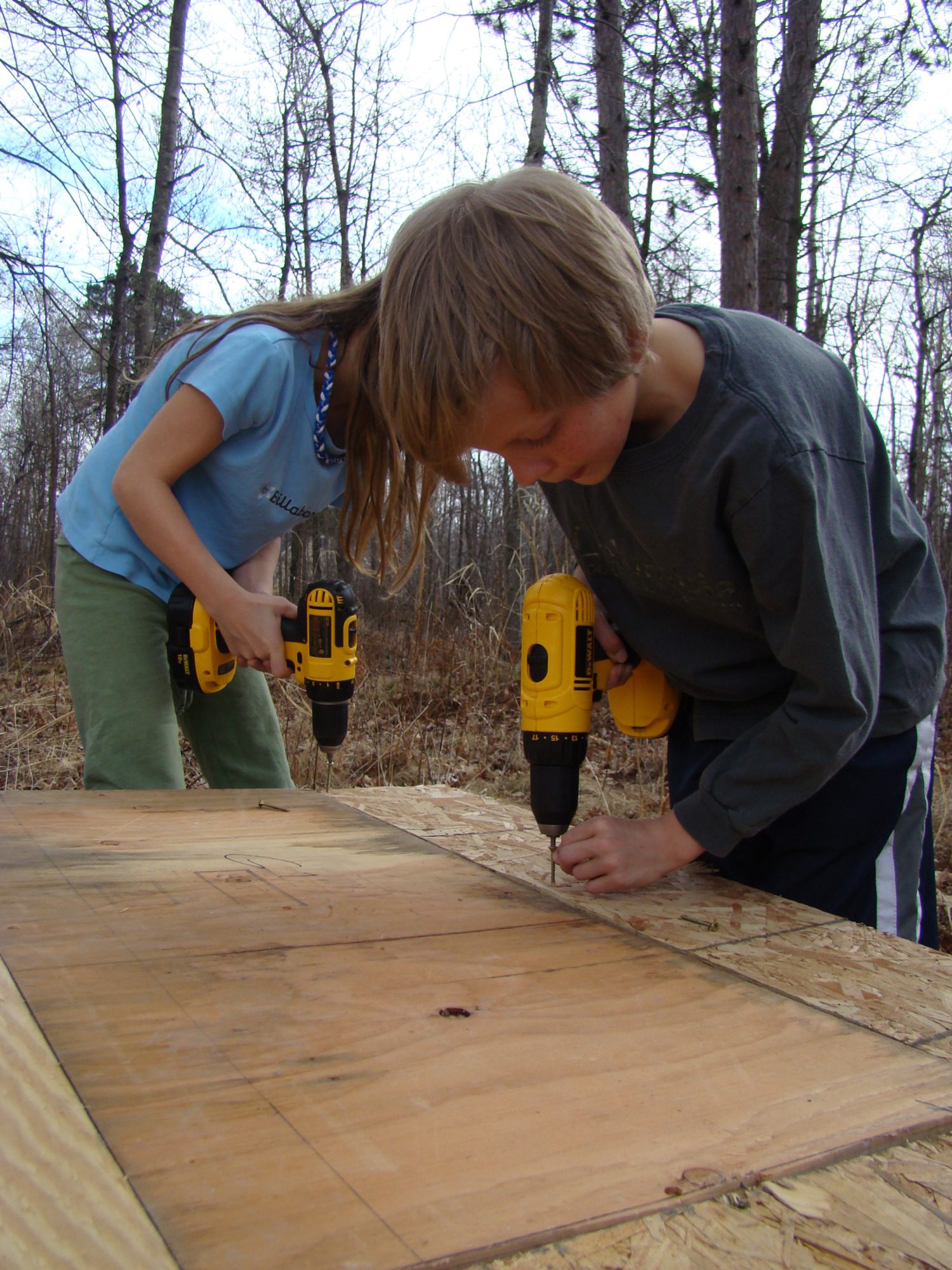 Next came an older out-dated piece of linoleum remnant from my local flooring store for $15. And 2x4's donated from Grandma she's had in her garage for 24 years. Thanks Gran! We had to buy some too, though, to help us get all the stud walls up.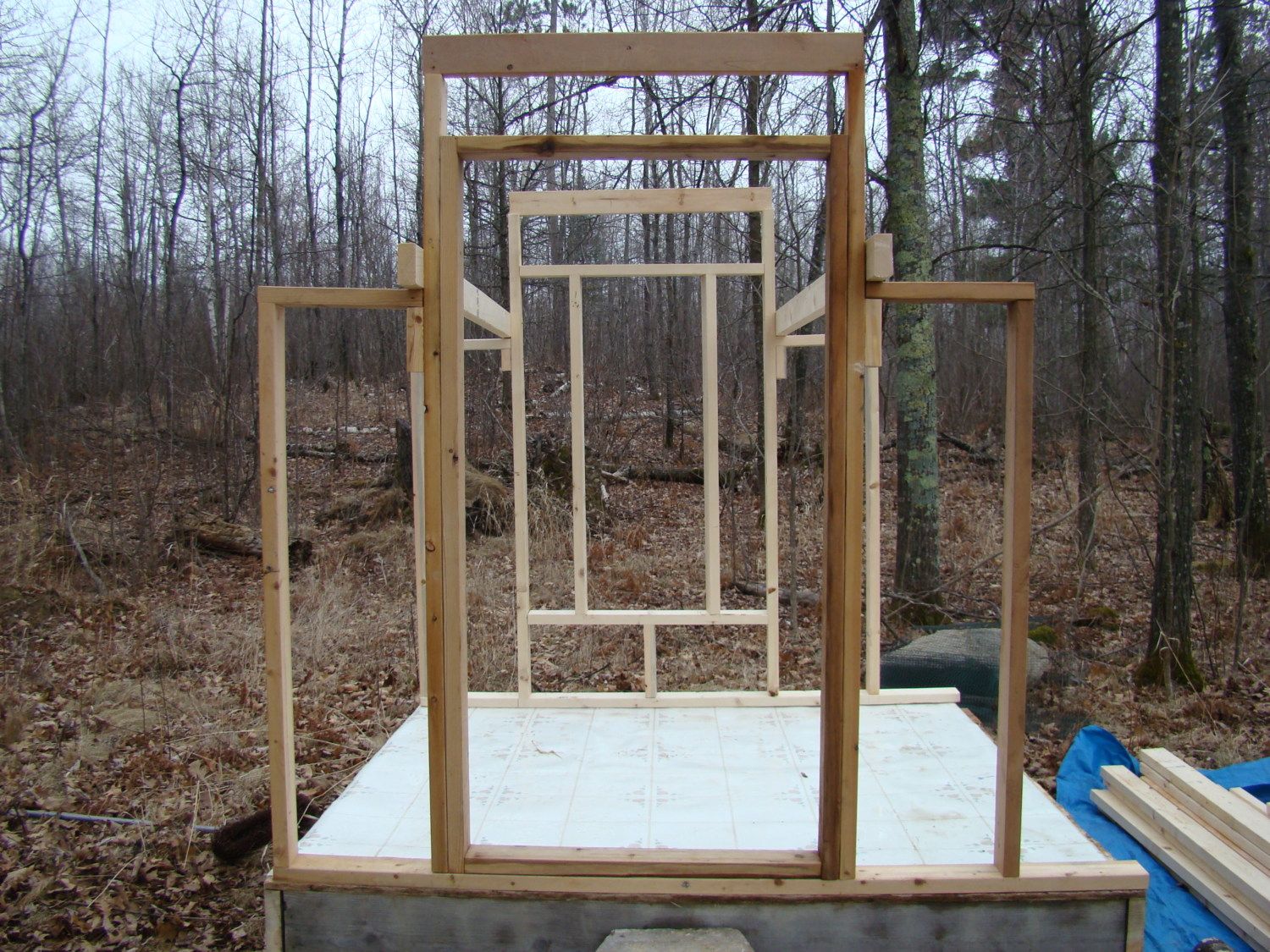 Front and center is the first studwall I've ever made! (The North side) As I drug it out from the garage the kids came out super excited to help. Husband on couch with remote control did not move to help. His protest has been dully noted! Ha!
Nest box Framework on the West side of the coop.
2 x 4 Cross pieces on their ends to create a pitch for rafters later.
The East Side with Frame work for the chicken Pop Door. I was so excited putting that 2 x 4 piece in there to make that little door frame! Giddy almost.
TIP: I used torque screws not nails on the stud walls and framework. I can't tell you how many times I had to back out a screw and put it in a better or correct place. I'm afraid nails would have been a nightmare for me.
And this is where I ended up on March 31, 2012:
My daughter and her buddies.
So Sunday, April 1st, 2012 was beautiful and Sunny out. At my in-laws we picked up this treasure...perfectly patinaed tin roofing. I'm so excited to put this on. Dealing with the previous nail holes might be a challenge...but so worth it for the look I think.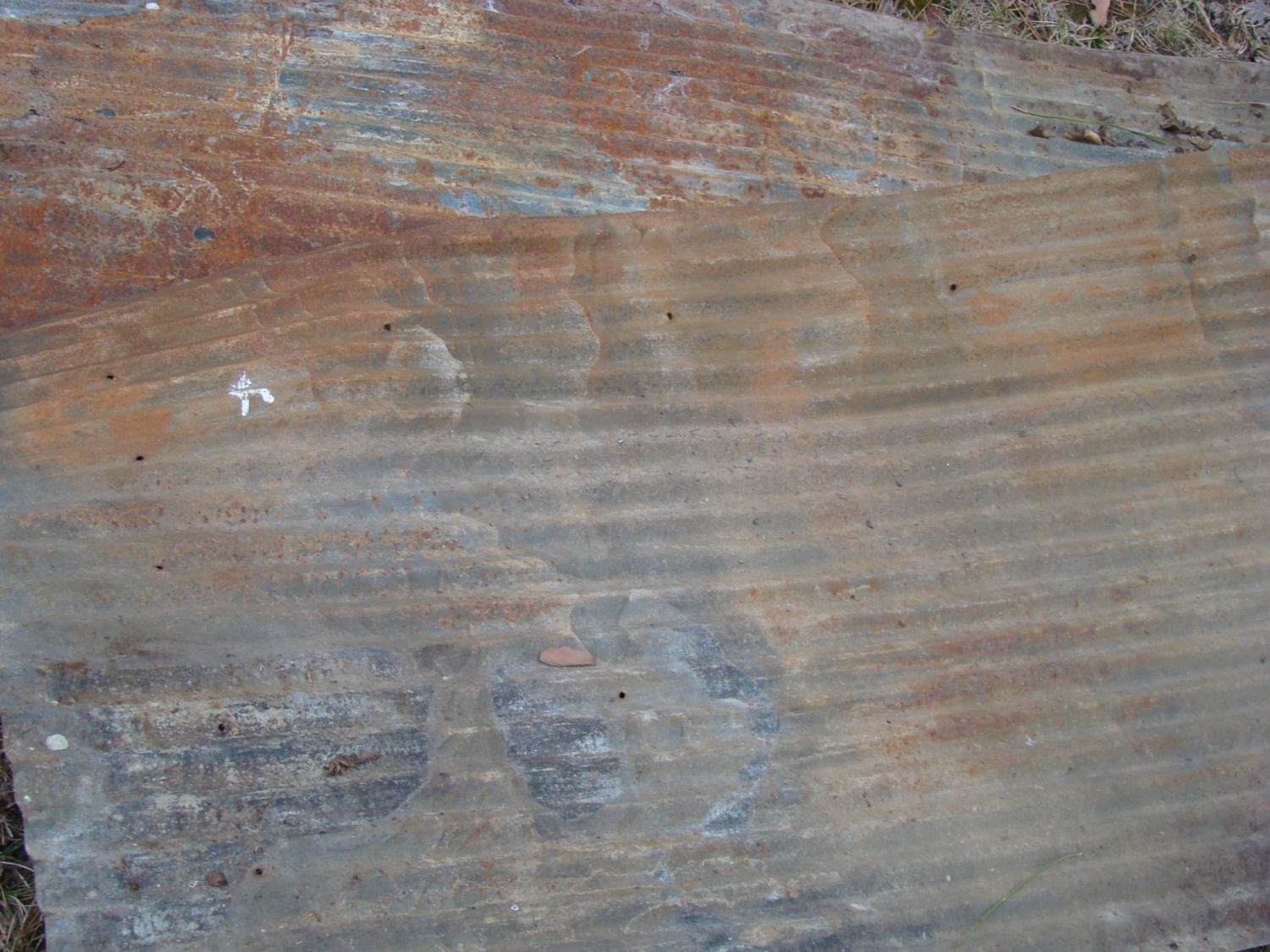 I found siding at my work place. We've had a few construction projects there for the last couple years. And there's a big pile of offerings that were free for the taking. So I grabbed a varied assortment of half log and v-groove paneling. Putting up the siding has been trickier than I anticipated. Especially the half log. I should have figured out the 45 degree angle thing on my miter saw. Oh well. I did trim it out. It's a mish-mash of siding. But I believe it adds to the charm.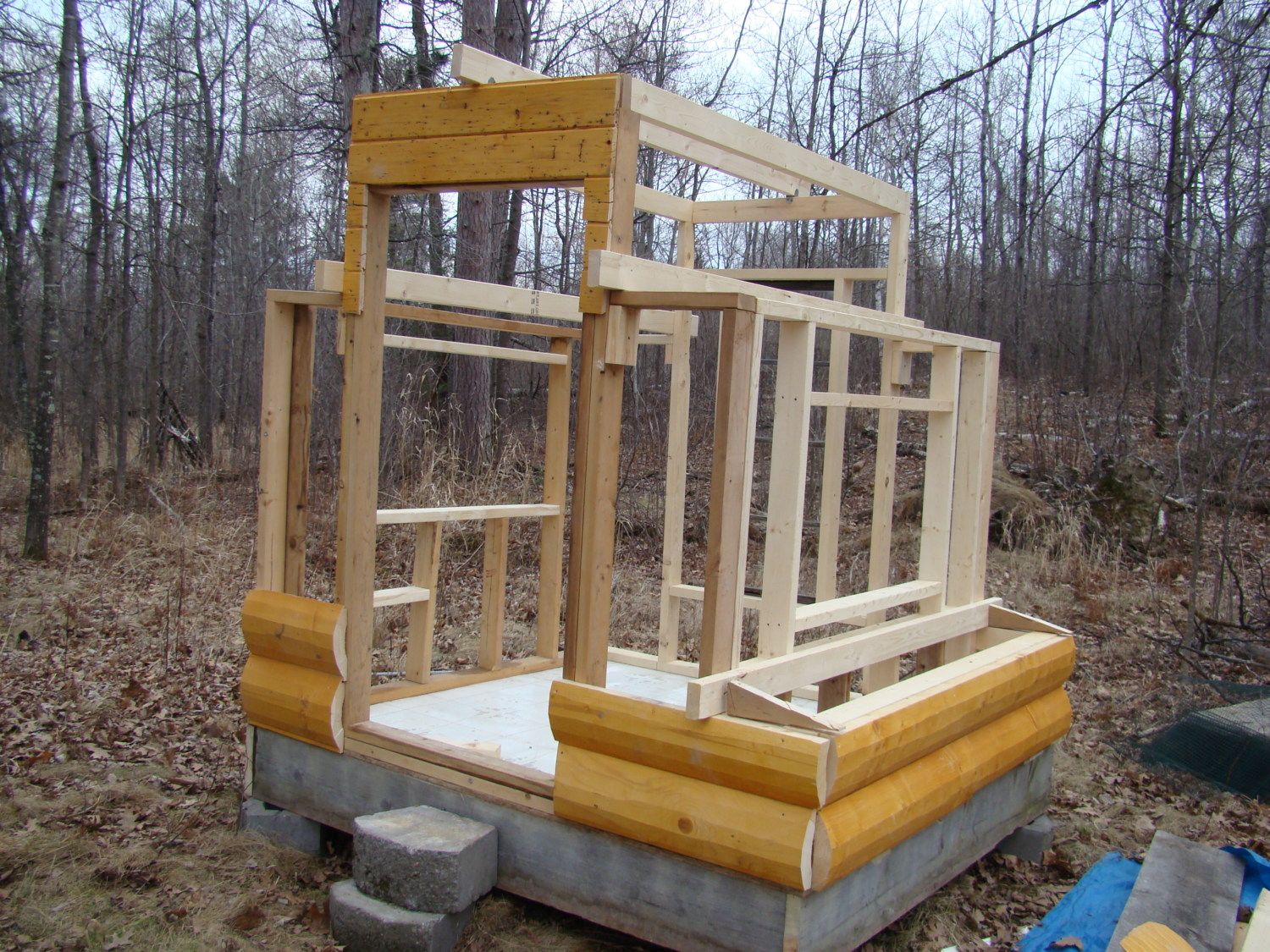 I really like this "worm-wood" v-groove. I only found a few scraps of this so saved it for above the door--it has a nice focal point appearance.
Also, hubby update: He went on a fishing trip all weekend long and came back Sunday full of COMPLIMENTS for the new structure that I put up. He said, "Great Job, Honey, it looks really nice." Yay!
I always say, "Fishing Fixes Everything!"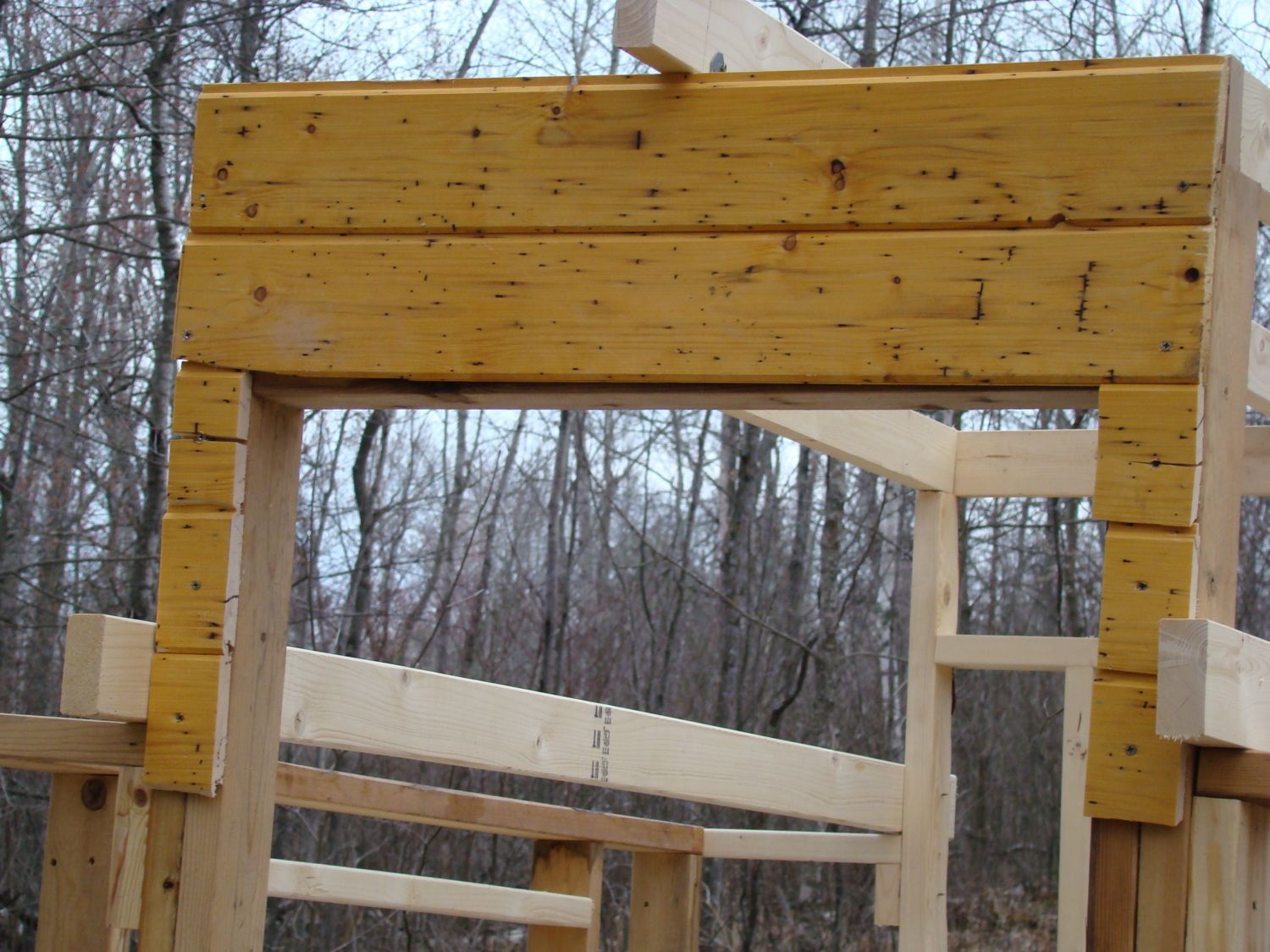 It's Easter Saturday and I got 4 walls finished 3 windows and a door hung. Here's those 4 Walls. (North and West Sides)
East Side.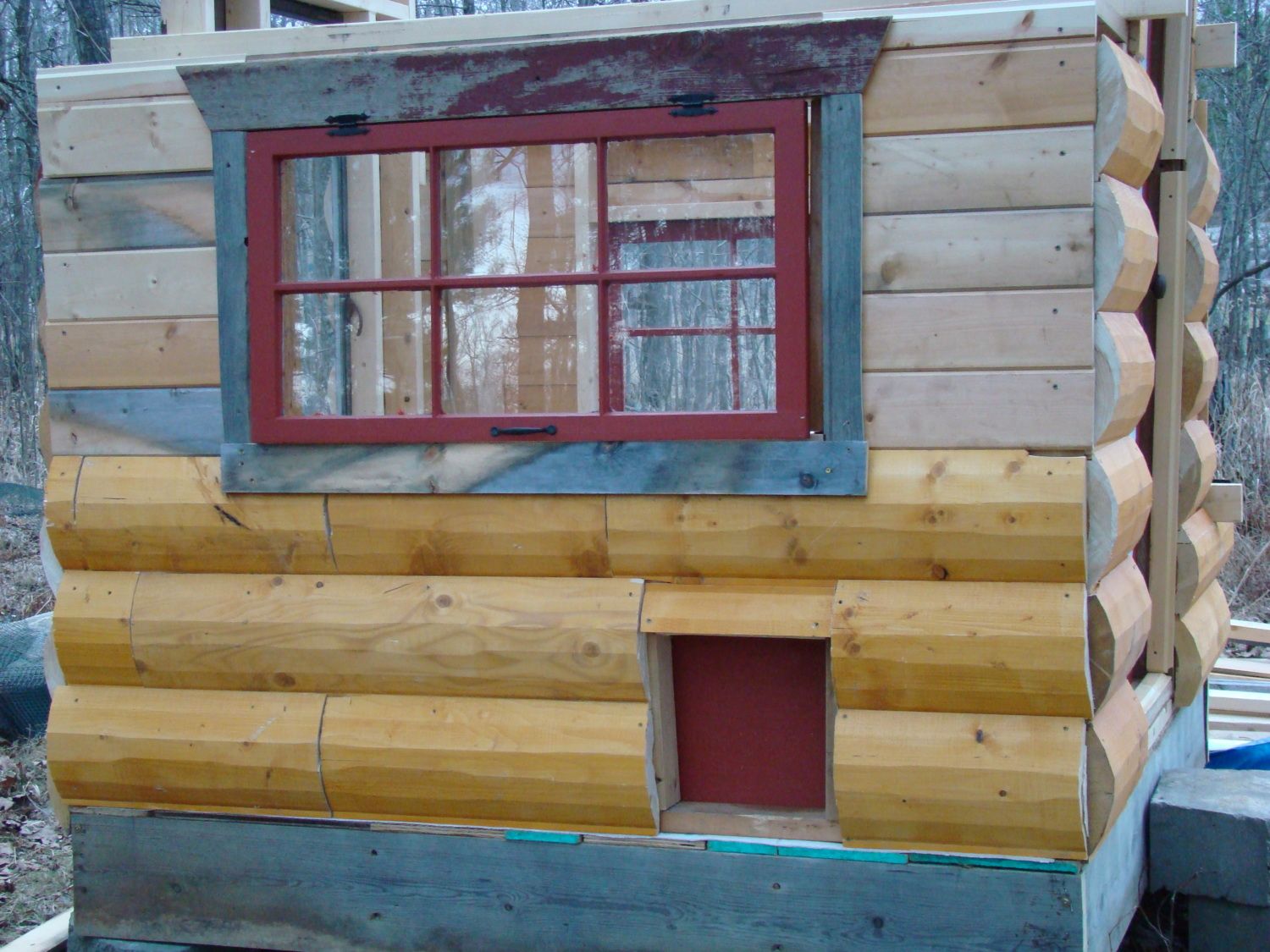 South Side. Here's a steel Window I saved. It took a bit to get it hung up there but of the 3 this one will last a while. It's sturdy and I actually love how tall it is. Tons of light.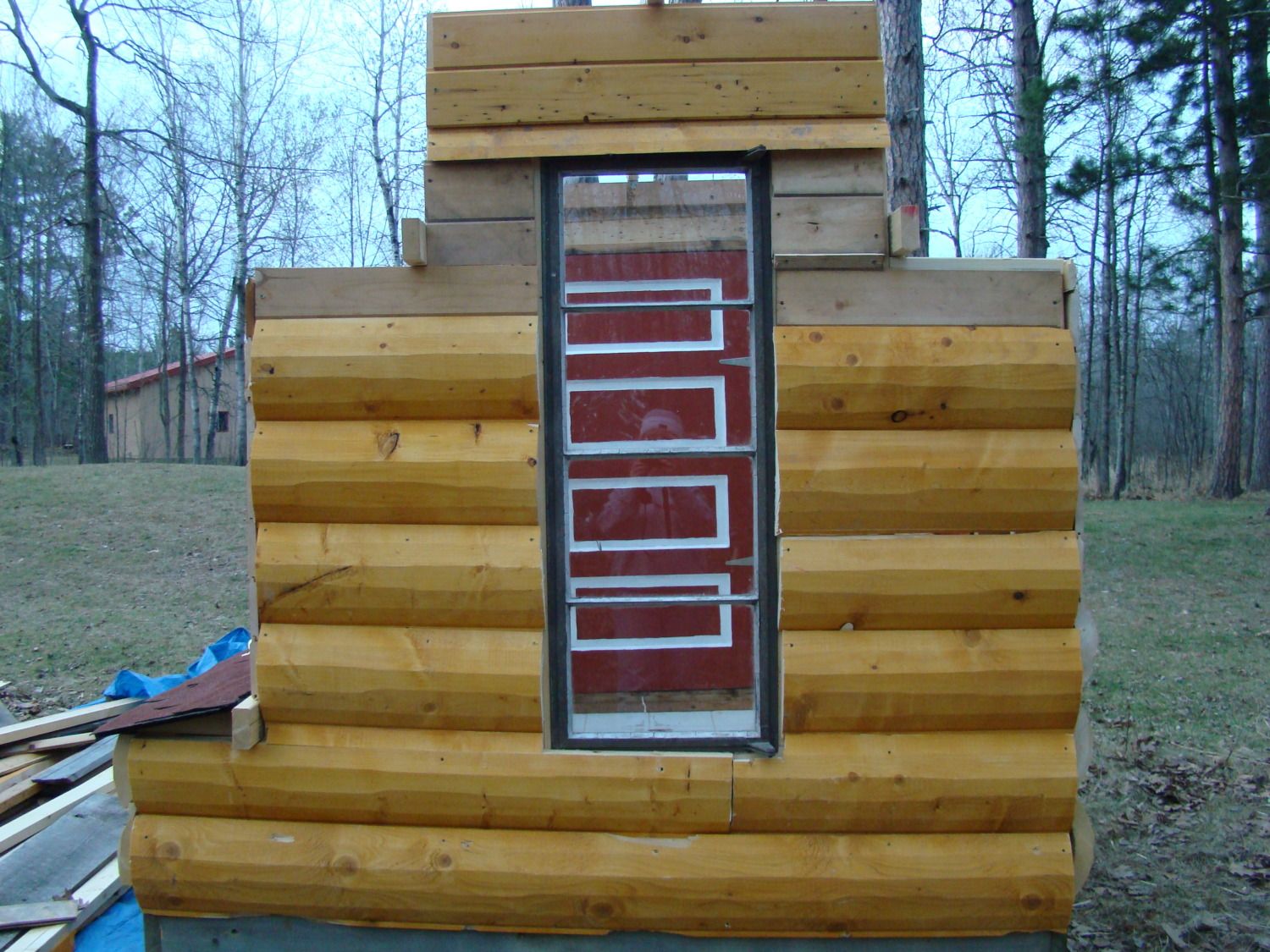 West Side again.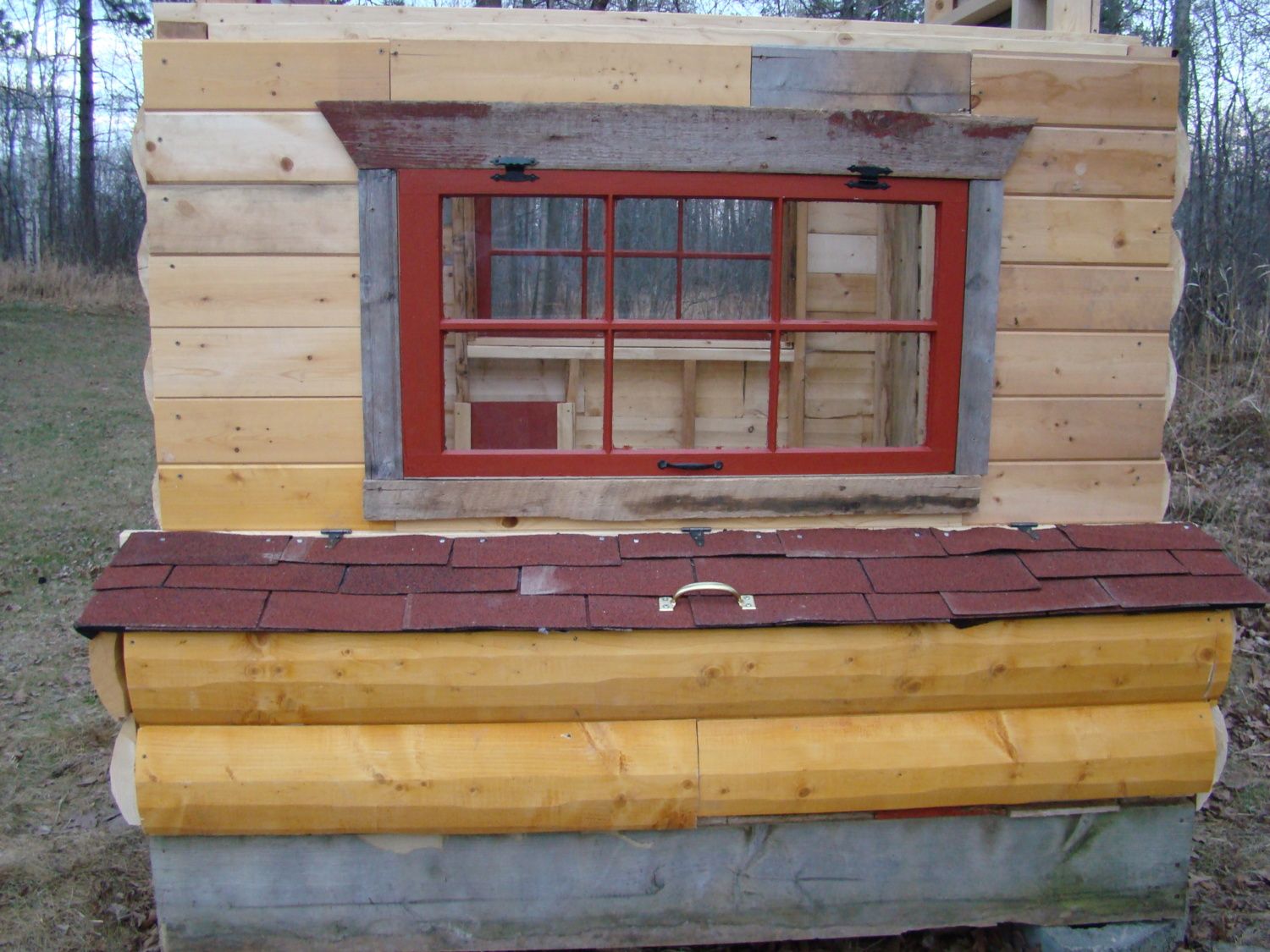 So next is getting the upper siding and starting some of the roof line. The First section is a simple slant and that's what I've figured out last night and tonight. I just used 2 x 2's here. This isn't going to be a major weight bearing roof that I'm anticipating. And I'm getting plenty of pitch. So got out the framing square and figured out rise and run and cut for a pitch. It wasn't on at all but I suppose this angle cut is better than none. Gabled roof for the final roof line is next.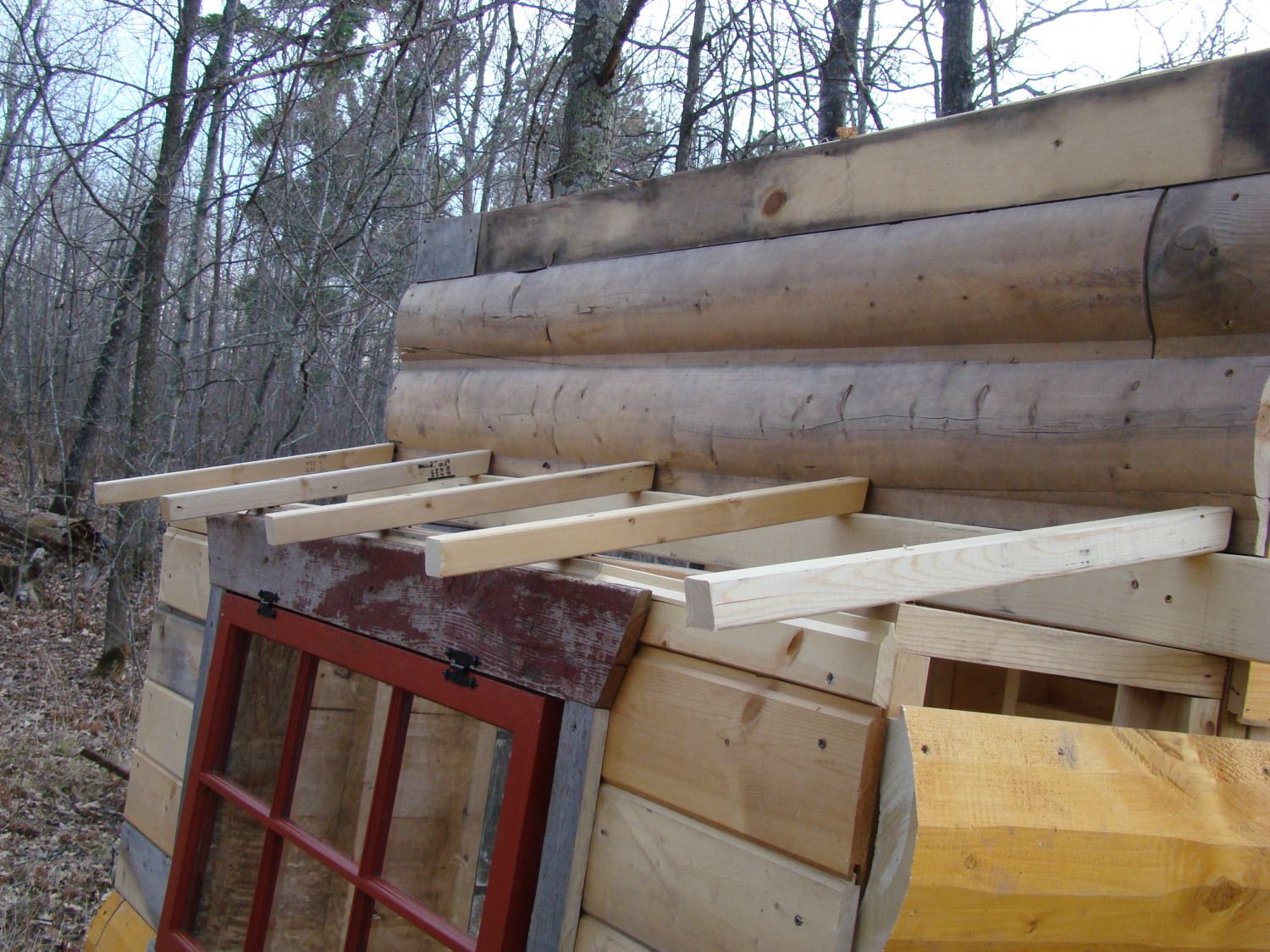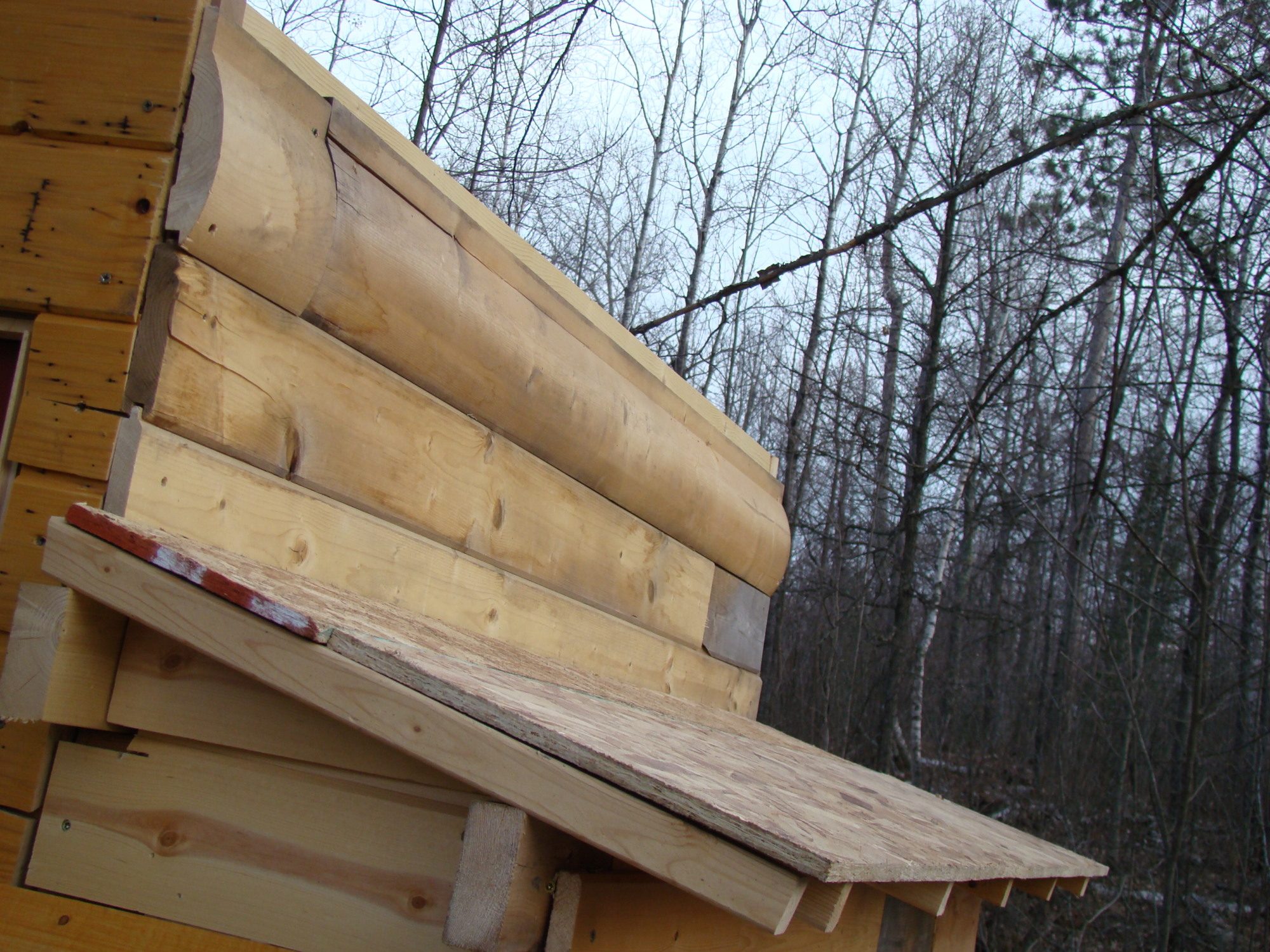 Well that's where it's at on April 12th, 2012.
* * * * * * *
* * * * * * *
April 13th. The babies are here! The babies are here! The Brooder is Pine Shelving from some old cabinets that were thrown out. painted. I made a hardware cloth lid with pine framing and a handle. And of course a little roost made out of a branch a beaver cleaned up for me.
The Chicks are (From L-R, Top-Bottom): New Hampshire , Black Australorp, Silver Lace Wyandotte, Easter Egger, Rhode Island Red, "Dominique"--but I see feathers on the feet now that I got her home-- Blue Cochin?!? Anyone?, Easter Egger, Partridge Rock, New Hampshire. We'll take whatever we got! They're all lovely and darling.
April 16th. We get a little set back in the weather. It was beautiful, but not condusive to getting that roof on and finishing the coop. I put plastic over the rafter/roof area to keep the snow outside of the coop and moisture off my roof boards. The power went out in the middle of the night and the chicks got pulled out of the brooder in the garage and put in their little "travel" cardboard box into the master bathroom to keep warm for an hour until the power went back on.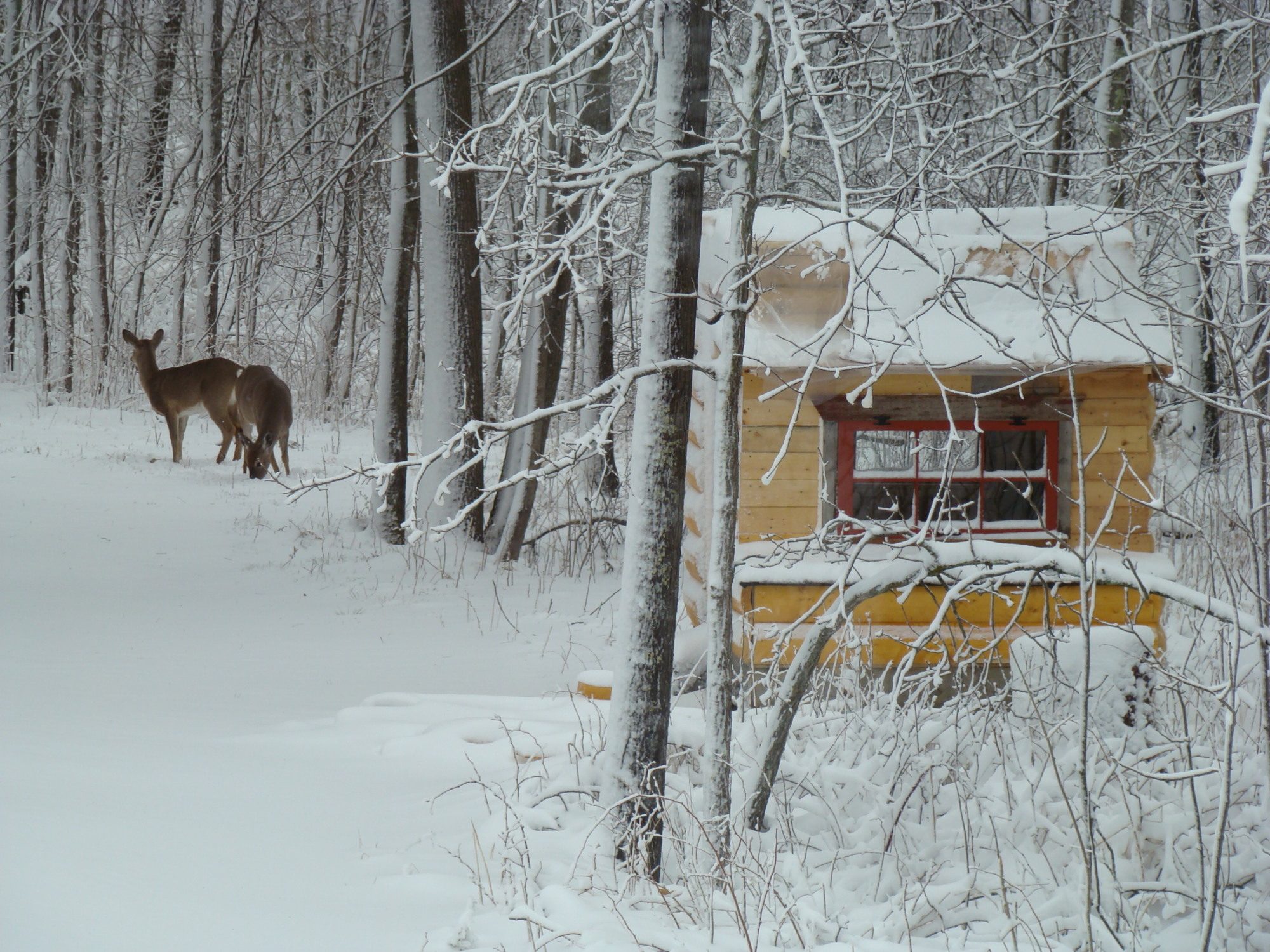 Okay so next: the roofing. Rafters turned out pretty simplistic. Buffalo board to help cut some of the noise for when it rains and hails and then the slightly rusted steel roof. I cut the roof steel with a skill saw blade turned backwards. You need ear plugs when you do this but it cut that steel like butter. Intimidating at first but worked really really slick. Caulked some seams with "Stretch" exterior caulk where that lower sections of roof meet the upper wall portion. It usually stays dry right at that seam with my overhang...but just in case we get wet weather that really hangs on...I thought it would be a good idea.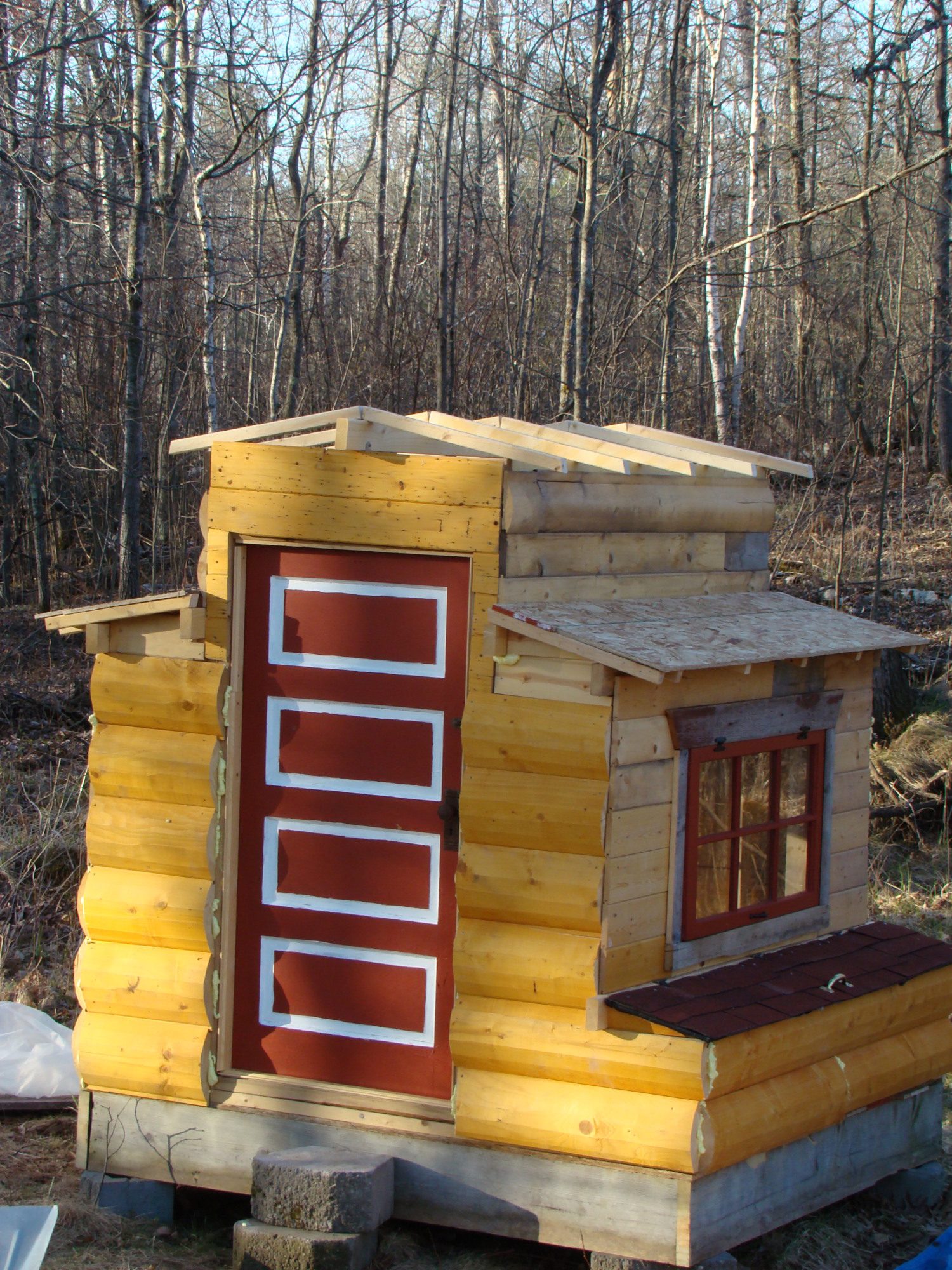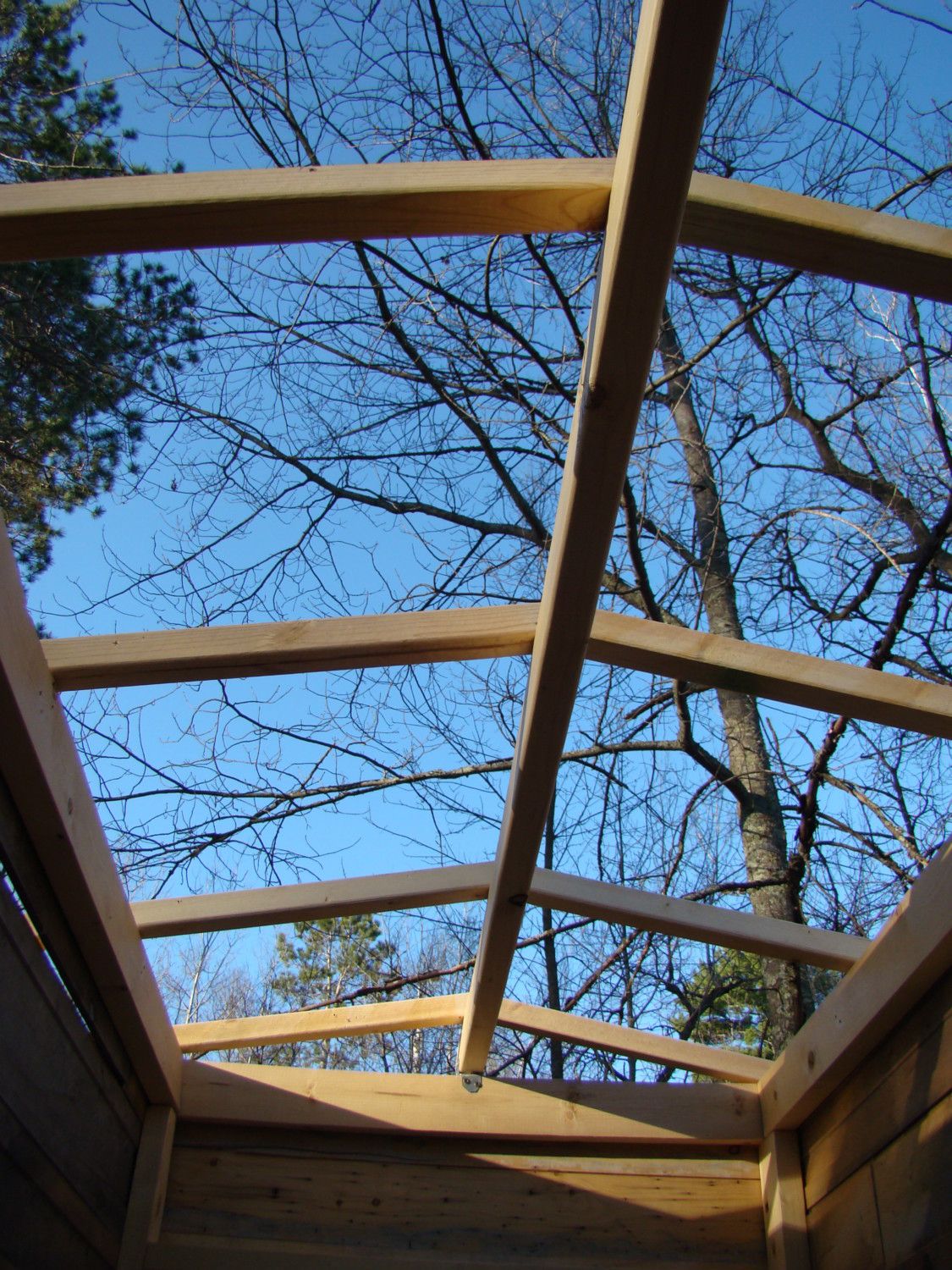 The center board is a 2 x 4 on it's end to set the pitch. Special little rafter/framing brackets are easy to find at hardware store.
So I found that I wasn't real keen on working on the roof due to the heights. The recycled tin roofing was less than cooperative as well! When I'd batten down a corner with a screw then work on the next side it would pop up on the side that I just screwed down! So I used a heavy hammer to flatten the warps out as much as possible and work from one side to the next...holding it and keeping it as flat as possible. I put a temporary 2 x 4 on the lower roof section for footing and safety while I worked on the upper roof section. I repeat. I did not like working on this part.
But I could see the end was near and rain was coming... and the chicks were growing....
I had one nice evening in the forcast then rain for the rest of the week and weekend so last night after work I "went to town" on the coop. Soffits/facia and finished the Tin Roofing was a priority. The chicks were getting big for the brooder but still found comfort in it. I took them outside in my flower garden and they liked it of course but were glad to be back under the security of their mother brooder light, too. Hahaha. Anyhow after that solid evening's work before the rain came... here it is holding it's own in the morning spring showers. Hurray!!!!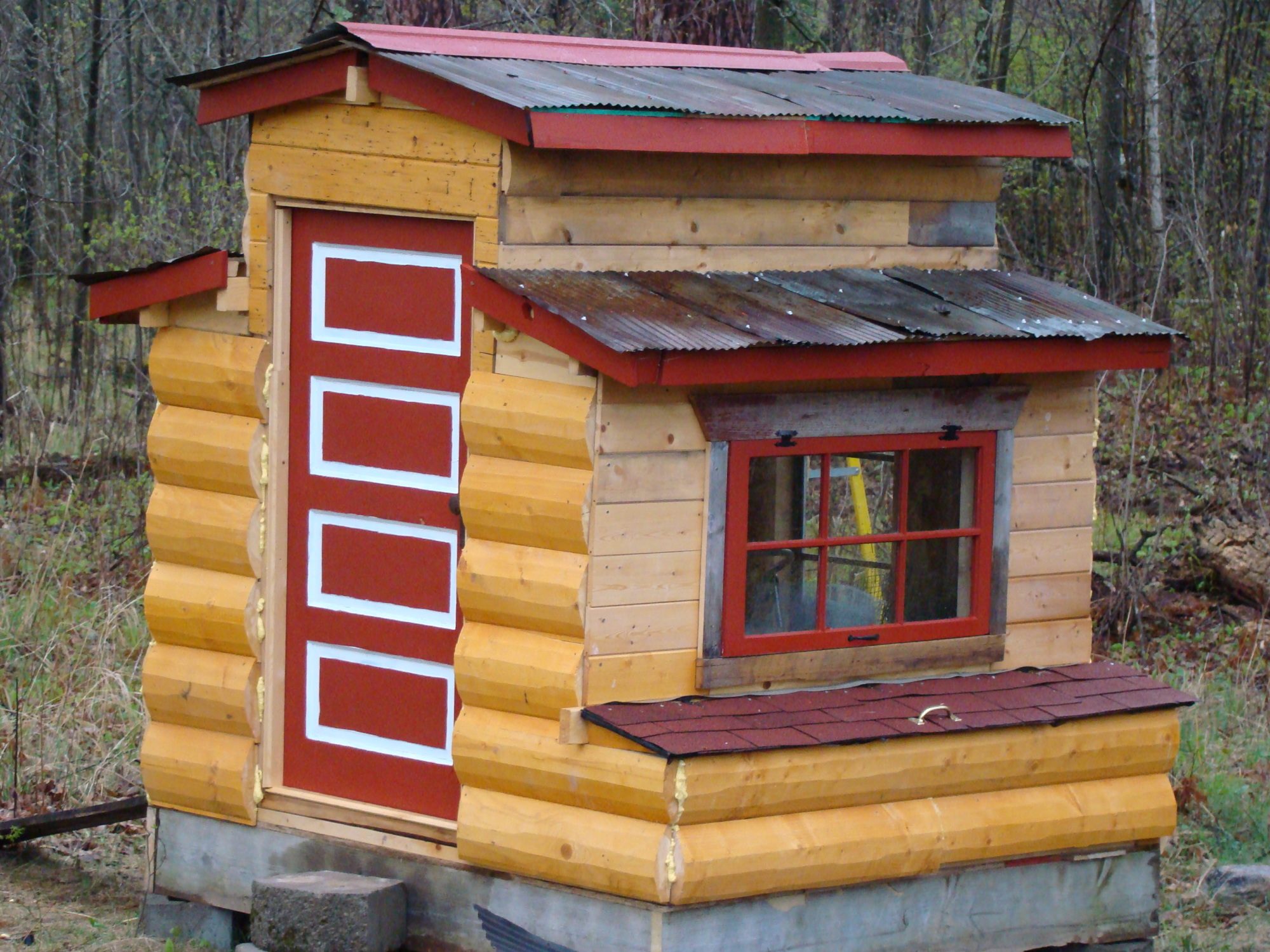 Next up are some finishing touches, vents, Indoor bells and whistles: screen & hardware cloth the windows, roosting rails, dividing the nesting box area. Some chicken house decor. OH Yeah! and a Run! Tons to do but fun to see it at this point.
Rigging of the pop door with a rope and two pulleys and a "stop" took another part of a day...to get it running smoothly.
Hardware cloth and metal screen on the windows because we have tons! of mosquitos. Pennies drilled and used as washers.
Handmade rustic signs on white-washed old 1/2 rotted boards and bright cheery flowers. I love this part....
And my Sister's advice to me during a critical time during the build...that helped spur me on.
More "rotten" board signs.
A Clean Coop! Prior to turning into Poop-Ville.
And below is move in day! The chicks loved it from the start! They explored and stretched their legs in the safety of their new space.
Here's Duke Checking out this perch nervously and getting a good look outside.
Welcome to your New Coop Meal was grass clippings, yogurt and mealworms!
The Yellow Lab taking in the smells coming from the coop the first night. Still not "Chicken-Safe" at this point yet. But she learned fast. It took about 3-4 months to train her.
The first night. I was a nervous Nelly worried about predators finding a way in! But all was well and not one loss! I am proud of this build.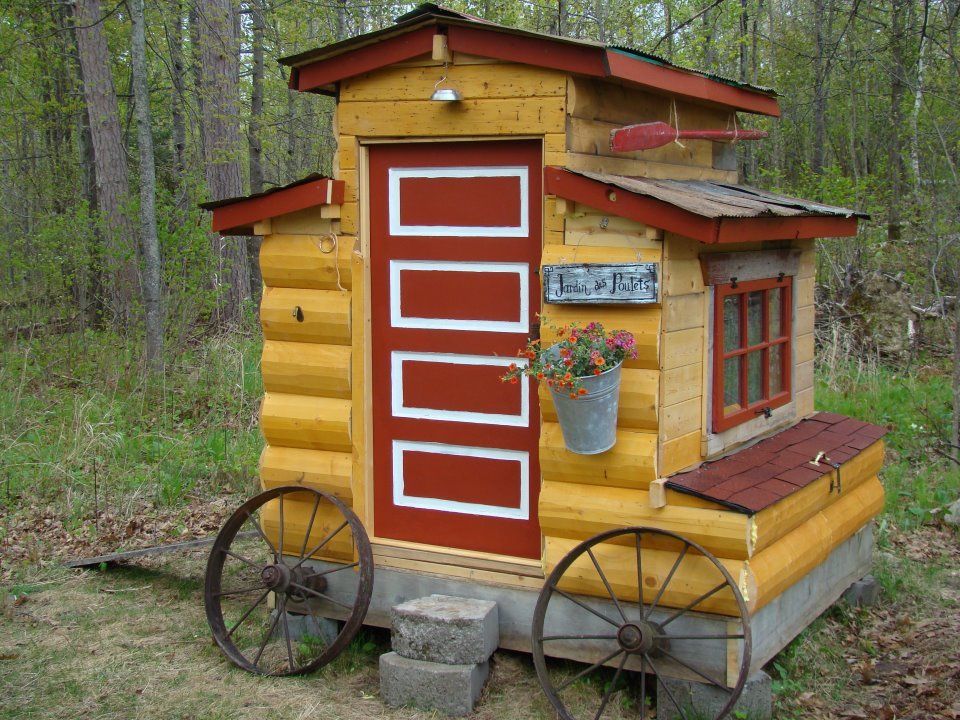 WHAT I WOULD DO DIFFERENTLY:
* Miter the corners on the 1/2 log siding.
* Make the Framework of the door so there is no bottom and bedding could be easily shoveled or swept out.
* Use square cinder blocks instead of odd shaped keystone blocks.
* Make Double sure we were level at the base block flooring level. We are now 1/2 inch off center which I'm sure all started with the leveling of the blocks! Building things square is so much easier!
* Instead of scrap pieces of floor boards, I should have sprung for good, new plywood for the floor--one solid piece. The floor is so important to have done right. Maybe considered insulating it too underneath in consideration of our harsher winters.
Fall Came Fast. And without a moment to spare we got a Run put up as the mud was freezing and rain turned to snow.
This
Run made for such a nice difference in dealing with our Northern Midwest winters. I don't know what I would have done without it! It is 10 x12 and same basic roof lines and framing as the coop. With a Chute attachment to the coop so I can open the coop window without it being in the run.
And there it is Fall 2013...Sitting under the big Norway Pine Trees.
Coming Next: Landscaping the Coop and Run!

Fall 2013 I stained and touched up paint on the run and the coop. Spring and Summer 2014 I started searching the woods and fields around my home for stones to put up a garden border along the run and the coop. After finding various boulders I then mixed compost and black dirt and started digging and separating my hostas and large Annabel hydrangea. The plants are still a bit beat after their splitting and transplant -- so I will update photos next summer with more mature and filled in plants. I also planted a crimson climbing rose and some oregano at the chicken door opening in front of the coop. Would like to find some mosquito repelling plants that do well in the shade.
I found this little radio flyer wagon at our local antique store. I thought originally I wanted to stick a rusty bike in my plantings but the price was better on this wagon...plus it held more flowers.
My young pullets had just ransacked the begonias before I got to the coop with my camera. Literally moments before! Rascals. At any rate the begonias, sweet potato plant and creeping jenny just really add charm to the coop and its sign. I have found the perfect plantings for this shady coop. When the young ones are used to free ranging our property, I imagine they'll leave the begonias alone.

Thank you for Viewing my little slice of heaven for my chickens. They are a blessing to us everyday and we are glad to give them this home. They seem to like it--their Jardin des Poulets-- under the Norway Pine Trees.