Hi! I'm Rebecca,my family and I live in the Upper Peninsula of Michigan. Last summer we got our first flock of chickens from an older farmer who had too many. WE LOVE THEM. We love eggs, and even though the chickens are older, they still layed enough eggs for our family of four. this winter quite a few of them died, so we are trying our hand at raising replacements. They are growing so fast, and they are so darn funny! I like to think we are doing a good job, we haven't lost any chicks, and they seem so happy and healthy! I now am tempted to try and incubate some eggs from my browns but, I have to make an incubator first, so I guess that is my next project!!
Our Homemade Yooper Brooder
it's a plastic toddler pool that someone threw away because it was cracked
at first we just put the chicks in it with no wire, but then they learned how to jump
so we wrapped chicken wire around it and zip tied it together.
the wire alone wasn't strong enough to hold the lamp so we got some 2 x 8 lattice from menards ( 11.00 )
and that really firmed it up, i also bought a garden steak for 1.50 and that is what the light hangs on. i used a couple scrap
1 x 2's under the garden steak to keep the light from wobbling.
i hung a thermometer near the floor to keep track of the temp, put in the feeders and water fountains, pine shavings, chicks!
they seem to be really happy! they have plenty of room to move and play.
we have them in our dining room right now because in northern michigan it's really cold still
and that just adds to their social life. the kids hold them and they are really used to us being around.
i was really worried that our cats would jump over the top, so i was going to make a cover out of chicken wire,
but the cats don't bother it, the chicken wire we used is 36" tall, and that seems to be enough.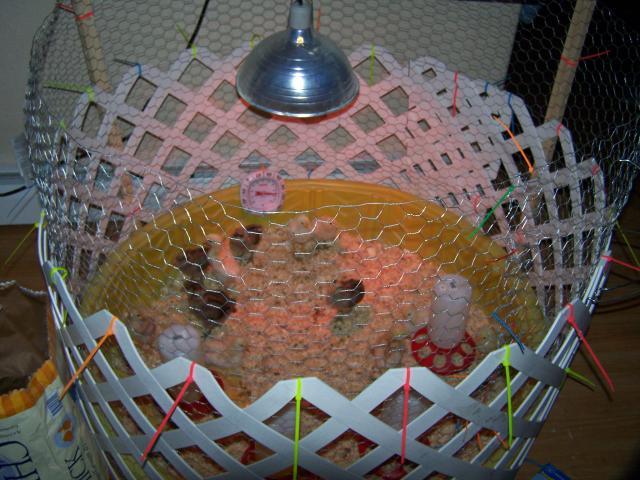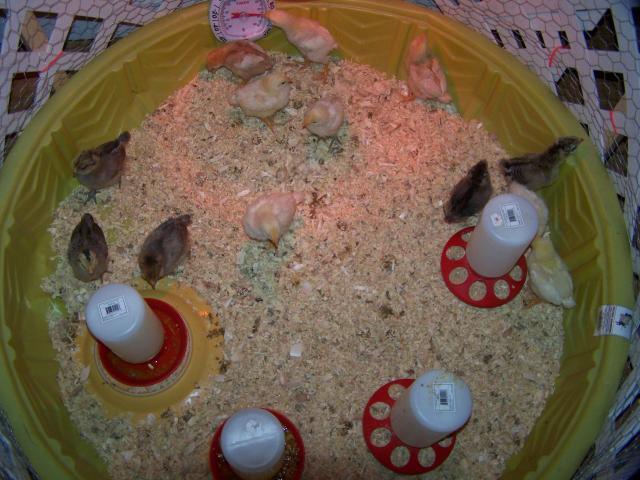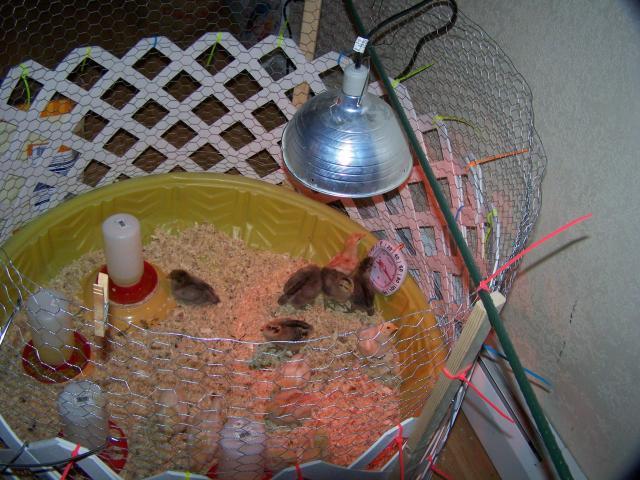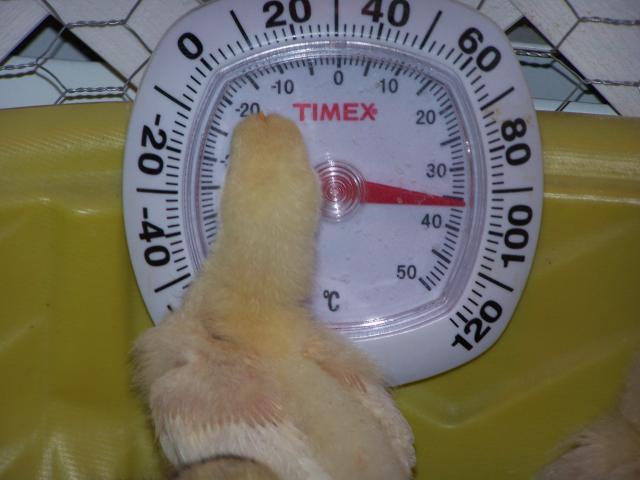 so, the total cost for our yooper brooder:
plastic toddler pool - free in the alley
chicken wire - free i had scrap
heat lamp - free i had an old one in the garage
zip ties - 2.00 menards
plastic lattice - 11.00 menards
1x2 - free i used scraps
green garden steak - 1.50 menards
bedding - 5.00
tsc
under 20 bucks, and about 30 minutes of my time.
yes, we are red necks. yes, we like it