The Dee-luxe Urban Tractor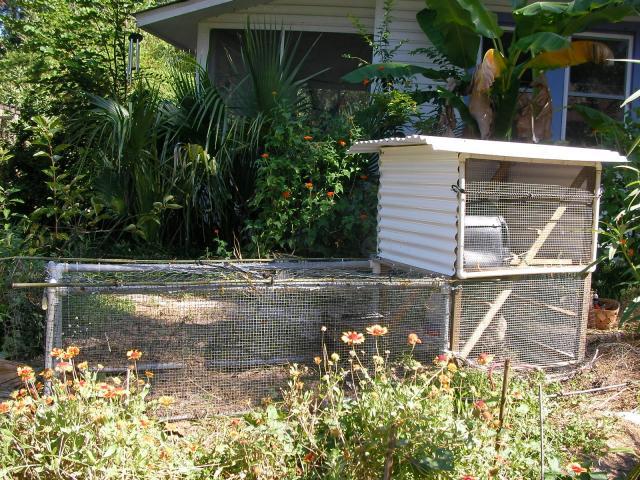 Hi, I live in a small town and have a large garden with fruit, veggies, bees, rabbits and chickens. Chickens are high impact and I need them to work specific areas in my large yard so I move them around almost daily to turn the soil and eat bugs. I wanted to build something that was easy to move, requiring it to be lightweight and resistant to bugs and rotting. I used 2*2 wood to build the main roost area, 2" PVC along the base sides to act as a sled and a rear roller assembly, also made with PVC. In front of the roost is a 3' x 6' run. The whole unit is wired with hardwear cloth. Chicken wire forms the roof of the run and plastic roofing covers the roof and sides of the roosting box. The run is detachable from the roost and both upper roost sides open by dropping from hidge. I used screws for the brood box, zip ties for the run and side doors, and attaching wire
.
Construction: Step 1: build frame using lightweight pressure treated wood held together with screws.
Dimensions: 3' wide x 4' tall x 4' deep​
Step 2: The Base
Attach 2 - 4' long 2" PVC runners along both sides using 4"metal shelf brackets to attach runners to wooden frame.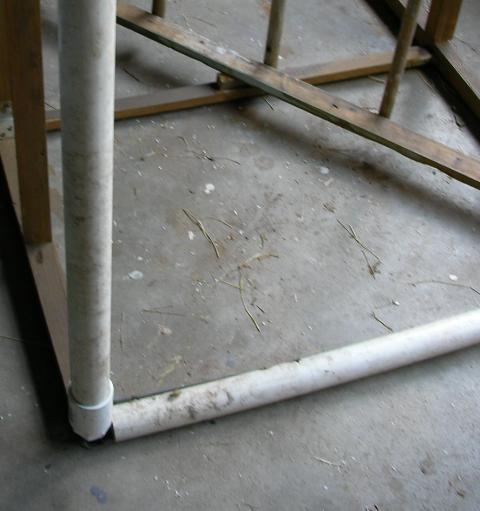 Step 3: Attach 3' long roller assembly in back pinned to base of wood frame by a metal rod, cotter pin and eye hook. Check out the cool PVC redux fittings to keep metal rod in center of PVC, for a friction free roll!
​









PVC framed panels with hardware cloth open and close on both sides to refresh feeder, water, fetch eggs and allow chickens egress into the garden. Garden netting with bamboo forms easy to lift predator deterrant skirting. Netting is held up with bungees when tractor is moved. Bungees also hold side doors shut. I love bungees

. Roof panel is a vinyl roofing material, easy to cut and lightweight.

​




The nest is movable , best if paced facing the roost dowels. Placed a modified plant pot over nest to prevent droppings






The sides now have side panels. You see the bungee securing the side. You can also see the bottom rope which I use for pulling the tractor around. Finally, the skirt netting along the front run as a predator digging deterrent.






Hope this project inspires.
​