My 7 Rhode Island Red girls arrived at 1 day old in the third week of March, 2010. I promptly named them after female rock/pop stars....Tina, Joan, Lita, Cyndi, Janice, Madonna, and Stevie.



The girls lived in a large cardboard box in the back room until they were 5 weeks old, then they were moved to the coop, which my parents had been working on and finishing up at their place.
They were pretty much awkward teenagers when they first went to the coop!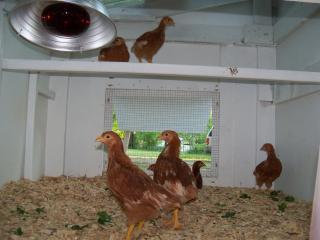 Here are some pics of the tractor itself. Numerous doors for easy access, nest boxes at one end, and roosts. My dad came up with the idea of the inset panels in the doors that are lifted and propped up for ventilation. The opening above the run is not a door...it's for ventilation only.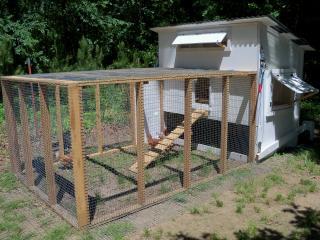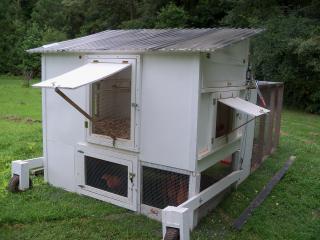 There are come-alongs on each side of the coop. They raise the coop and bring the wheels down. You can also see the access door for the nest boxes on the right, directly under the roof.
We added another wheel to the run end. This is operated by a crank to raise the run and bring the wheel to the ground.
Four nest boxes are in one end, with a perch in front for entering. The boxes are accessed from the outside through an external door.
When it's time for a move the whole thing is cranked up, then we put a chain around the wheel assembly on the run end and attach it to a vehicle. We only move short distances at a time...just to the fresh grass. I could actually do this by myself, but so far I haven't had to. We had thought originally we might be able to move it by hand, but it's a bit heavy for that.
The overall dimensions are as follows:
Coop: 4' X 6'
Run: 6' X 8'
If you add the area under the coop, which my girls use alot, then the total outside space is 6' X 12'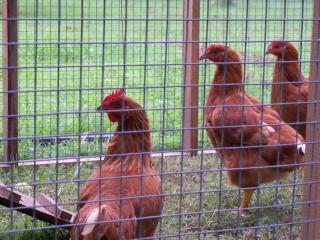 Some of my girls at 15 1/2 weeks.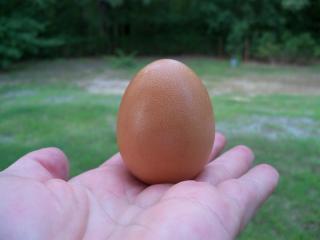 First egg at 15 weeks!
I know I haven't given alot of detail here as far as construction, or materials used, but please feel free to ask! I gave my dad several pics from this website with ideas and he came up with many on his own. We would be happy to share any info with you! I would like to thank my dad for his great design and all his hard work, and my mom for all the painting she did! I think it's safe to say they have all the eggs they want for as long as they want them!