"Bloom where you're planted..."
My name is Katie and I'm venturing into the world of urban chickens. Currently (Nov. 2009), it's not legal to keep chickens within my city limits. I live smack dab in the city, two blocks down from a 7-11. I have a loving and supportive partner (who thinks I'm nuts), a two year old daughter (born at home), and a baby on the way in March 2010 (planning to be born at home). So far, our menagerie includes: 2 dogs, two indoor cats, a slew of neighborhood strays I feed, a nd a house rabbit. It's been our dream to have a small hobby farm and try to l ive a more self sufficient lifestyle. However, my partner works close to our current home and is going to school here in the city, too. Our lives are here and our income doesn't stretch too far beyond the city. We've been gardening for the last few years and I tried my hand at canning this past summer. I've recently read some really inspiring books and stories of urban farmers. So, I've decided to pursue our dream of a more self sufficient lifestyle right where we are. Next door to our home is a vacant lot where an abandoned house was torn down. We're trying to purchase it from the county to expand our little enterprise. I grew up with a military family and a common theme for them was to "bloom where you're planted." So, very literally, we intend to do so!
​
11-14-2009
Work has begun on the coop! Unfortunately, we didn't check the weather. It was unseasonably warm and sunny today and it's supposed to rain for the next three days. I'm 5 months pregnant and outside trying to erect this structure (mostly on my own as DH had class and errands for most of the morning). DH got home in time to help me erect the walls. I've never built anything in my life and can barely measure so I'm pretty proud. I'm sure it's not going to be beautiful but, it's going to be build from my labor so it's sure going to look nice to me!
Starting the floor on top of the old 8x4 garden box.

Back wall up!


Three walls and a screened window up and it's getting dark and starting to rain already!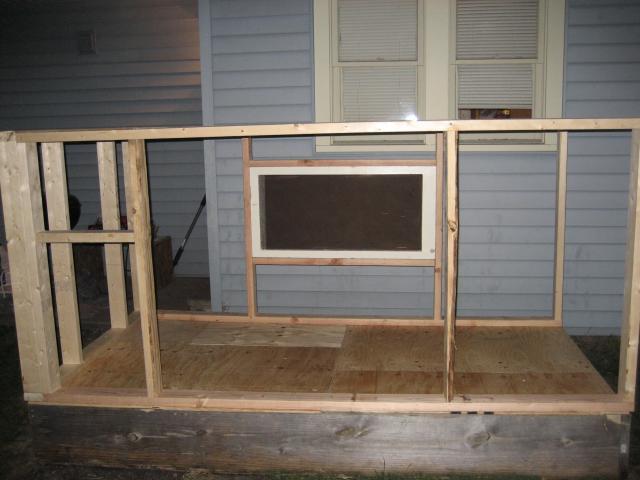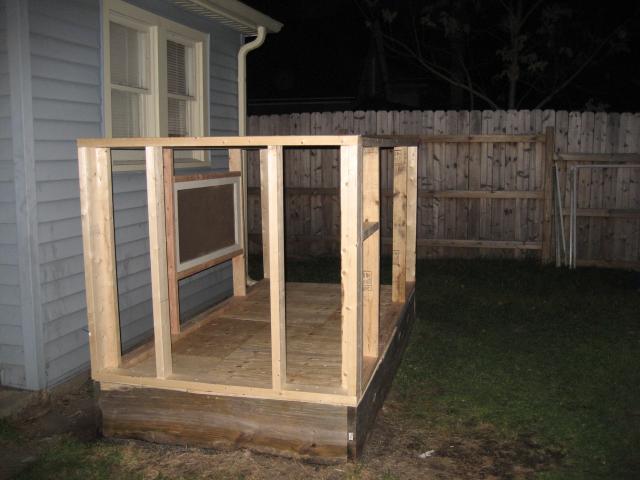 More to come... when the rain stops!

11/23/2009
Let's see... between rain and not having the money to spend on a building a chicken coop, things have started to move pretty slowly. Oh, okay, and I guess that being 6 months pregnant now also has things moving more slowly. I was trying to complete it before winter sets in and before I get too pregnant to build more. Christmas travel and gifts and general bills have funds tied up right now.
What's left:
​




put doors on (including chicken ramp)​

plexi glass windows in and vent covers on​

finish second half of roof and put down waterproof roofing​

side the whole thing and paint​

fill in backside (which is muddy) with gravel​

put gravel or brick around coop to help with mud control​

fill gaps in our fence so no one can escape​

put chicken wire around garden bed​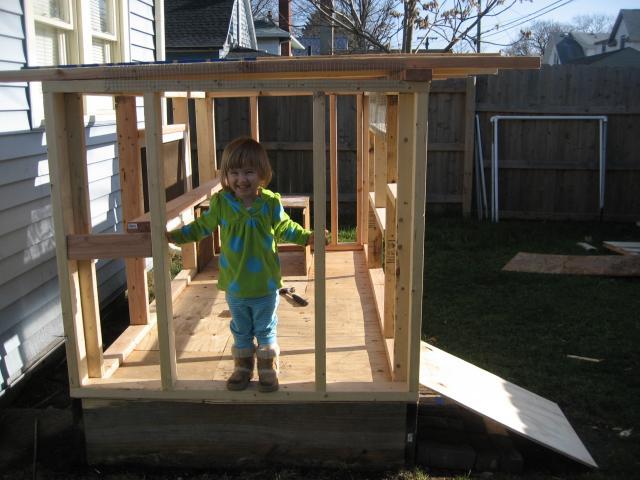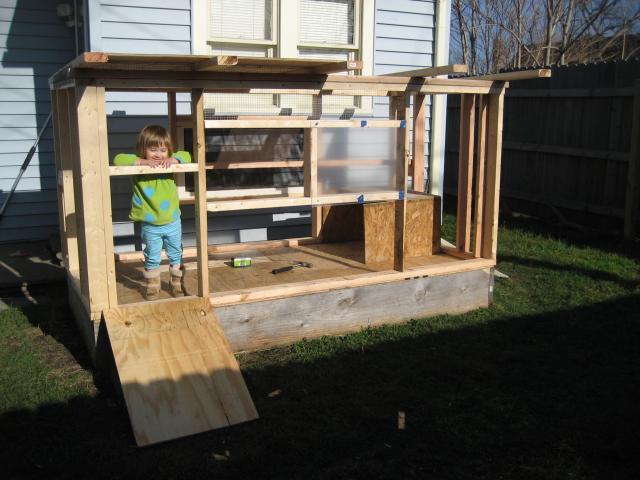 To give you an idea of where I live and the space I'm working with here...




As we progress, I'll update!


​