The Kreitz Family "Poulet Chalet"
Submitted by Steven, Mary, Ben, Joe and Josh Kreitz in Rosemount, MN
Here is my "creation" for the 5 chickens that my family "inherited" from my kindergartner's class in May. The class watched the chicks hatch, but they grew far quicker than the teacher expected, and so they magically "appeared" on our doorstep one Thursday morning!​
We knew nothing about raising a chicken, so your site was very helpful early on. Really! We kept them in the laundry room in a kiddie pool with poultry fence around it, while I started to work on the coop.
Since the coop was to sit on a wooded spot directly in front of our house (which I had built with my own hands), I wanted it to look nice and at the same time somewhat match our timber-framed, arts and craft styled home. I started out with absolutely no plan, just a rough concept. That's it. No plan, lots of trips to Home Depot and my experience in home building.
The end result is in the photos. It stands 8 feet tall, has a 4 x 10 foot footprint, is cedar shaked roofed, cedar sided and trimmed, insulated, wired for electricity (for future heat in the winter), has 4 12 x 10" nesting boxes, top access to nesting boxes (a couple of photos have the roof "open", hand-made screens for the summer and window frames in the winter, and my favorite feature, exposed rafter tails. Very unusual in Minnesota to have those. Below the main gabled roof, the two smaller shed roofs I built so that the hinge to the roof that opens is protected from our MN weather.
I also decided late into the construction to have two access doors for the chickens to enter/exit. Just in case we need to separate chickens in the future from each other in the coop itself.
My smartest thing I did was to buy from Home Depot some cheap linoleum ($10 for a roll of 8 x 20 foot) to apply to the floor of the coop. We just spread wood shavings/nesting material over it. It makes cleaning up the poop SOOOO easy. I also added an interior screened door to restrict access of the birds to just about 1/2 of the house. The other half we use for storage of food, brooms, cleaning gear, etc. Works great that way!
Over beers with my best friend late one night, he told me that after nearly 3 months of weekend work, I had to name the coop. After just a moment, it came to us -- "Le Poulet Chalet". It was perfect. Note one photo where I routed the name into the header over the small main access door... Not a bad name we thought for a couple of drunk guys who speak NO french whatsoever!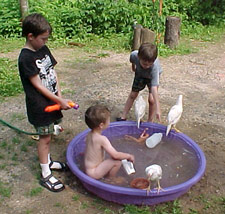 My boys just love the chickens. Ben is 8, Joe is 6 and Josh is 4. Hope you enjoy the shot of them "washing" the chicks in their kiddie pool! What a hoot! Believe me when I tell you that we washed them THOROUGHLY immediately after Josh's "dip" with the chickens!
We're hopeful that they'll start laying soon, and then I'll have to build a run for them. For now, we really enjoy watching them race around the front, side, rear of our home, as well as into the forest all around our home. They love to explore so much. It's fun! Do I need to start worrying about "losing" eggs out in the woods during the day? They were born in April, and are Leg Horns (I think that's how you spell them).
Thanks so much for your site. We sure enjoy it. Hope you enjoy my photos. Again, I'm sorry, I have no plans for the coop itself; it was created in my own mind, and changed as I built it over the past 2 1/2 months of weekends...
[ click any image to enlarge - use your 'back' button to return ]
​