K&S Waterfowl
Greencastle, IN
Welsh Harlequins, Snowy & Grey Mallards, Trout Indian Runners
Pilgrim Geese
Nankin Bantam Chickens
And a few other pure breds in various other breeds.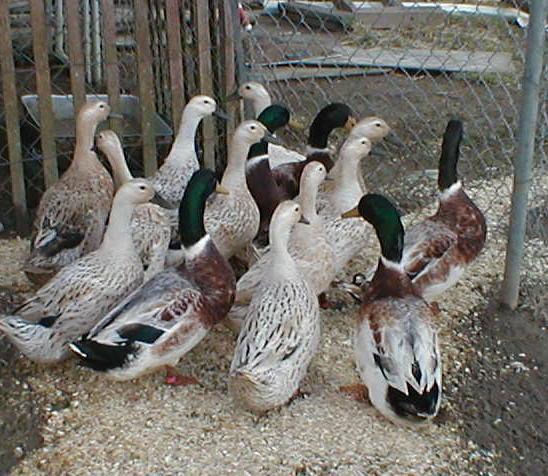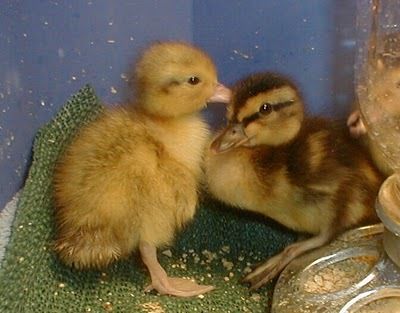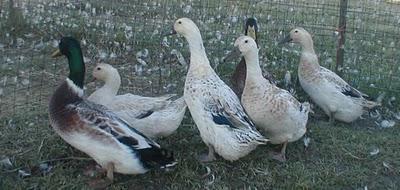 We have been raising and exhibiting waterfowl since 2000. Our flocks have evolved over the years, but most of our original birds came from some of the top breeders in the US, but we consider them all to be the K&S Bloodline. (descended from Holderreads, Gartman, Fenners and many other breeder friends we have met over the years.) Throughout the course of the year we may have various birds for sale, of various ages and quality. If you are looking for something please e-mail. We are always willing to talk about birds, whether or not we have anything available. We try to show as often as we can, but we mainly focus on a few Indiana shows near us. Jason is a certified NPIP bloodtester, and is always willing to bloodtest birds for NPIP certification or re-certification. (Please contact us for more info.) Our main breeds are the ones listed on the top of this page, they are the ones we have dedicated the most time to, and have maintained the longest, but we do have other breeds of bantam chickens, largefowl chickens, and ducks. If you are interested in other breeds, please e-mail for a more complete list of our breeding stock.
K&S Waterfowl
www.kswaterfowl.blogspot.com
[email protected]