Hello Everyone,​
I am new on this site as of July 2009. Let me tell you a little about myself....I am pure County and have always been a Daddy's Girl. I am no writer so please excuse the way I write, and my spelling...lol....I grew up with Chickens and did not take to them until recently. I guess I took them for granted because I do not remember a childhood day at home without them being around. I can remember lots of times my brothers and sister and I had to run from the barn or the yard because of a mean ol' mama hen flogging our backs. My Daddy raised Game Chickens. He had to give up all his chickens a few years ago at the age of 75 when he took sick. Before he got so sick I would go more often and visit Daddy and Mother mostly on Saturday or Sunday mornings to help out. Daddy would have to go feed and I would go with him. We would talk and laugh, I would ask him questions about his chickens and sometimes we would move his pens around where the chickens could get to fresh grass. He had this one Rooster he called Red, I really liked him and Daddy let me claim him as my Rooster alone with a pair of his Grays. Daddy had Red for a long time and raised a bunch of babies from him every year. He was really a pretty Rooster. When Daddy would walk out the back door to go feed he would whistle a little tune all the way to the barn and after he fed he would whistle all the way back to the house. When he would start to whistle all his chickens that was running loose would come running and clucking and all the pairs in pens especially Red, would start crowing and clucking. I have heard him whistle that tune for years...it is funny what you will miss when you loose one of your loved ones. Daddy passed away August of last year, he was 78. I miss him and his chickens, so I started thinking that I would love to have some of my own. Thats how I got to this site...
Daddy and Red
​
I have studied coop designs and looked at lots of pictures here on BYC and have got some good ideals, so, I drew me a plan. I went and got me a Big Mama Hen which I named Bessie, and 5 little chicks....I went with Buff Orpingtons. My Daddy would be laughing at my choice....and at my " La Chick Mansion" (the name of my new coop) because he raised tough birds.....lol My wonderful Husband ...truck driver not a carpenter... and my brother David helped me bring my plan to reality. Of course they built it bigger than my plans because my husband said I would out grow it within a year and he is most likely right. Bessie and her chicks lived in one of Daddys old pens until their house was finished. The very first day I put Bessie in her new Chicken Mansion (thats what everbody calls my pen) she layed me an egg. I like to think that she was saying Thank You. I had the nest boxes build on one side and on the other side I have some storage for feed and such. Also I have a drawer at the bottom of the roost post so as to catch the litter, it is for my Garden which is located at the back of my pen. I need to paint my Coop but have not decided what color... I thought about a soft yellow with white trim like my house...but I would like to keep an old fashioned look to it. Also I want to add some more landscaping to the sides and front......that will have to come later......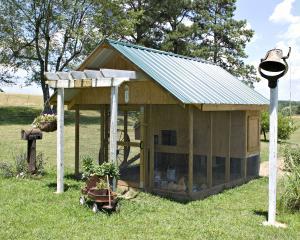 La Chick Mansion Side view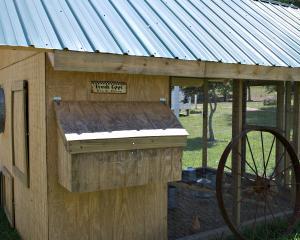 Other Side with nest box
​
Thanks for looking at my page...I hope you can get some ideals from my pictures.....not nothing fancy just makeing memories....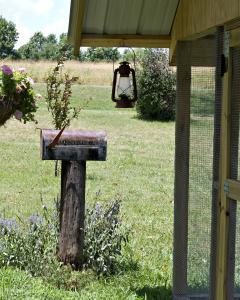 ​
Daddy's old mail box ​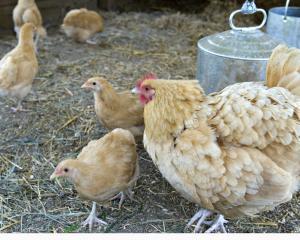 Bessie and her Babies
​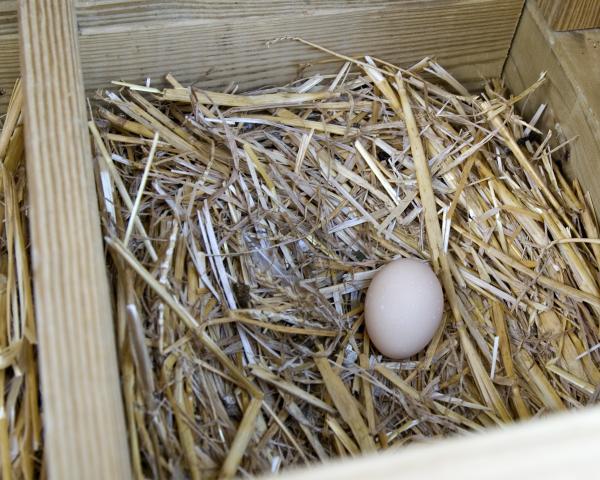 ​
Bessie's gift ​
​