Hi I am new and this is a great website. I've had chickens on and off since I was 12. I made an incubator out of a mini fridge had about 15 hatch out of 43. I am a newbie and need to learn the ways of the wise. Ill keep trying, gave away some and now I have a couple left....I am an outlaw now! Beware of the chicken coppers man they'll beat ya down!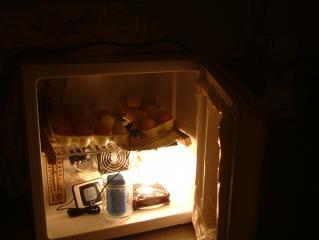 mini fridge - craigslist
bed scanner glass - in the frame for window
computer fans - Thanks Dave B in Lancaster, Oh
foam leak sealer - stuff in a can
Duct tape - the real stuff - white to match interior of fridge.
single element temp gage
100w bulb
small single bulb holder - Lowes
cord off of vaccum cleaner
Transformer- that a grouchy lady yelled at me for getting in her trash can about-It was hanging out, I couldn't help it! I needed it for this project and the 5 others I managed to knab!!!
blue sponge - anti bacterial
jar to fit the sponge end chunk
drywall screws
nuts, washers
wire cloth and pieces of wood for shelf
hygrometer
assorted temp gages.
slate
a drill w/bit, screw drivers, plyers, circular saw and saw all .