Leonard Family Coop
***Update: January 2012.***
Hello. We now have had fresh eggs coming from our shed for 18 months. This is our second winter. We currently have 1 SLW, 1 BSL, 1 Partridge Chantecler, 3 White Chanteclers, and 3 Barred Rocks. Many of which I hatched myself.
We also keep meat and pet rabbits. We have Californians, Holland Lops and Lionheads. My daughter has a pony and I have a draft team of Percherons. They live on a farm.
It's hard to find other people who fancy poultry and rabbits in our area so I have been reaching out to people to network.
Hopefully I will get some recent pictures of the coop and update some more. Cheers.
Here is my clandestine chicken coop. We are not allowed to have chickens where we live. But we are allowed to have pigeons so I may start referring to it as a pigeon coop.
We live in Northern Ontario Canada. We have neighbours on both sides and 4 across the back (6 in total). We have a very large lot compared to most. Some of the concerns we have in our area include cold/dark/snowy winters (artificial heat and light source, frozen water, insulation, ventilation), predators (raccoons and dogs mostly), keeping things private (we get along with neighbours but don't want to push our luck) and finding good sources for chickens and supplies.
I am renovating a shed to house 4-5 chickens. The shed is 8'x12' and has a ceiling height of about 7'. I plan to use the back half of the shed (6'x8') for the coop and the front half for storage of garden equipment and/or maybe keeping rabbits. I will add more pictures as things develop on the inside.

Shed before renovations in 2007. At the time a chicken coop was yet considered. Three colours of shingles. Roof was rotting. Painted plywood exterior walls. Old windows. Divided doors. 4' white picket fence with no privacy. Small vegetable garden (8x8) to the left. Perrennial garden and shrubs in foreground. Birch tree and apple tree behind. Neighbours garage in back left. Doors face south and windows face west.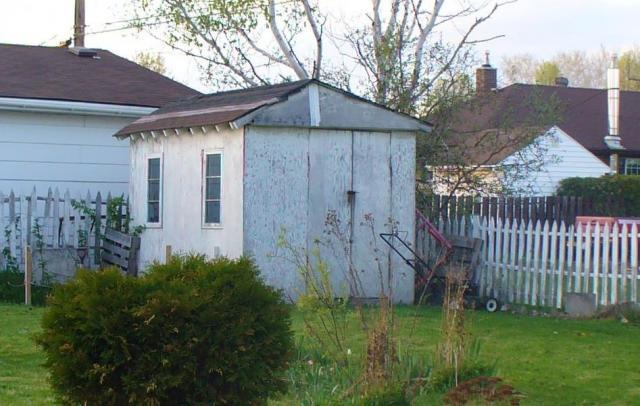 Renovations on exterior in fall 2007 and into 2008. New plywood roof and shingles. New fascia board and aluminum fascia. New vinyl siding rescued from relative who had it lying around. New larger windows installed were kept from renovations on house. Only thing is they don't open for ventilation. Gable left open because I am undecided what kind of ventilation I will put in there. Temporary single plywood door. 6' privacy fence with possibility to go as high as 8' at back. Black compost bin behind on left but has since been moved. Left over gate from fence renovation used at right side. 4' garden fence in expanded vegetable garden (12x12) and now (12x24) on left. Shrubs have been cut and perrennials moved to make way for pool. Red buckets collecting rain from roof. Raspberry bushes along fence.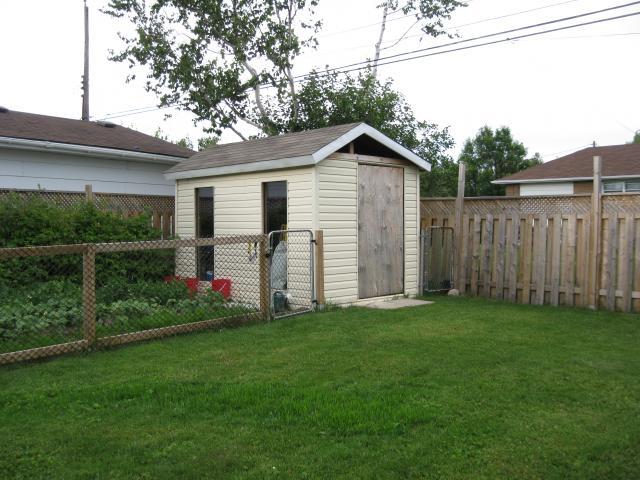 To be continued in 2009.......... I have begun working on the interior coop and behind for a chicken run. Photos will be coming soon. Here is an update. Photos taken July 12th, 2009.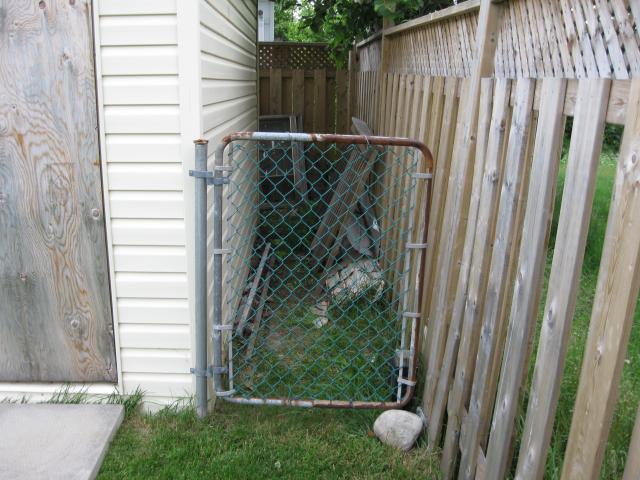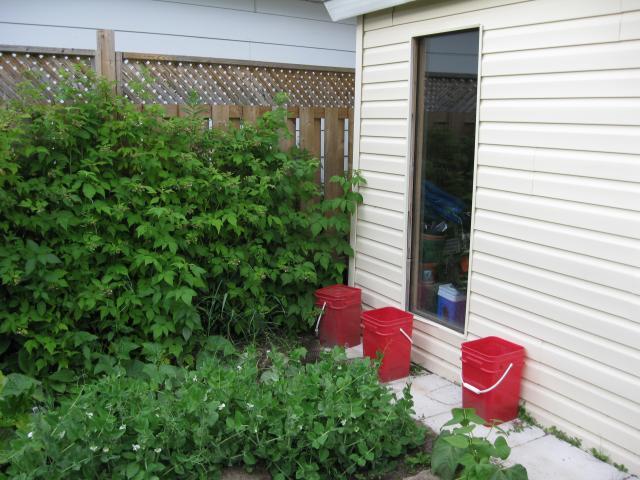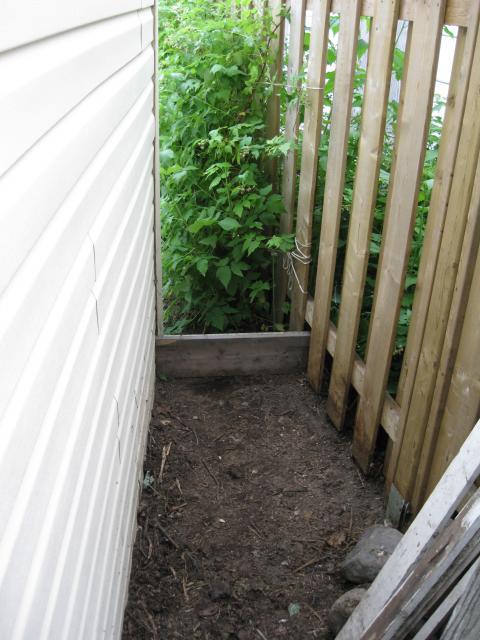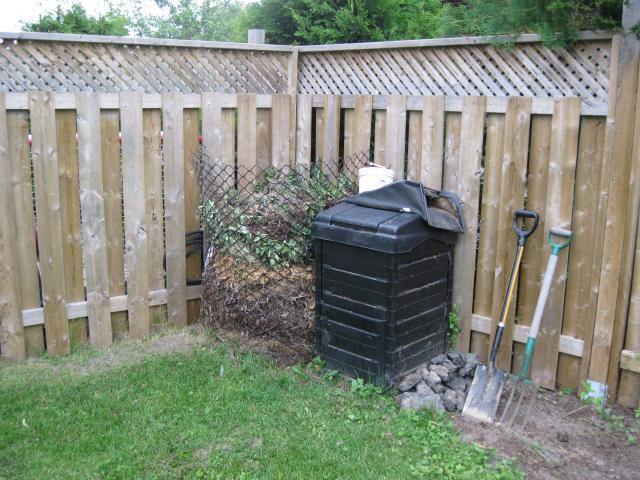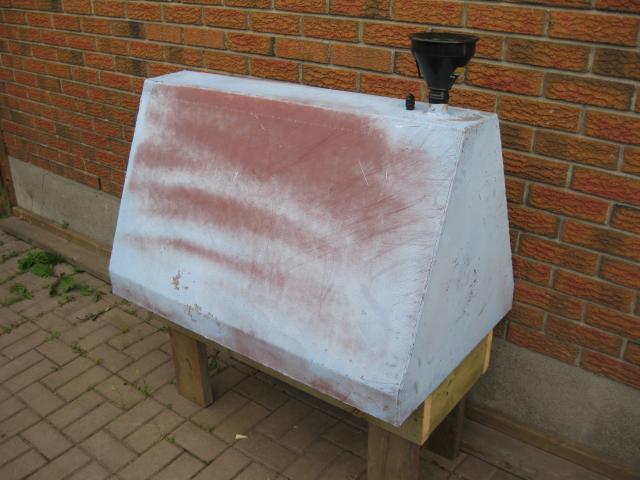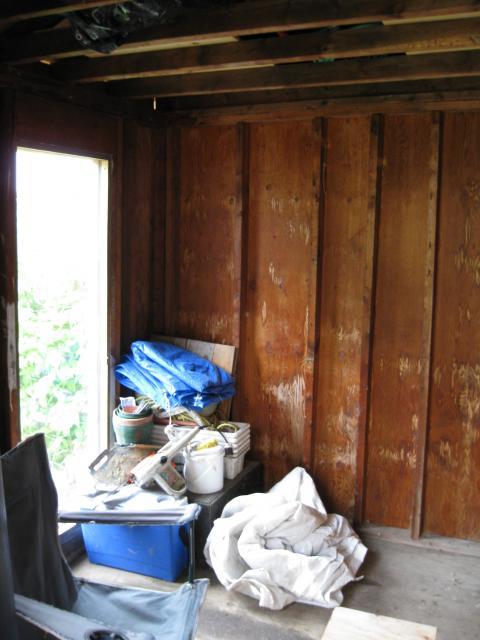 To be continued in 2009.......... I have begun working on the interior coop and behind for a chicken run. Photos will be coming soon.
Installing a new door. Expanding the vegetable garden again. Now it's 12x24. May put on eavestroughs to collect rain water. Securing the chicken run with wire. The pool in foreground is completed. Perrennials are replanted around pool. Check out the link for a video tour. I just added another video tour of my Vegetable Garden and Shed which will become a chicken coop.