Dog of the Mountains
These dogs take their name from the mountain range in southwestern Europe where they long have been used as guardians of the flocks. In the United States they are called Great Pyrenees. In the United Kingdom and on the continent of Europe, they are known as the Pyrenean Mountain Dog. In their native France, they are Le Chien de Montagne des Pyrenees or Le Chien des Pyrenees. Whatever the name, it is a beautiful primarily white dog with a "certain elegance" which for centuries has been the working associate of peasant shepherds high on the mountain slopes.
The breed likely evolved from a group of principally white mountain flock guard dogs that originated ten or eleven thousand years ago in Asia Minor. It is very plausible that these large white dogs arrived in the Pyrenees Mountains with their shepherds and domestic sheep about 3000 BC. There they encountered the indigenous people of the area, one of which were the Basques, descendants of Cro-Magnon Man. In the isolation of the Pyrenees Mountains over these millenniums, the breed developed the characteristics that make it unique to the group of flock guardian dogs in general and the primarily white members of that group
First Kennel in the U.S.A
.
In 1931, Mr. and Mrs. Francis V. Crane imported several specimens to seriously launch the breed in North America with the founding of the Basquaerie Kennels at Needham, Massachusetts. Their lifelong efforts on behalf of the breed provided the breed with an atmosphere in which it could thrive and prosper. They imported important breeding stock out of Europe just before the Continent was closed by World War II.. The American Kennel Club accorded the Great Pyrenees official recognition in February, 1933, and beginning April, 1933, separate classification began for the breed at licensed shows.
Today the Great Pyrenees
is a working dog as well as a companion and family dog
. Most of our dogs never see a show ring, but they are trusted and beloved members in homes and may function as livestock guardian dogs on farms and ranches. The Great Pyrenees is proving itself very versatile, gaining fame as therapy dogs, rescue dogs, and many activities with its human companions. They are very social dogs in the family and get along extremely well with other animals that belong to the shepherd, farmer, or family.
They are wary of strangers in the work environment (this includes the home). They adapt easily to other situations such as dog shows, and make extraordinary ambassadors for the breed in many settings such as hospitals, old age homes, with children, etc. They have an special ability to identify and distinguish predators or unwelcome intruders.
They are nurturing of small, young, or sick animals.
A publication of the Great Pyrenees Club of America, rev. 1991. 2005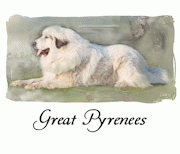 They always seem happy and friendly, but underneath all of that tail wagging and smiling is a big, serious dog. When he "kicks into gear and goes to work," he definitely means business.
The Pyrenees is more of a "big bruiser," than an athlete, with a deep, powerful voice. He is a low metabolism animal and so he eats about the same amount of food as an average sized dog. He is very hardy animal and completely happy sleeping out in the snow in mid winter. He doesn't seem to need much of anything. I have seen some Pyrenees guarding sheep flocks on the prairies, while living completely "off the land", catching and eating gofers, mice and rabbits. They were in good condition and doing just fine.
HERE is a LINK to a TRUE STORY:
http://www.great-pyrenees-club-of-southern-ontario.com/Great-Pyr-and-Bear.html
How this Great Pyr saved the boy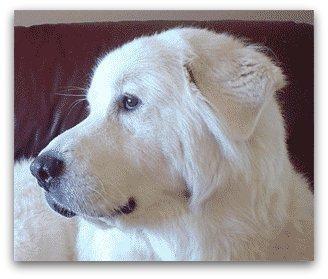 ______________________________________________________________________________________________________