Magical Chicken Village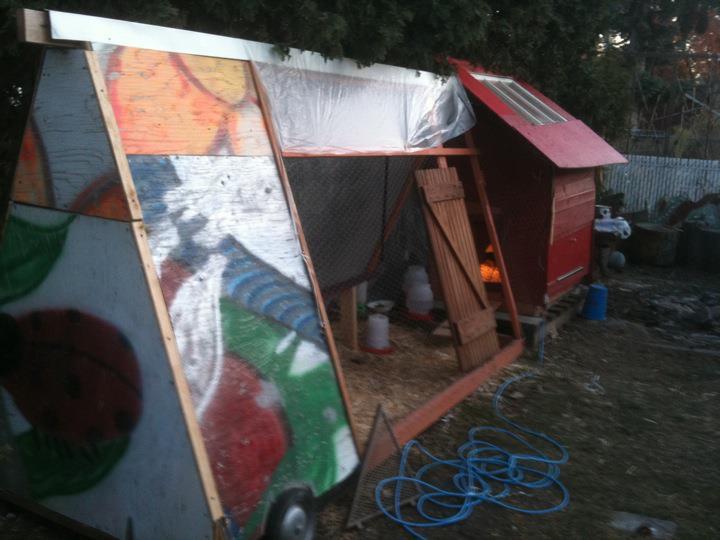 The Chicken Village is created mostly from recylced materials.
An old dog house with story built on, a shed salvaged into an A frame tractor. It seemed better to have them all put together to a stationary formation. The A-Frame makes an excellent brooder box and the adults sleep in the red house or the bushes (yes the bushes they have an excellent cyprus stand as their playground). Up to -10 they will sleep in the bushes and if windy or snowy will then venture in the coop.
Right now in the chicken village there is 1 rooster (Tim) and 8 Hens (Hilda, Minerva, Rosa, Lynette, Snookie, Jeannie, MaryKay, Sinister). To keep it interesting 8 eggs are in a home made incubator.

2011-12-29
Day 5 Incubation of 8 Bantam eggs
Who is in the oven? Who will possibly hatch (if any): Evelyn, Gertrude, Olive, Wanda, Samantha, Biscuit, Poppy, or Zelda.
Where could this be happening?
In a home made incubator - the INCUBOX! Cost: Free
One box, yogurt maker, towel, wine thermometer, chandelier bulb, picture frame.
Lets see what happens!