First of all, HUGE thanks to strawberryhousemouse for her beautiful design
https://www.backyardchickens.com/web/viewblog.php?id=25815-hen-duplex
I fell in love with her coop as soon as I saw it. Copied her pretty much 100% - thanks so much for the lovely addition to our backyard!
Here is the coop at the end of day 2: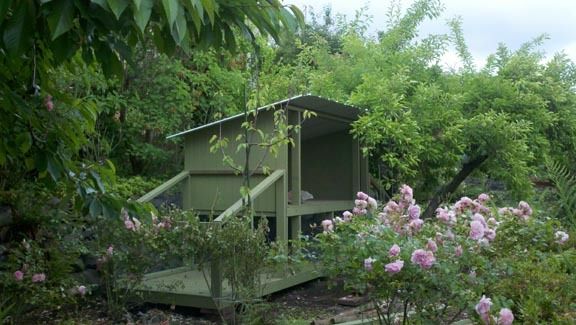 The run floor is 4' x 16" long, and the coop is 4x8.
Day 1 consisted of me (yes, me - alone - a female with a bad back) going to home depot and buying all the wood, bringing it home & painting it all. It was a loooooong, painful day. And I broke a nail.
Here is the list - hopefully this will save you some time - you can just click on the item and add it to your home depot shopping list. Then if you bring the list and bat your eyes (ladies only), they MAY help you find everything, and help you load it. But be careful you don't mess up your manicure in the process ha ha
4 sheets OSB (for the back, coop floor, and 2 for the run floor) 7/16 in. x 4 ft. x 8 ft. OSB Sheathing Model# 386081 Internet # 100091344 Store SKU # 386081 $7.17 each
3 sheets of this really cute beadboard type siding - 1 for the front, 1 for the sides, and one cut into strips for the litter boards 96 in. Composite Siding Panel Model# 25831 Internet # 100089302 Store SKU # 352755 $35.97ea (I had HD cut one into 9" strips to use around the base of the run to keep litter in)
30 2x4's 2 x 4 x 8 Premium Kiln Dried Whitewood Stud Model# 161640 Internet # 202091220 Store SKU # 161640 $1.98ea
3 sheets of this also VERY cute metal corrugated roofing that has a fun vintage look - comes in several different colors: Shelterguard 36 in. x 12 ft. Steel Ribbed Roof Panel Model# 0410015169 Internet # 100067341 Store SKU # 237501 $34.32
(in the "what was I thinking" department: I bought the 12' panels to save money - "I can just cut them in half and I'll have less waste" Well the Home Depot guys wouldn't cut it on site so I had to hang it 5 feet out the back of my van, flag it, and drive home with my flashers on hoping I didn't get pulled over...)
5 gallons exterior semigloss paint $112
4 2-packs of 2" strap hinges - these were perfect for the 4 small lower run doors 2 in. Strap Hinge (2-Pack) Zinc Plated Finish Model# 15287 Internet # 202034138 Store SKU # 339121 $2.97per pack of 2
2 1 lb boxes boxes short exterior screws 1 lb. Box 1-5/8 in. x 10 Exterior Screw Model# PTN158S1 Internet # 100192216 Store SKU # 133025 $8.47 (bought one, ran out, had to make another trip. Should've bought the 5lb box)
5 lb box longer screws #8 x 2-1/2 in. Coarse Steel Bugle-Head Phillips Exterior Screws (5 lb. Pack) Model# PTN212S5 Internet # 100136137 Store SKU # 134370
3' Hardware cloth: 3 ft. x 25 ft. 19-Gauge Galvanized Hardware Cloth Model# 308225B Internet # 202515238 Store SKU # 268121
4' Hardware cloth 1/2 in. x 48 in. x 25 ft. 19-Gauge Hardware Cloth Model# 308226B Internet # 202515240 Store SKU # 268143
I also bought some new $15 snips, but my old fashioned tin snips ended up working better
gloves to work with the hardware cloth
Staples to attach the hardware cloth to the 2x4s - they came in 2 sizes, and I got one box of the smaller ones