Meet Tara my 7 year old Irish Staffordshire Bull Terrier, she's my little princess - she loves hunting for cats and rabbits to my dislike - she is the mother to Kaiser and his 9 brothers and sisters. She's a lazy dog and hates walks if she hears children or banging noises this is due to her anixities which can be a pain at times.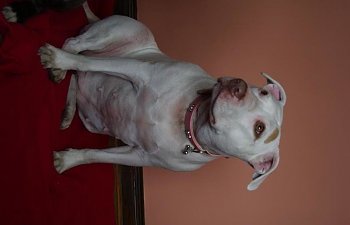 This is Kaiser he is 4 years old and is Tara's son, he completes his puppy class and bronze award in obedience training - we pulled him out because he seemed stressed out by the number of other dogs. We now do fun agility with him in the garden and learn tricks which he loves doing. He's great with the chickens as long as they don't get too close.


Lucy the eldest at 9 years old we got her when she was 4 months old and just skin and bones and full of fleas, she is a Yorkshire Terrier cross Jack Russell Terrier, she's a major grump too. Lucy has many health problems but we just take a day at a time she still loves long walks with the other 2 dogs even with her bad legs.
Lucy is now at Rainbow bridge
Random pictures I now have my brothers dog sasha living with us she's a british bulldog x staffordshire bull terrier

sasha's in heat and my boy dog sticks close by


Tara checking out the chicks when they used to be in my room