I'm around BYC often and I love chatting about Silkies. I figured some of you might be interested in taking a look at my Cuties. Slowly but surely I'll be adding to this page. Ideally I'd like to get pictures up of at least my breeding birds here, potentially even dividing my color groups into seperate pages. I know each of my birds on a individual level and find their different personalities fascinating. With around 30 adults and juveniles as well as chicks in the brooders they take up a lot of my attention but are worth every second!
As time goes on I'll be adding a page titled "Showtime Silkies" to track any show history I accumulate.
Sooo, if you're interested with what is going on my silkies over here if Far West Texas stay tuned! Here they are in no particular order (yet).
​
Romeo pictured here at the tender age of 4.5 months is a Splash. This cutie came to me from Bobbi Porto of Indigo Egg, he is fathered by the handsome Merlin's Beard and is believed to be a lavender split. He's the sweetest little cockerel I've ever beheld hence his name. I for one can't wait to see him mature!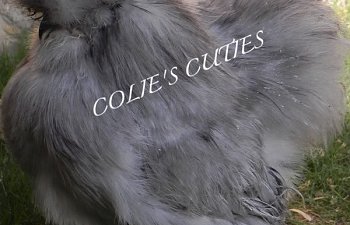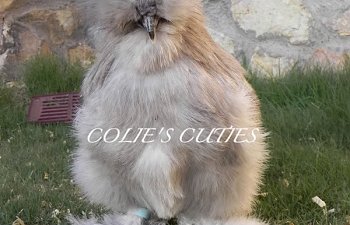 Sassy pictured here at 10 months old is a Splash. This little darling came to me in a quad of blue & splash from John Fitzgerald of Hissy Fitz Farms. Charming and sweet with the right amount of Sass! This baby girl makes "momma" proud
Spree aka Spricket pictured here at 3.5 months is a White. This little guy is one of my first Silkies bought as a tiny chick from Bobbi Porto of Indigo Egg. Breaking the mold at my house and erupting into a tiny horrible squawk aka crow at 3 months old, Spree has a personality that greatly exceeds his small size.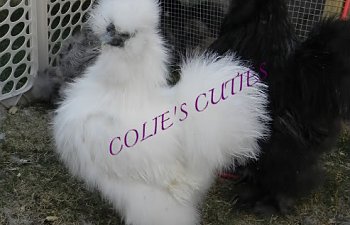 Pot Pie pictured here at 6 months old is a Blue split to lavender cockerel. Named as a reminder to him to stop biting. He is definitely a firey yet sweet boy who loves his treats. Pot Pie came to me from my favorite fellow silkie enthusiast Bobbi Porto. One of his many charms is his outstanding foot feathering, I could look at him all day! Standing with his buddy Spree in the photo above.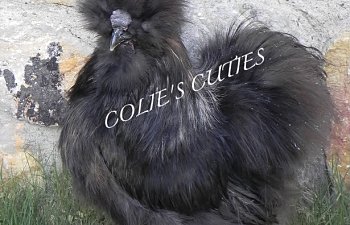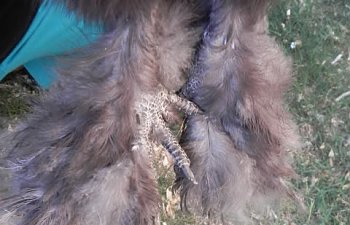 Rudy Roo pictured here at 11 months old is a black silkie cockerel obtained from John Fitzgerald at Hissy Fitz Farms. Purchased from John in a trio of blacks Rudy is a stunning boy. John's blacks originate from George Mihalik and I feel lucky to have them here as a start of my very own black breeding program. Around here Rudy is teased for his rather large comb and his mighty crow but all around he is a very nice boy that I'm hoping to get some nice pullets
from in the near future.