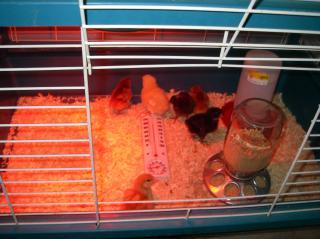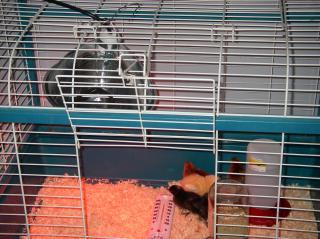 Our new baby chicks. We have been planning to expand our flock. Today (2/26/2011) we got 6 new chicks. 2 rhodies, 2 barred rocks, 1 sexlink, 1 new hampshire red.
We already have 5 rhodie hens and 1 rhodie roo. We tried to incubate and hatch from the rhodies with no success, think it was too soon after the move when we got
them @ about 1 year old to be fertile as they quite laying for about 5 weeks, we grabbed the first clutch and had no success. Not patient enough to try to incubate again.
So off to the feed store we went this morning. The chicks are so cute!!!!! We have only been into chickens for about 2 months now. BYC has been a a huge part of our research
and info. Thanks BYC'ers!!!!!!!!!!!
The brooder is a gerbel cage from the gerbels we took in. r.i.p. gerbels!