OLD BARN HOLLOW FARM
The Allen Family Hobby Farm
"The greatest joy in life is hearing the laughter of your children...ohh and raising chickens of course."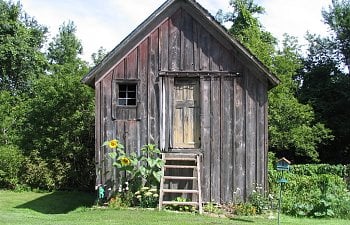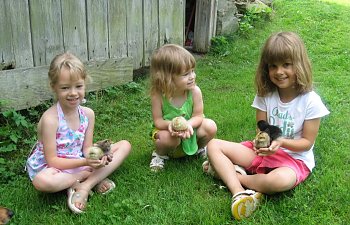 It all started with a desire to raise some kind of livestock and be a little more sustainable. We own 26 acres, a 19th century old barn and home, we couldn't let it all go to waste. So in April 2008 we built our chicken coop and bought four hens and a rooster. In July we hatched out 5 Easter Egg chicks. One of our hens was gracious enough to mother them for us. Now we are hooked!!
Here's our coop. It is built inside our barn. It has an indoor run and a pop door for the outside. The coop also features two backdoors. One is directly behind the nesting boxes and the other one is an easy clean out hatch. These prevent my kids from running through my house with nasty feet. The front of the coop is hinged so I can access the inside if needed. And of course you must have chicken accessories. We found the menu sign when we were cleaning out the barn getting ready to build the coop. It was turned around and being used to cover holes. It was only fitting that it remain in the barn, right side out, especially to cover the holes (hey...the barn is 160 yrs old what do you expect).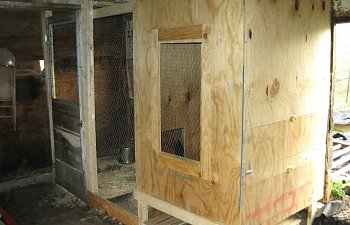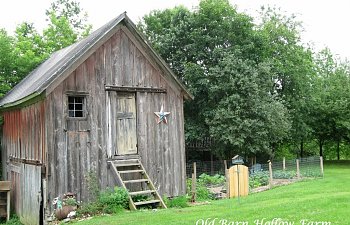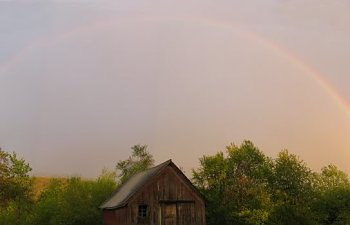 Panoramic of my barn with a full rainbow behind it, Spring 2006
Hopefully adding more soon...

Thanks for chick'n us out!