The Roost InnRed
(IMAGES ON THIS PAGE ARE NOT AVAILABLE FOR USE ON CRAIGSLIST/EBAY OR RESALE!)
Our miniature version of an old style hen house as a chicken tractor
We began this building project with the following materials:
24 - 2" x 2" x 8' pine boards
3 - sheets of plywood 4' x 8'
2 - 2" x 3" pine boards (roosts)
4 sets of hinges/latches
36" hardware cloth (bottom of building and windows)
chicken wire (we used 48" and 24")
1 gallon rustic barn red exterior paint
Here's the framing:
The building portion of this tractor is well ventilated through the old style windows on the top. The size is 8' x 3' and includes hardware cloth on the bottom (no poop cleanup), a single door entrance to secure birds at nightfall, and 4 roosts inside. I have 16 Cornish X's in it comfortably each evening.
Here's inside the building:
We framed in one door to the building to secure the chickens at night.
We added 3 gated openings to the run: one on top near the front to drop in food and water easily, one in the very front to let the chickens free-range and shoe them back in, and finally a tiny gate so that the hen house door can be opened/closed each morning/night. (It's drying on top in this pic.)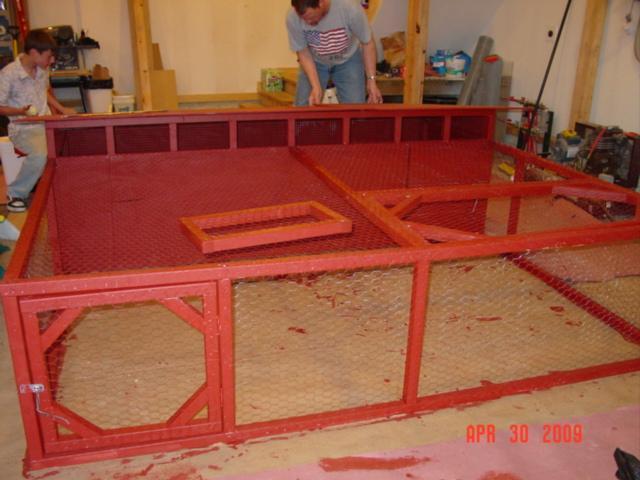 We still need to add wheels/skids to this tractor, but will wait until the current batch of meat-chickens are finished out. (We can lift it to move it with a couple strong boys and dad.) We estimate our tractor cost about $100 in materials. Here's the end product:
(I believe this could be permanent housing for a small flock if someone desired, and if a nest box was added in the interior, and a roof hinge used.)
​