After browing all the BYC forums, scouring the internet, and planning and replanning, we finally had a design.
We decided to build an 8 x 12 shed with a 12 x 16 x (5 or 6) run.​
We thought we would get started on Saturday May 9, beautiful weather, no soccer games, plan complete...
Then we found lumber really cheap from a local guy! So at the last minute, the design was upgraded to 12 x 12!!!!


By the time we picked up the wood, we ended Saturday with a couple of piles of lumber in the yard, but heck, we're one step closer!
Saturday night, I realized that in our hurry to recalculate, I hadn't take a few things into consideration, so there were a few miscalculations on my part.
SO, Sunday we went back to pick up MORE lumber!
By the end of Sunday, we had a level area (sort of), and a floor frame built.
Tuesday evening, work progressed nicely, with the floor going in, and three walls going up!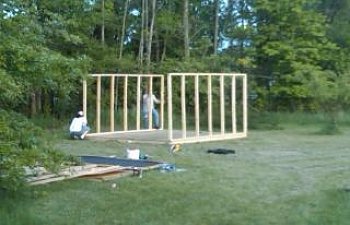 Two walls up!

Three walls up!

I also finally picked out the stain and paint.
The girls wanted green or blue, I wanted something natural that would blend in...
We ended up with a dark brown stain for the siding (coffee) and a green stain for the trim (forest floor) and a barely there green paint (weeping willow) for inside.
Here are my stain samples (not very true to the color)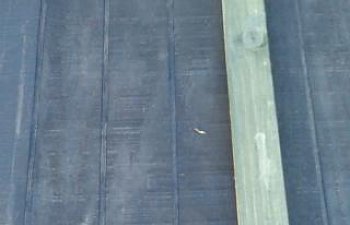 It's been raining since, so no more progress...Hopefully it'll clear up some by Saturday!
Progress as of Sunday May 17th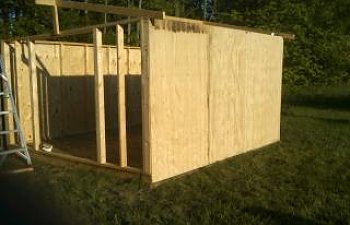 Progress as of Monday May 18th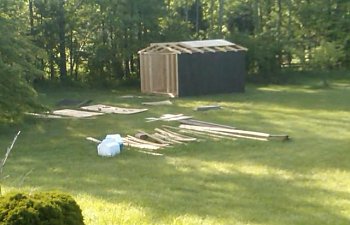 May 21st


siding going up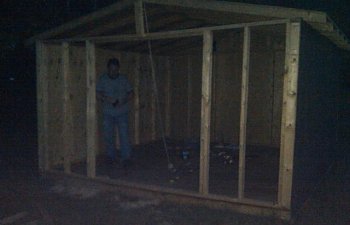 working till dark
May 23rd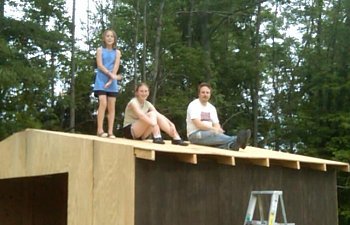 taking a break once the roof was on
May24th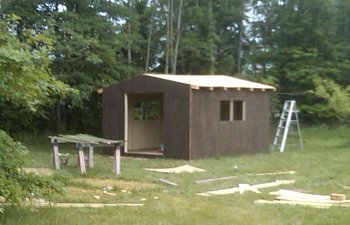 windows and doors cut and staining done!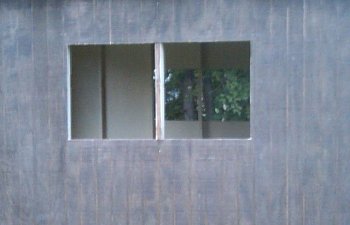 close up of cross ventilation



May 25th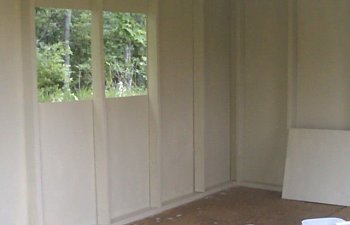 inside painting done
May 31st-Finally MOVE IN DAY!!!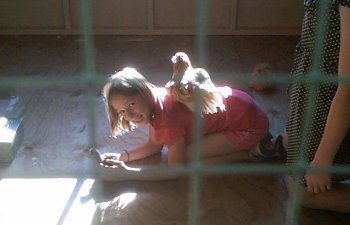 The first chickens into the coop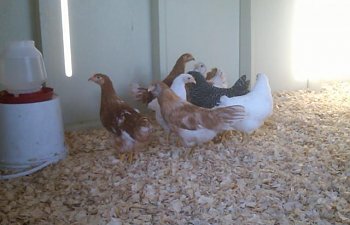 A new 12 x 12 coop and a months worth of work and they cram into one corner!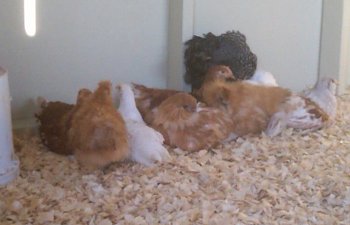 at least they look cozy

​