Hi all! We have been visiting this website for over about 4 months. Our names are Domenic and Traci. We decided a long time ago that we really wanted some chickens. We went out and purchased our first three chicks and had a terrible time with them. we were completely unprepared and ended up haviing to give them away to a better home. Now this time around we knew what to expect. Traci talked me into trying ducks this time. I have really come to enjoy them. We have gotten alot of awesome info from this site and has come in very handy. We purchased three little ducklings and two weeks later decided to get three more. I truly want chickens. Because of this I started plans for a coop. We visited the coop design area and we found many cool ideas. We took a little of one and a little of another and finally came up with our own design. Of course we had to factor in all conditions of the area we live in. Long hot summers, and short cold winters. Here in Florida shade was a major necessity along with ventilation and hurricane resistance. So this is what we came up with. I hope you all enjoy it. I started to sketch the idea and finally started measurements and began my blue print. April 29th 2011. First day of build.
We decided it would be 3 feet off of the ground so the bottom and sides would be part of the run. Creating some shade. We added a cupola for ventilation. Approximately eight nest boxes, two doors at floor level for easy clean out, and a ramp on the interior of the coop leading outside.
this is the site area we decided to build on..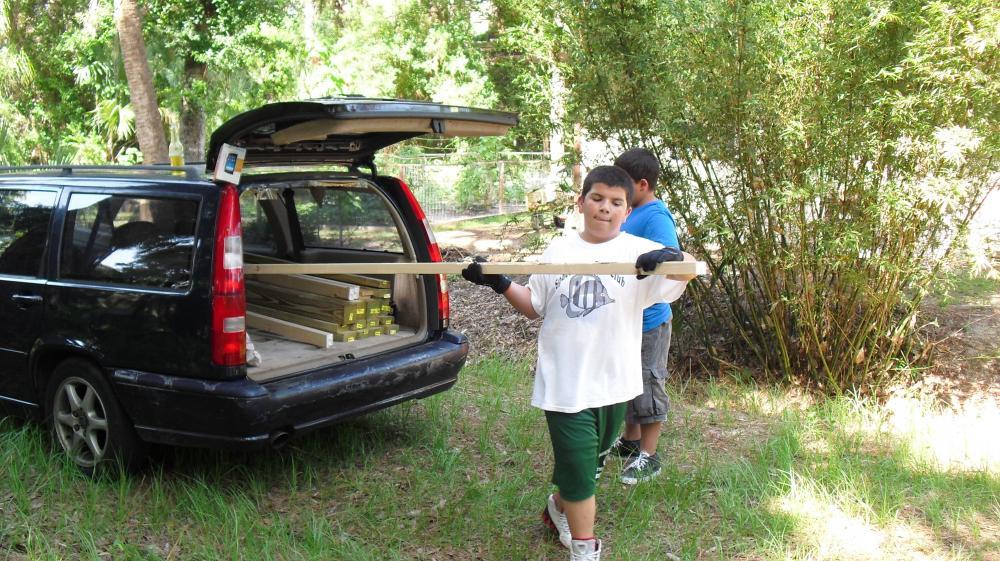 My son unloading the first set of materials.. CHEAP labor....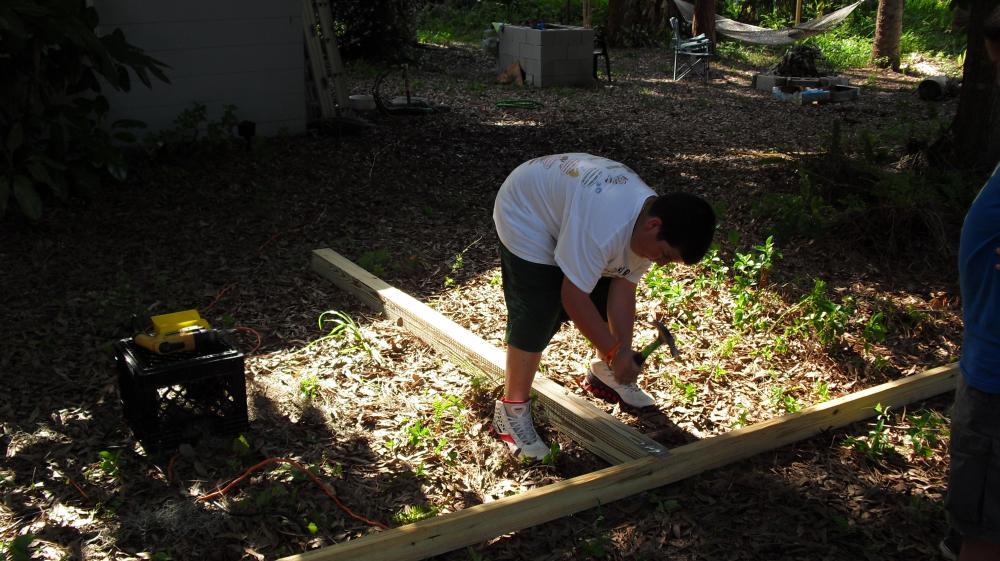 the begining of the framework..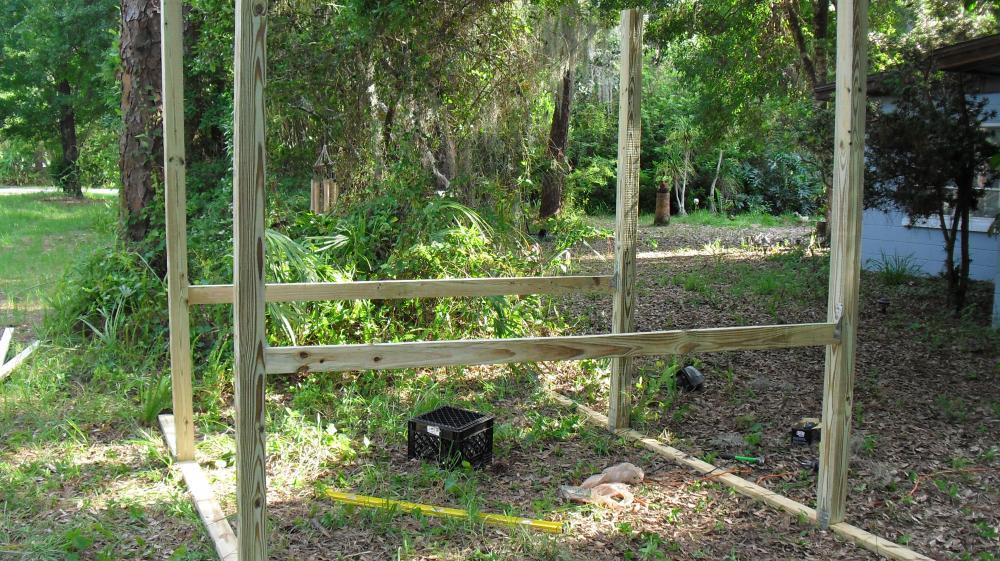 Due to weather conditions we decided to use all pressure treated lumber. This is the beginning of the frame work. The actual coop will measure 6x8. the run will extend three ft out one side and seven on the other.
main frame almost completed.
Floor joists installed with a floor opening for the chickens to enter the coop via the ramp..
Its getting dark now so i will continue in the morning.....
Aprile 30th 2011. 7am
The Cupola..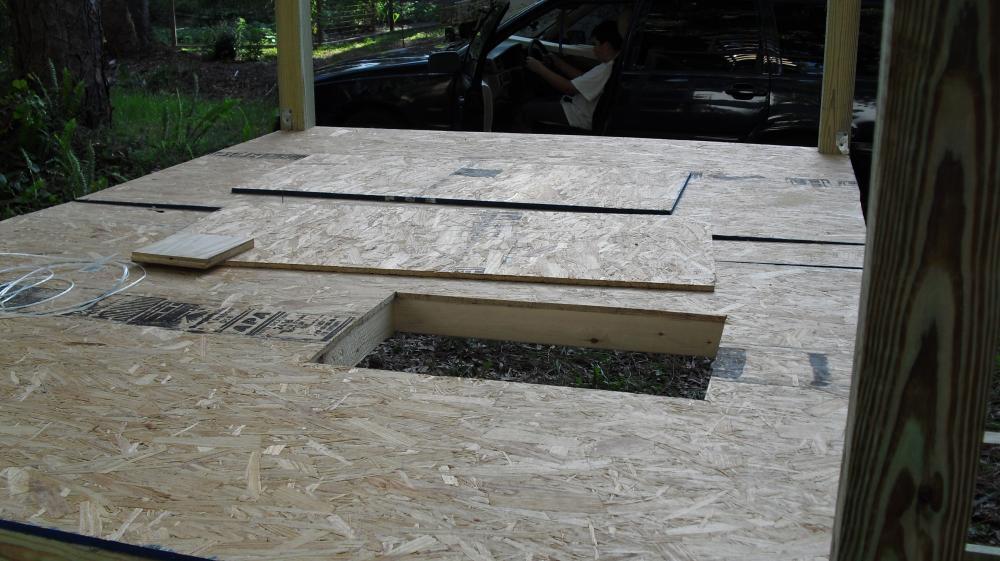 Installed the floor and this is a view of the cut out for the bottom entrance..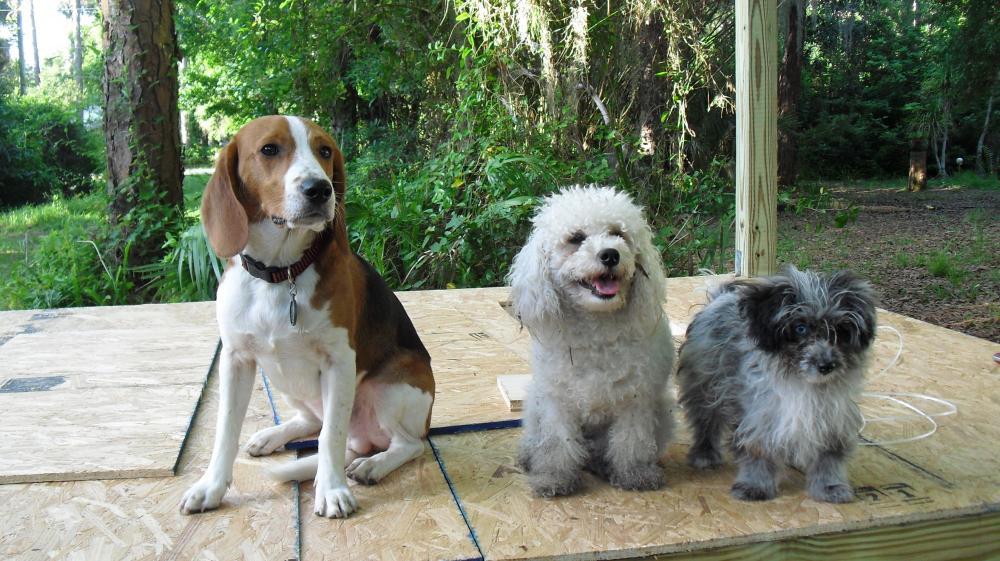 The other members of our family, Oscar the Beagle, Betty the miniature poodle, and Jasper the pom-a-poo. They love the ducks and cant wait for the chicks to arrive. They are extremely looking forward to this build.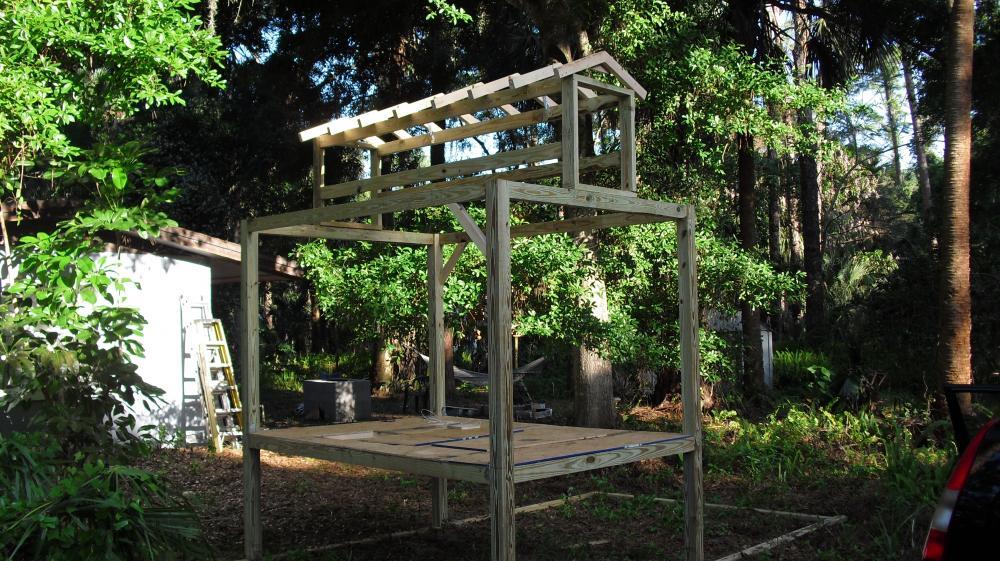 This is how far I have gotten today. Naturally, there will be another trip to HD. And plenty more to follow Im sure. First trip was 124.00,
May 1 2011, second trip to HD was $59.70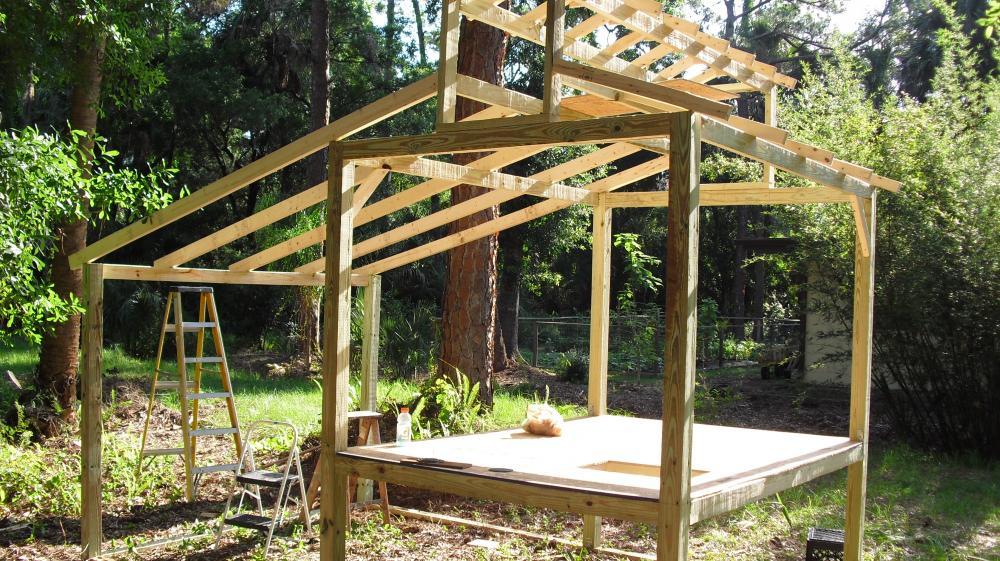 This evening I was able to finish the trusses for the two sides of the roof. I only have 1 or 2 hours in the evening to work on the coop until my next days off. I tried to work with lights but the mosquitos won!
Third trip to HD $65.15 I am trying really hard to keep my cost as low as possible, but i dont want to cheat my self later on...I figured the main construction would be the most cost out of pocket and new materials.. I plan on talking trips to local Habitat for humanity and the salvation army for recycled and or used materials. such as doors, windows and completion of the roof. I know i will save $$ there. I also called several of the paint stores in the area for ooops paint. plenty around just need to decide on the colors.
So far total cost has been $248.85..
Opposite view ..
Fourth trip to HD $15.13 sub total so far $263.98.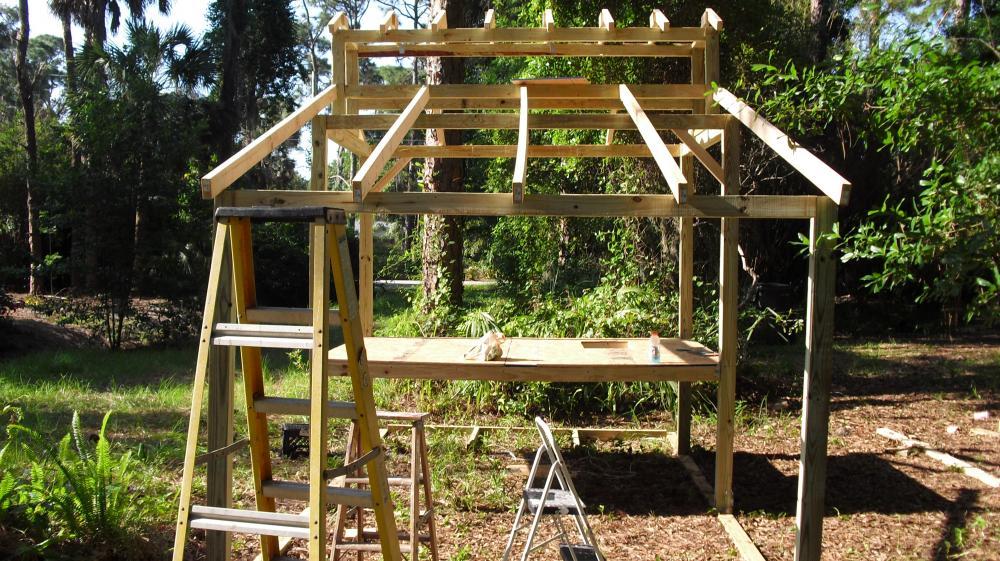 This side is the extended part of the coop. This is where I plan on a door in the middle. The nest boxes will be under roof for those rainy days.. I am not sure about building the nest boxes as I planned in two sets of four one set above the other.. How would i reach the top nests? The coop is already 3' off the ground.. So I redrew the plans and thinking of just having one row at the bottom of the coop which would be hand reach height. I have 8' of wall so I will probably take the whole lenth for nest boxes.. i am wondering how wide they should be for best results..
Tommorrow I will start on the roof.. I just had another vision of putting a bell tower ontop of the cuppola. And I have low voltage lights that run along the other side of the coop. It has a 600 watt Transformer with only 400 w being taken up I was thinking of running a wire under ground and across to the coop and installing some light in and out and around the coop.
May 3 2011.
I got some work changes today. As I was building the cuppola I was left with an open space in the middle to be filled in. As I was looking at this opening it came to me to buld a bell tower.. I don't know why that thought came to me but it sounded good so I went with it...
Here is the opening...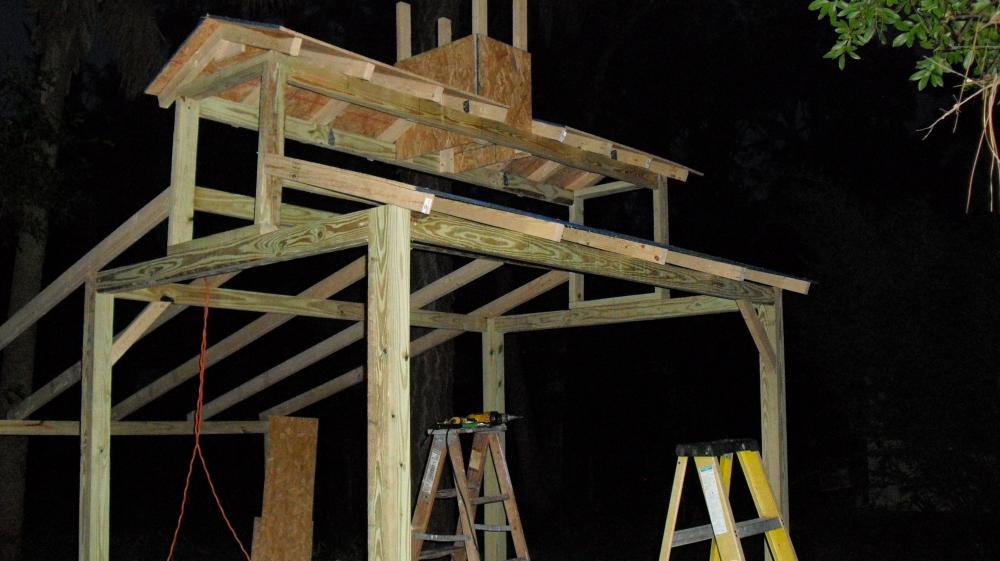 This is the bottom half of the bell tower, I am building the top seperatly on ground and will mount it when finished.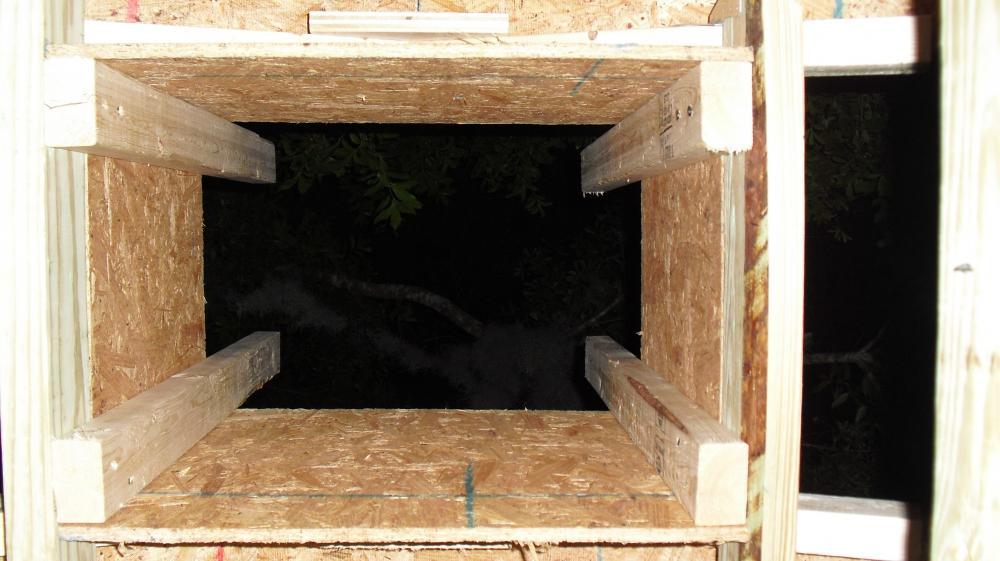 This is lookimg through the bell tower from below..
These little guys are anxious to get into their new home.They will be sharing the coop with the chickens. Charlie, on the far right was attacked by a racoon. Charlie suffered some scares on his neck and chest and lost the left wing. But he/she seems to be doing very well. Has not missed a beat and still keeps up with the rest. His new name is Charlie One Wing.
We have decided to keep them inside our laundry room until the coop is finished..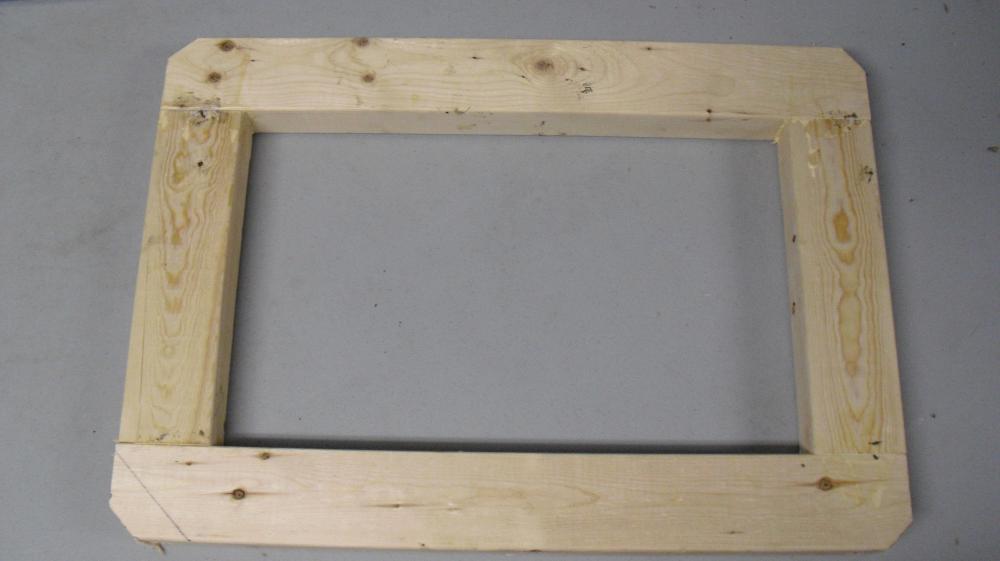 Here is the base of the top of the bell tower..
May 5 & May 6 2011..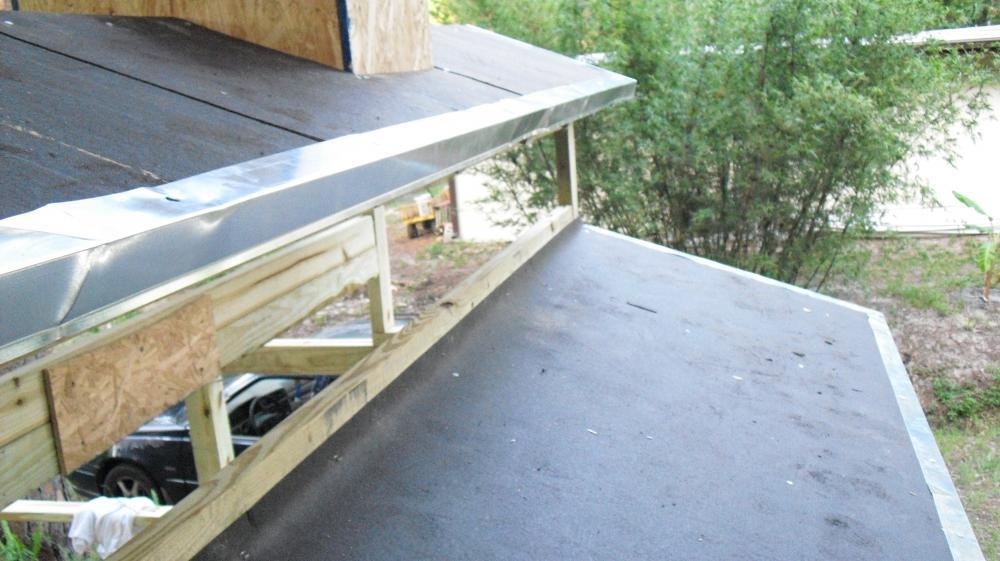 on these days we started to lay the roof felt on and installed the flashing.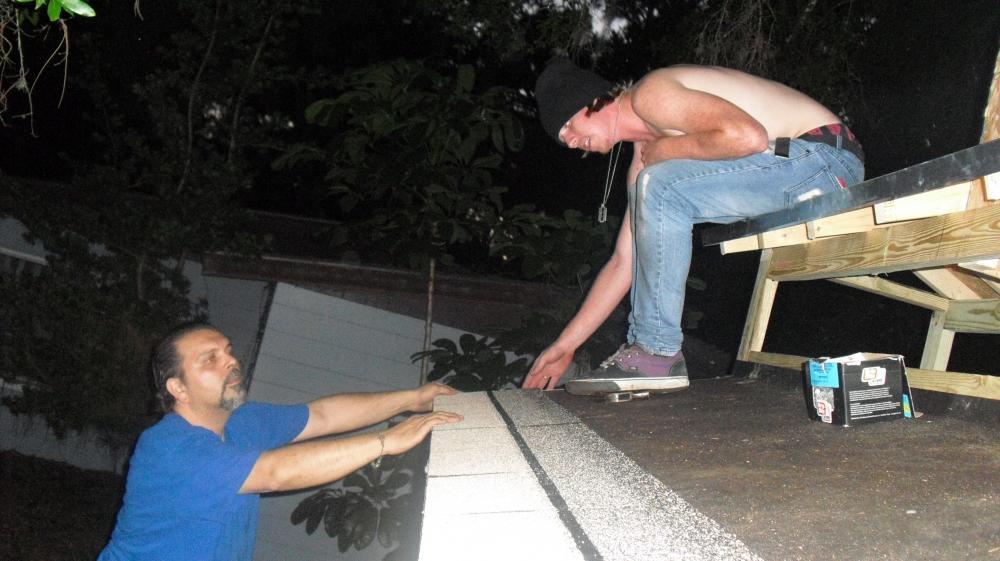 We got lucky and were given all the shingles for free. Different colors, but, we will make it work! We were able to do each area of the roof seperate colors and it looks really good. Spicy came over to give me a hand.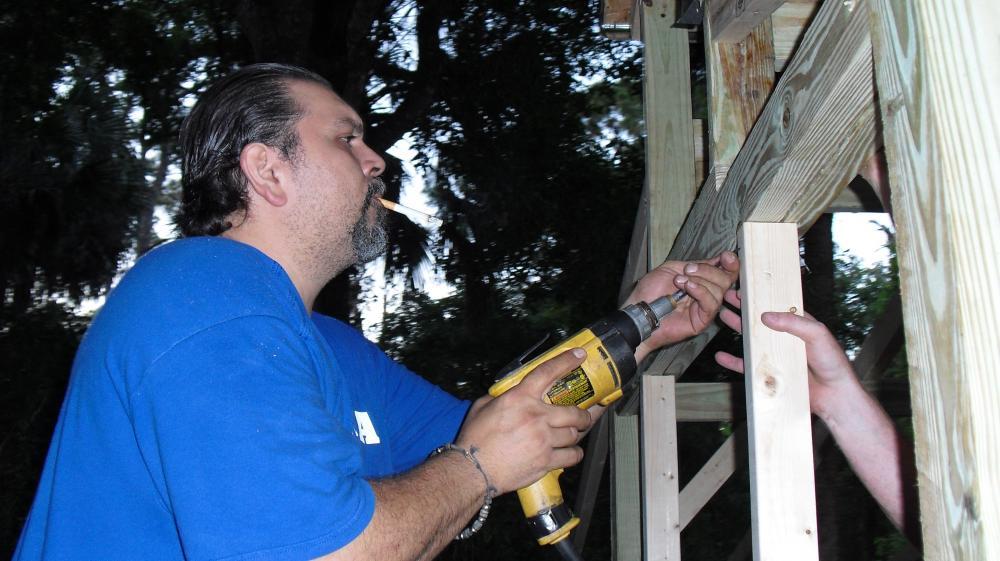 We framed out the walls and windows.
Spicy went for his gummy bears and spilt all his wine!
What a waste of good wine! Yes, Spicy was cut off!!!!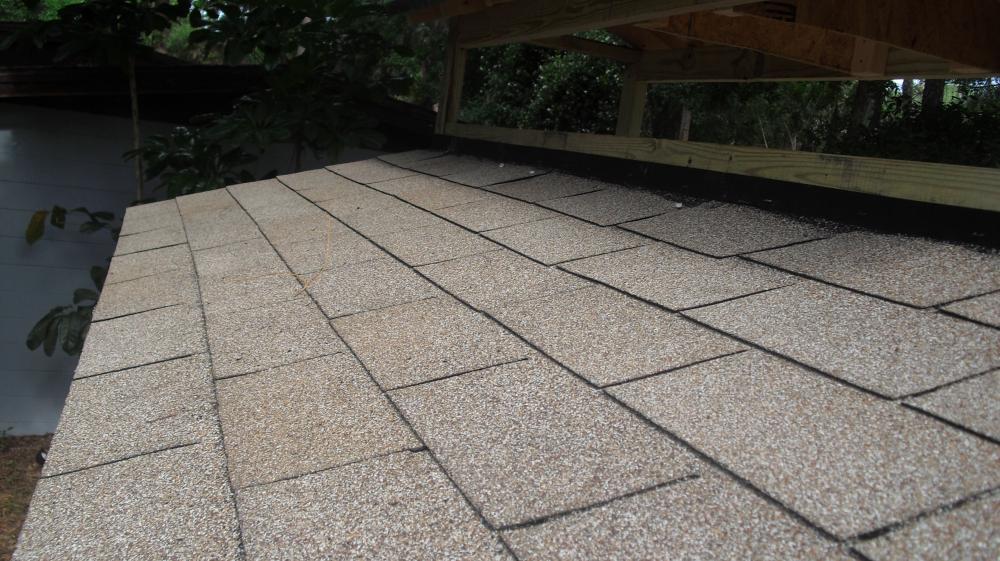 this is the fabulous job Spicy did on his side of the roof. I think he was making up for the spillage! Looks great!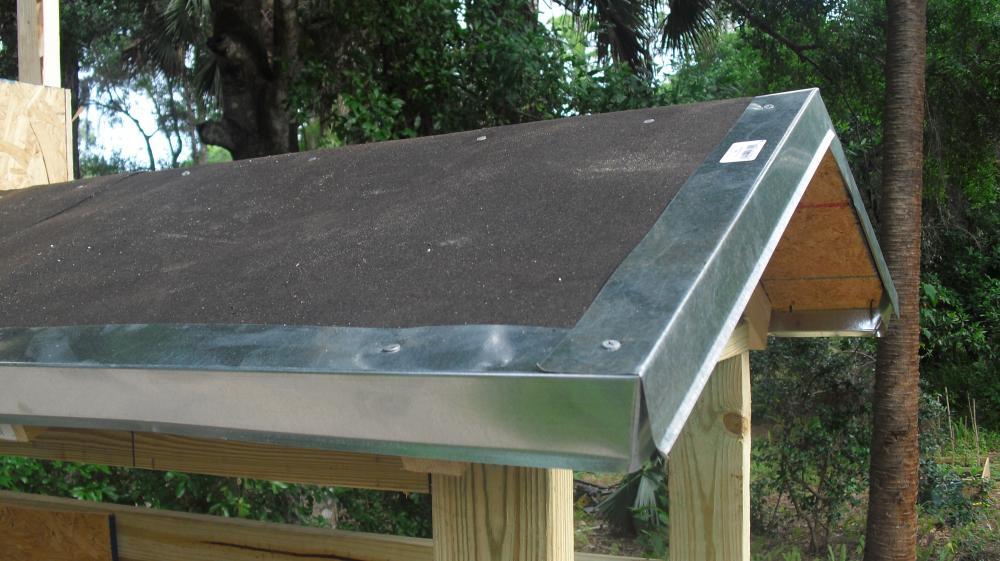 this morning Traci and I started on the cuppola. We finished roofing and started on the bell tower cap.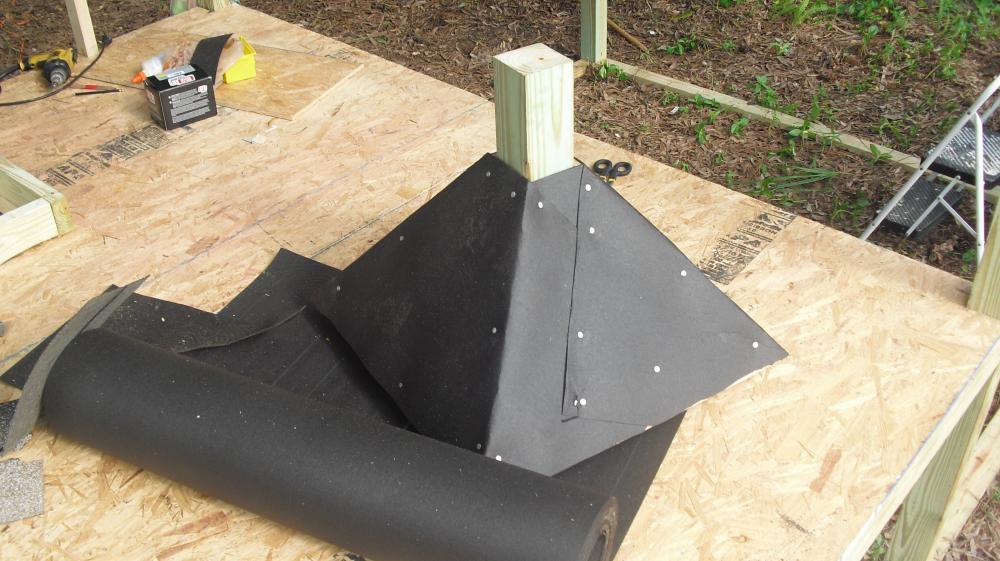 this is the bell tower cap. We noticed it keeps getting heavier and heavier and have figured on a crane after the shingles go on. Have to get that puppy 16 ft in the air!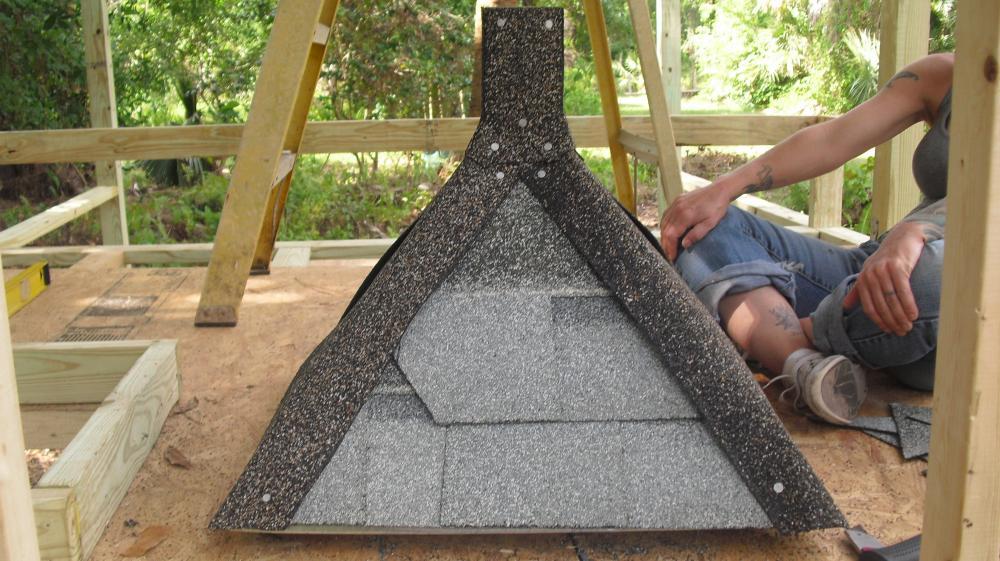 This is finished product. This sucker is heavy! Going to have to give Spicy a call to help lift this to the roof. BEFORE he gets his wine!
The finished roof over the cuppola. this is Traci and my first time on the roof. I have installed gravel roofs before but this is a first for shingles. Traci was scared climbing to the top at first but of course I made her feel safe. No Problem! she got the hang of it quick. Besides she did alll the running up and down the ladder.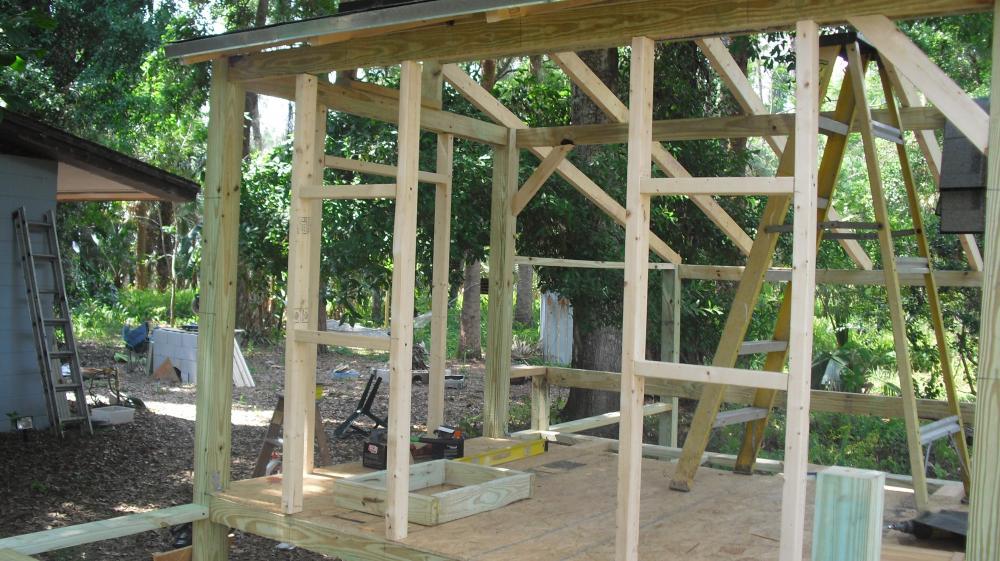 This is the south wall. We framed out two 16x16 windows. We have searched for recycled windows but have had no luck. We searched habitat for humanity as well but no luck. We will have to make them ourselves. There is a local glass shop here in town. We will make the frame and they will install the glass for around ten bucks a window. I will put windows on a hinge but will also have chicken wire behind them so no critters can get in. This way they will have fresh air circulating throughout the coop.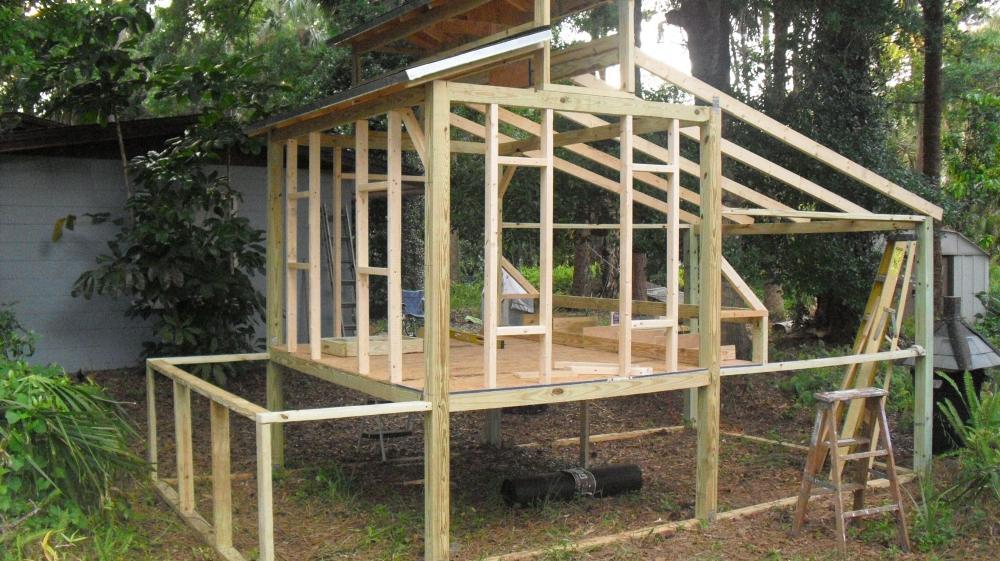 This is the east wall. We framed out two 34x12 windows. We found a bifold door that we are using as shutters. We cut them in half. Traci has some key west theme planned for the paint. We shall see how that turns out. Gave me a great idea for the North roof though which is 9x10 and we are trying desperately to save money so we are going to make use of the natural resources mother nature has blessed us with on our property.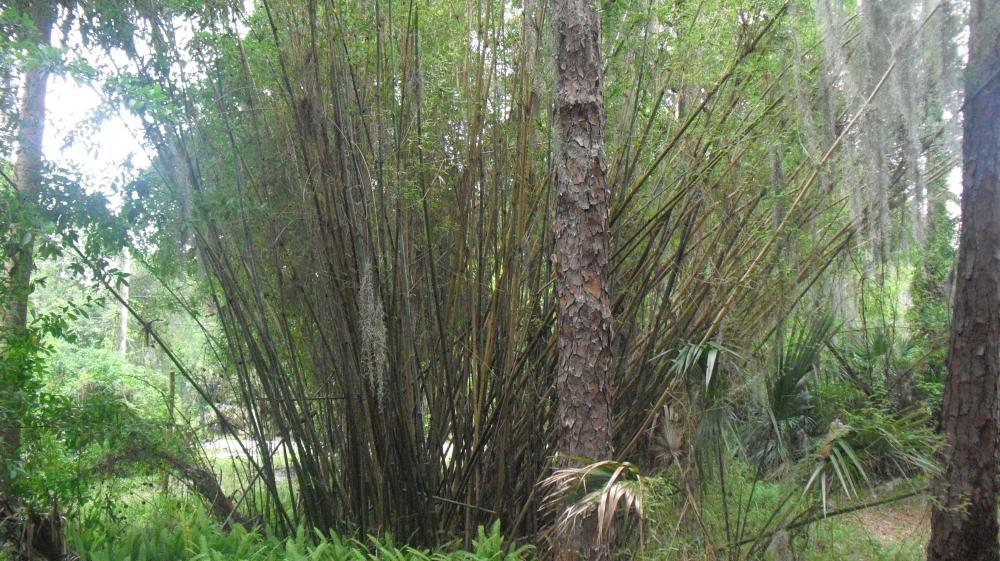 We have an area on our property where the bamboo grows like crazy! so we plan on putting cdx boards over north roof, cover them with felt paper, then plastic over top of that. Finally we are going to layer the bamboo vertically side by side and create the key west theme for Traci.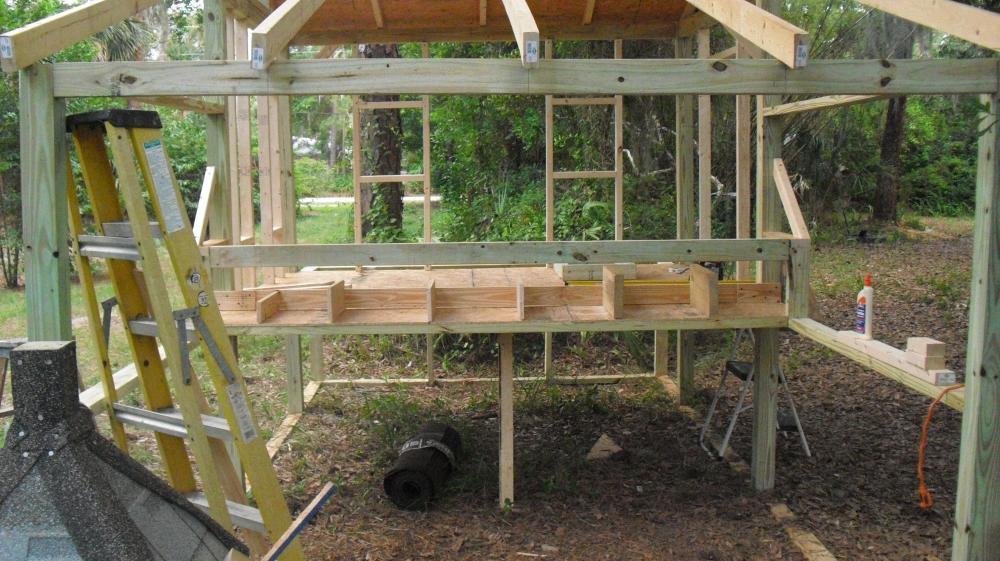 this is facing the north wall..the door for the entrance has not been framed yet. Not have any luck finding something recycled. Might have to do it from scratch. This area is under our soon to b e bamboo roof but surrounded completely with chicken wire. You can also see the start of our nesting boxes which will be accessable from the outside of the coop. but still inside of the screened area.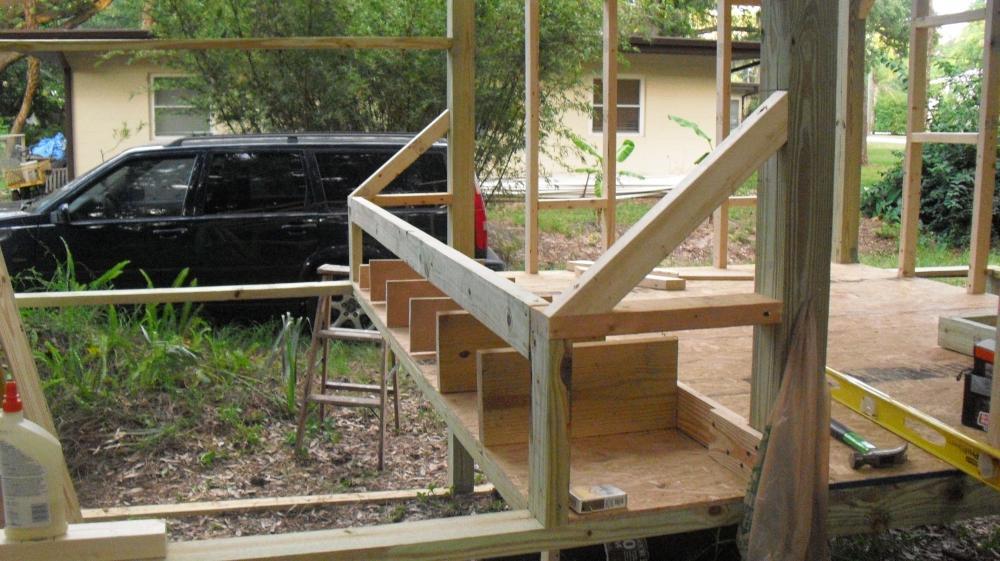 this is the view from the west side of the coop. we managed to fit seven nesting boxes. Five are 16 deep x 16 wide. Two are 16 deep x 12 wide.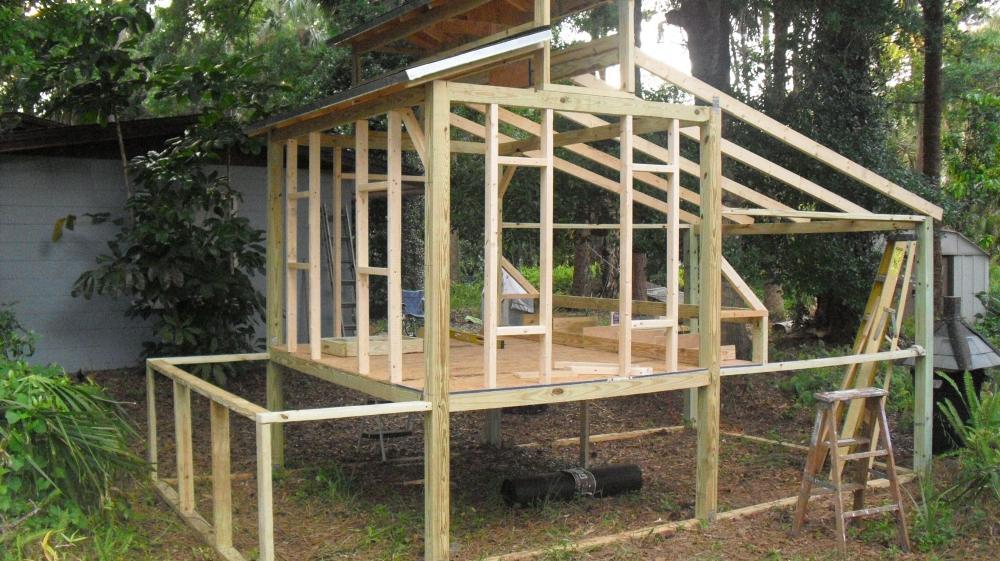 this is what we have accomplished today. All we have now is to board the walls up and finish that north roof. Windows and paint. Oh and chicken wire! ARRGGHHHH.
We ended up running to local HD for a few studs and such we needed at the end of today. $80 was spent. Subtotal now is at $343.98. Hopefully this look of exhastion will disapate as the days come closer to a finished product. Ready for an espresso and put our feet up a bit!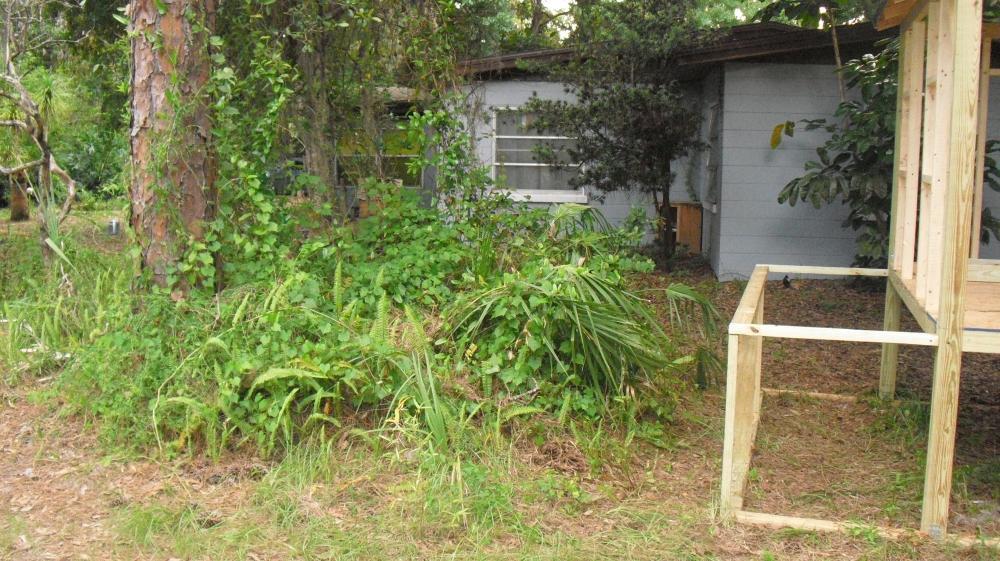 We allready have plans for the future of the south side of the coop. We need to clear out some vines and bush and we will have about another eight feet to work with. But, we need to finish the coop first. Then we will make arrangements for the guest house.
We have our 6 ducks allready. We have been told 6 chickens should do well with what we have. So 2 leghorns and 2 Domeniques are a requirement since Domenic is Italian. Does anyone have any suggestions on the other two chicks? We definately want some good egg layers. I would love to see some blue eggs in the nests.
MAy 9 2011
So i have been thinking about an automatic waterer. I have leftover some mini floats from my saltwater tank days.. they are used to auto fill water in the tanks.. I have about 5-6 left and they worked great for the tanks. So I thought why not use them for filling up water in the coop! I am working on a design for the bowl itself.. this is where I need some input from you guys... I'm thinking of something like narrow and long and off the floor. Almost like a Spackle bucket ( you know like the red or yellow rectangle ones that they use to hold wall spackle in them) And attaching the float on its side and when it goes low it will automatically fill up again.. Here is my question. Is it bad to have the water exposed? will it dirty fast? I have seem many using those little water drippers..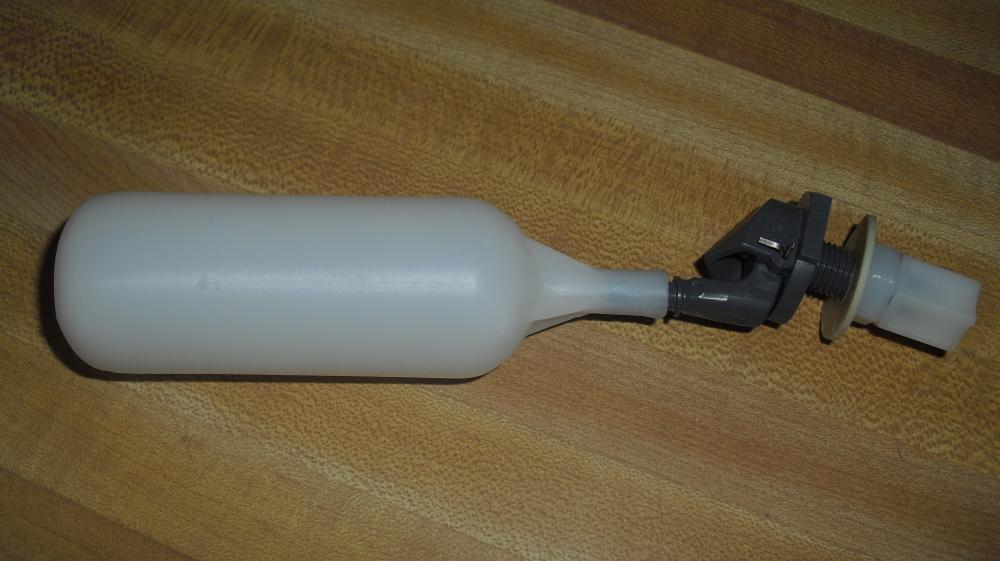 May 13/2011
Today we have accomplished alot.. We had enough T1-11 siding to do the entire Coop except for the lids over the nest boxes...


Traci did no waste any time.. As I screwed on the sidimg she started to prime them...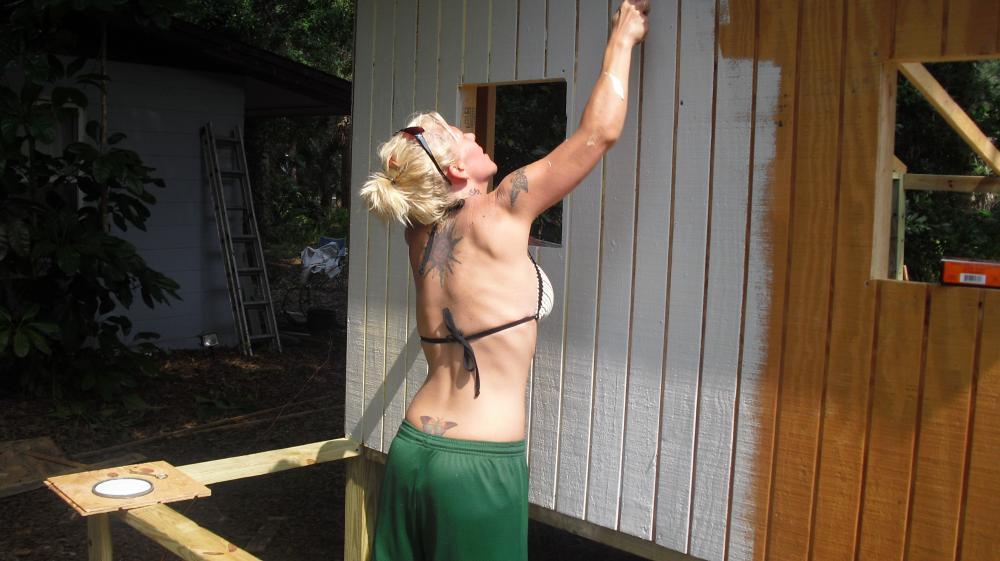 Meanwhile I had the boys already trimming down and cutting the bamboo rods. Some where over 25 feet long..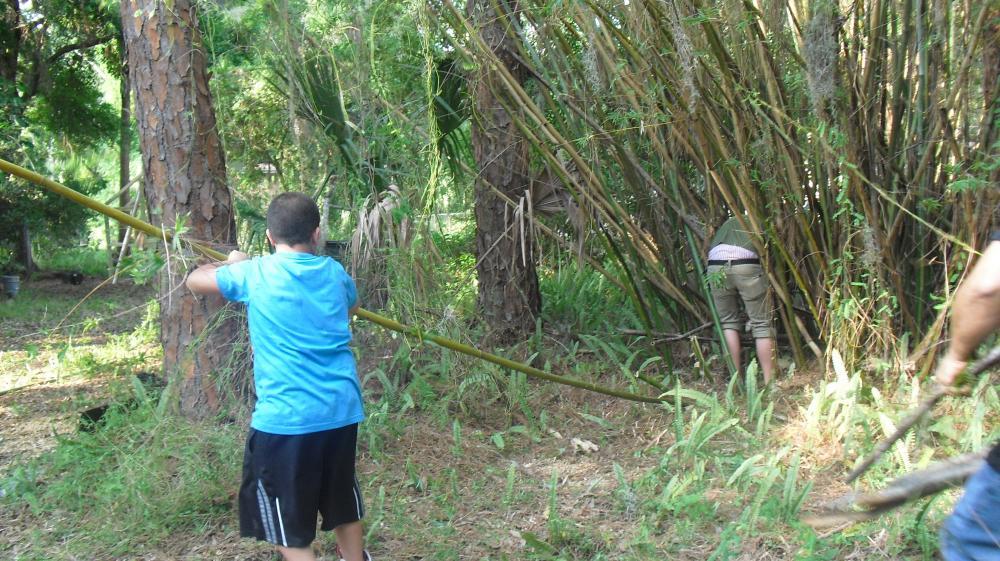 The boys did a really great job cleaning off the bamboo..
The hardest part today was cutting out the siding to fit the cuppola. So what I decided to do (because I'm not a pro.) I used a project boeard from one of my sons science fair. I traced the pattern that needed to be cut and them traced it on the siding.. It worked for me and saved me from making a bunch of cuts. I managed to get a solid piece. I couldnt macth up the lines because I would have wasted wood. But i can cov er tha up with trim..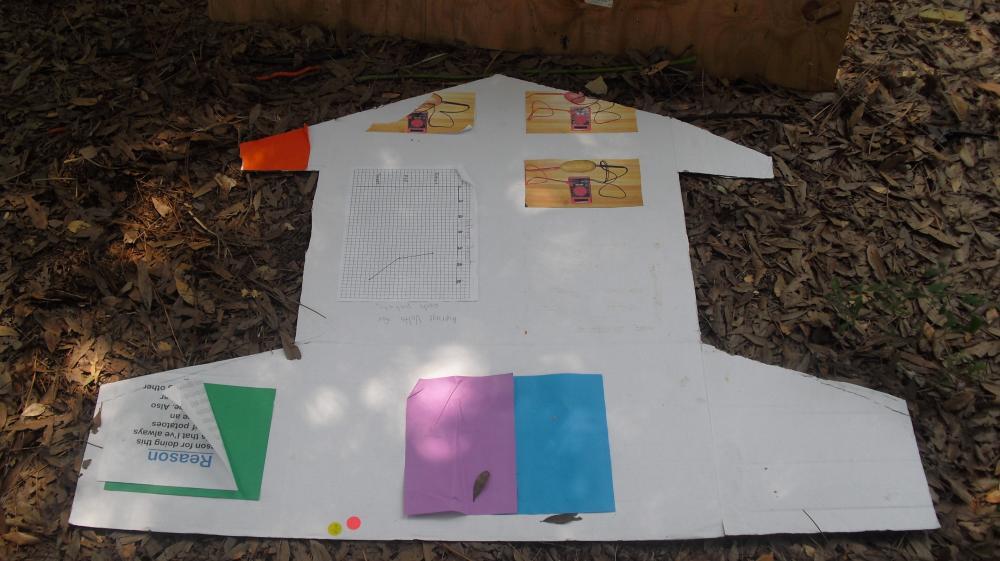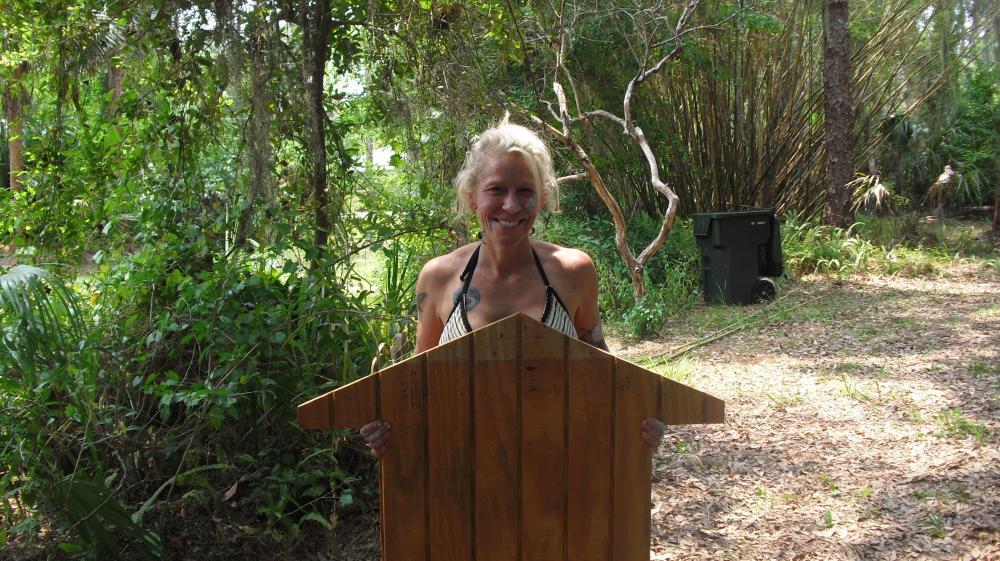 We decided to add a window in the cuppola frame.. We still had some more left of the bifold so I made two more louvers so we can keep the theme uniformed.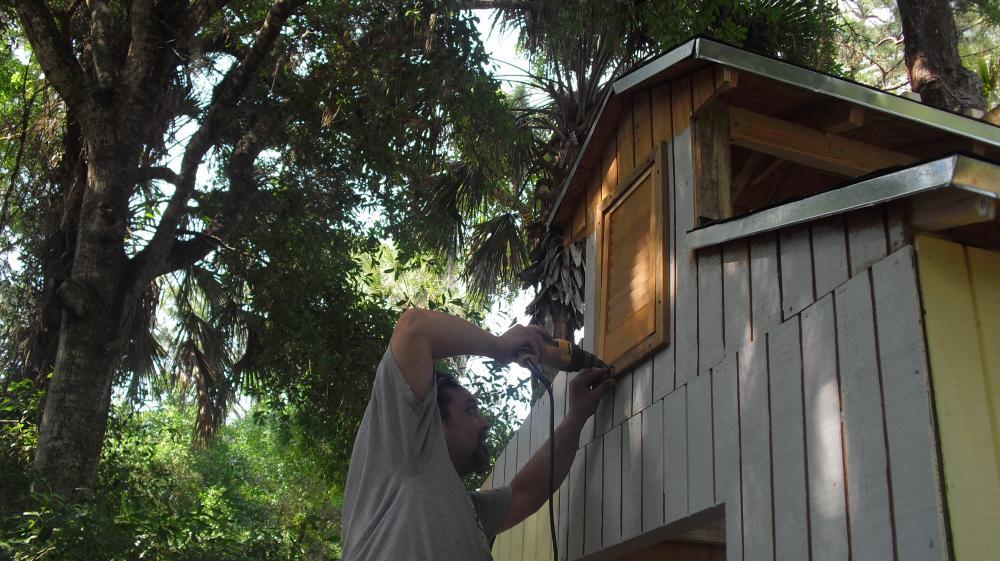 Here is the other part of the bifold..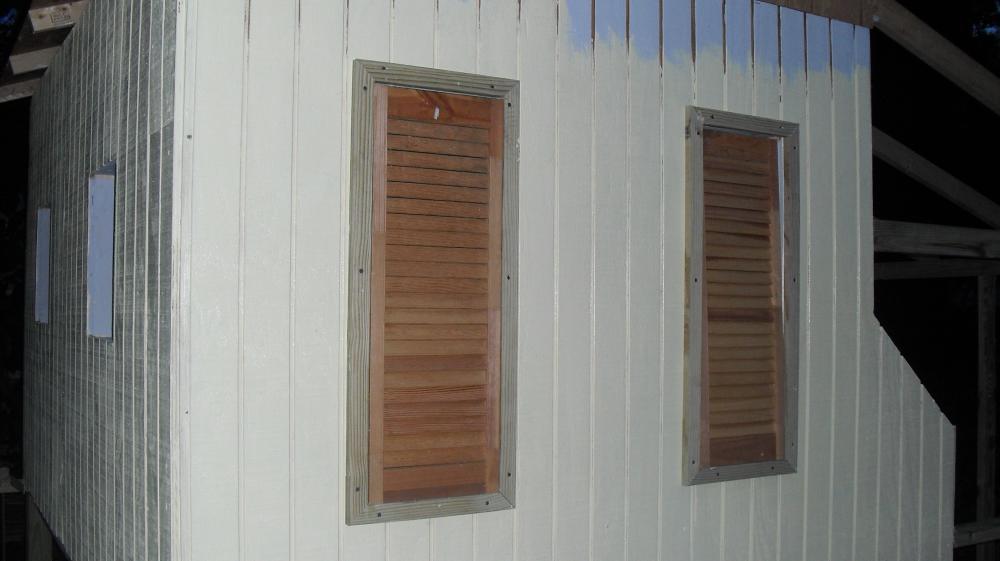 We also managed to frame out the opening for the door we found. It was a standard size door so i had to cut it down. so to make up for the bottom so it wouldnt fall apart I screwed a scrap piece of siding and used it as a kick plate, but its really holding the sides together so it doesnt fall apart..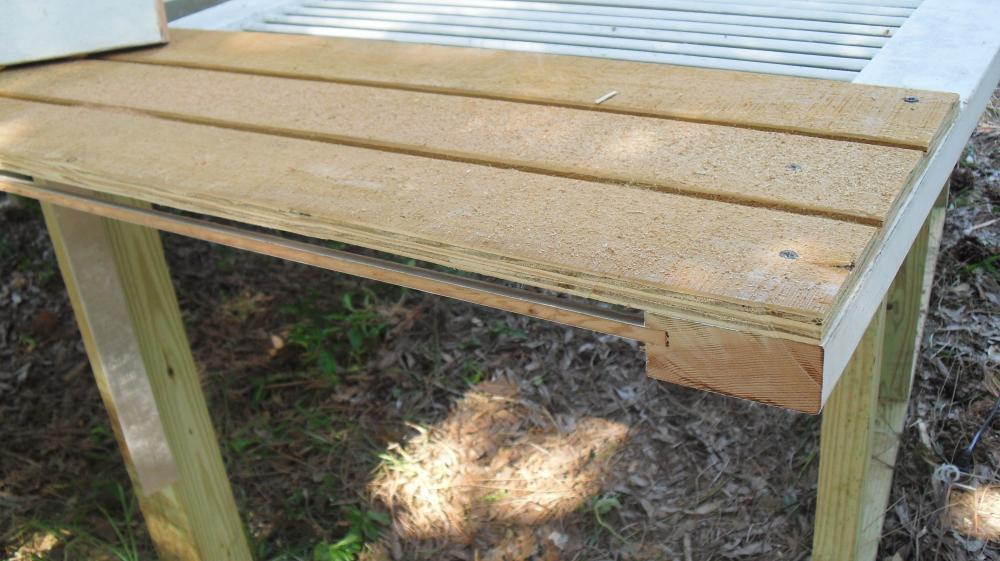 We also sided the nest boxes and my daughter helped paint..everyone chipped in today..very rare.....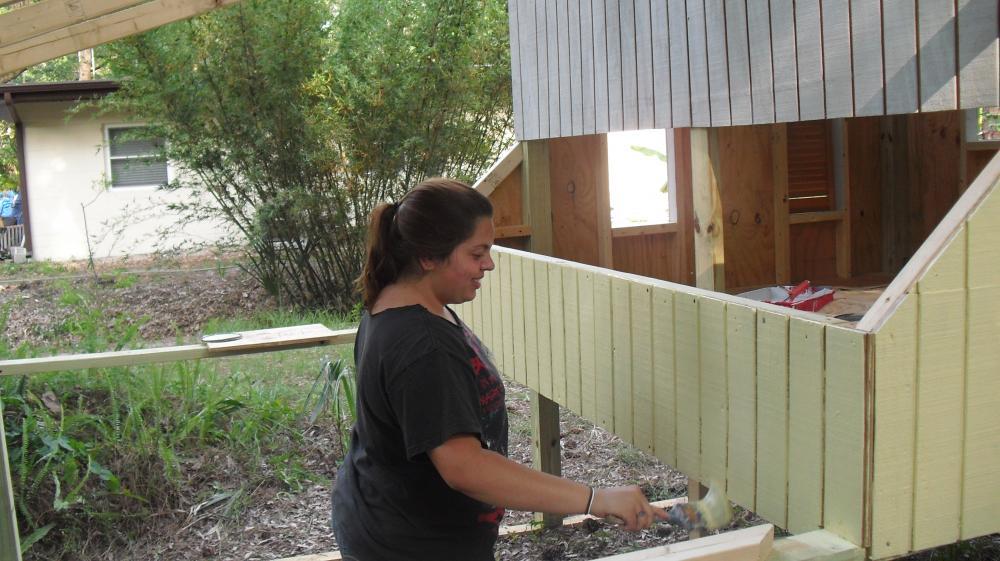 Well after all the hard work, we were rewarded by our feathered babies. We hand fed them for the first time and they were so loveable. Here is Traci holding Charlie (stubs). He seems to be enjoying the hugs........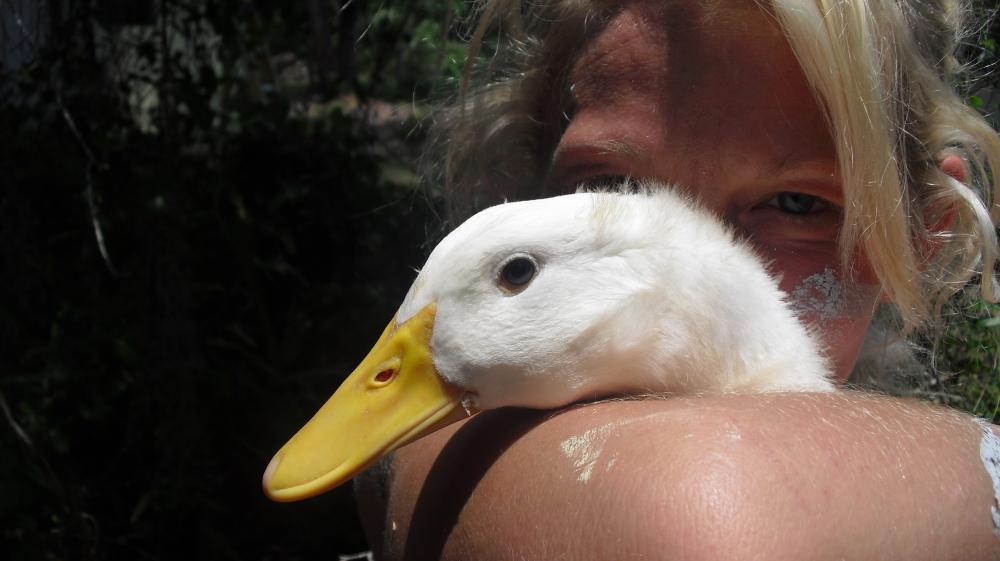 Now we will look forward to putting up the chicken wire. Finish the bamboo roof and painting our key west theme. Whew!!!!!!! We cant wait. arrrgghhhh. Ducks are very curious and have been hanging out by the coop. Watching us while we work. So cute.
Now Dont you think our Charlie would qualify for picture of the week?? He is just so damn adorable. I think he knows it. Takes advantage of us with that handicap of his. He always gets the most treats for being so brave. Watch he will get fat.! Hey, is that possible? an overweight duck???????
May 21, 2011
The coop is almost finished... We have the chicken wire to attach and some painting left.. The trim work was a bit tediuos. But it makes the coop look a lot better..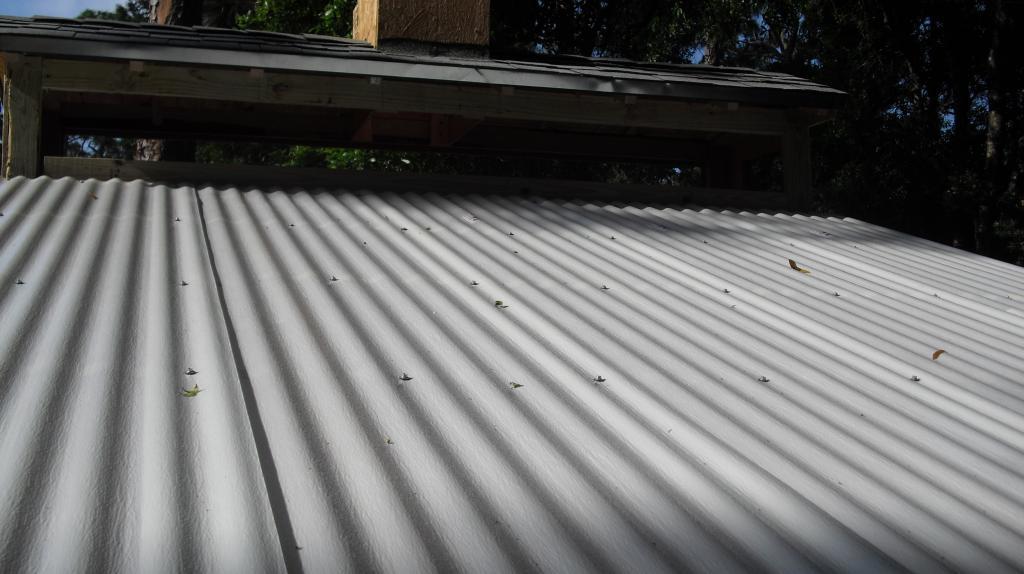 we were trying to come up with the best idea for this part of the roof( this one is the one that we want to have it in bamaoo) So I decided to put up these corrigated panels as the underlinement for the bamboo. Than we would glue the bamboo over these panels with liquid nails. To creat the bamboo roof effect...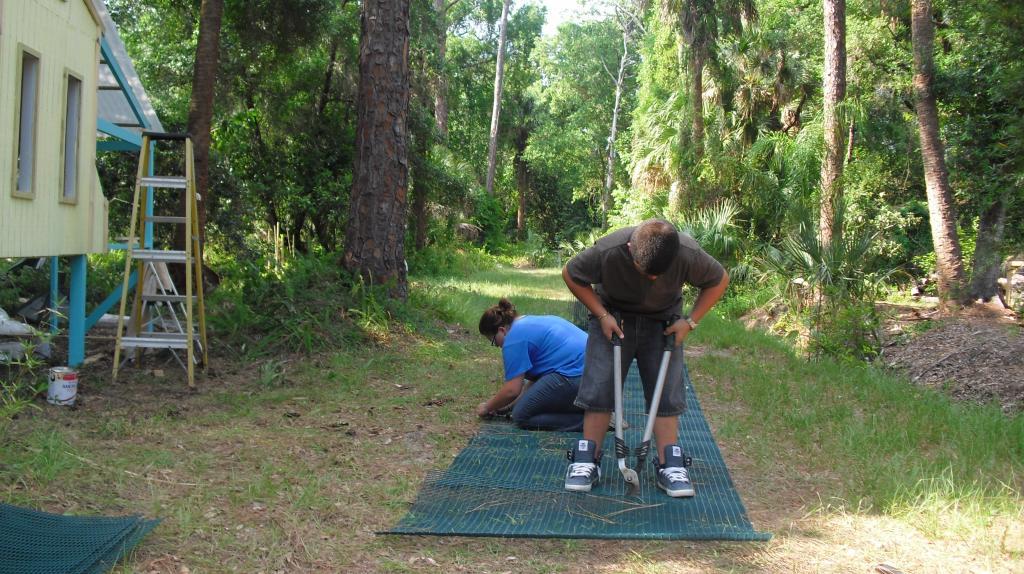 This was our other big score! A co worker has sugar gliders and he had purchased this PVC coated wire to build himself a cage for his SG's. Only to find out later on that the SG were chewing on the PVC coating and it made them sick. So he could no longer use the rest of the role he had left (@50 feet x 4 feet) So he let us have it for free. These are my kids measuring and cutting the fence in sections.. free labor~!!!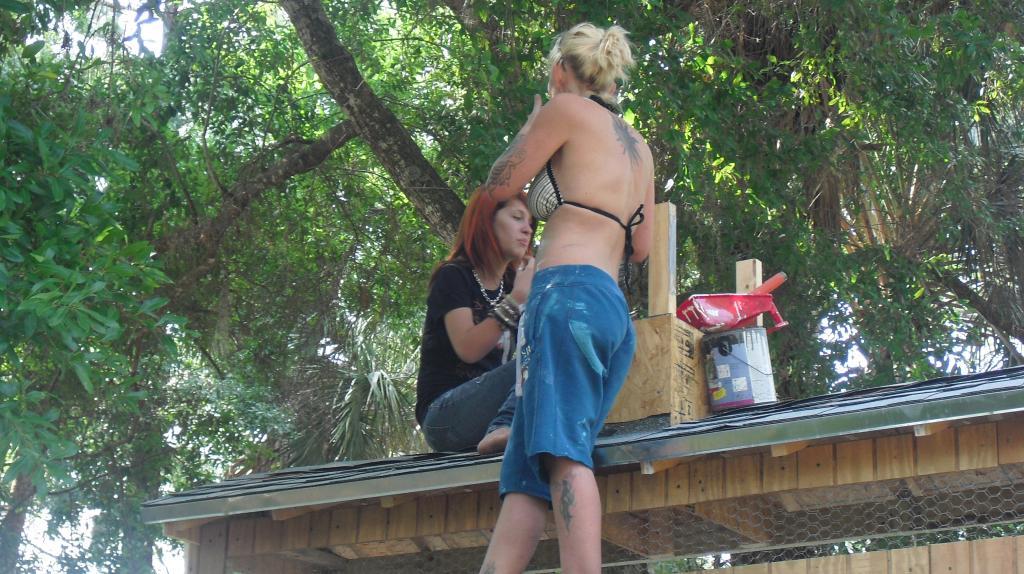 Traci and her daughter Hailee getting prepared to paint the Bell Tower.

we are so happy the way its coming together.. And we managed to get all the kids involed!!!!


opposite view...


afternoon break!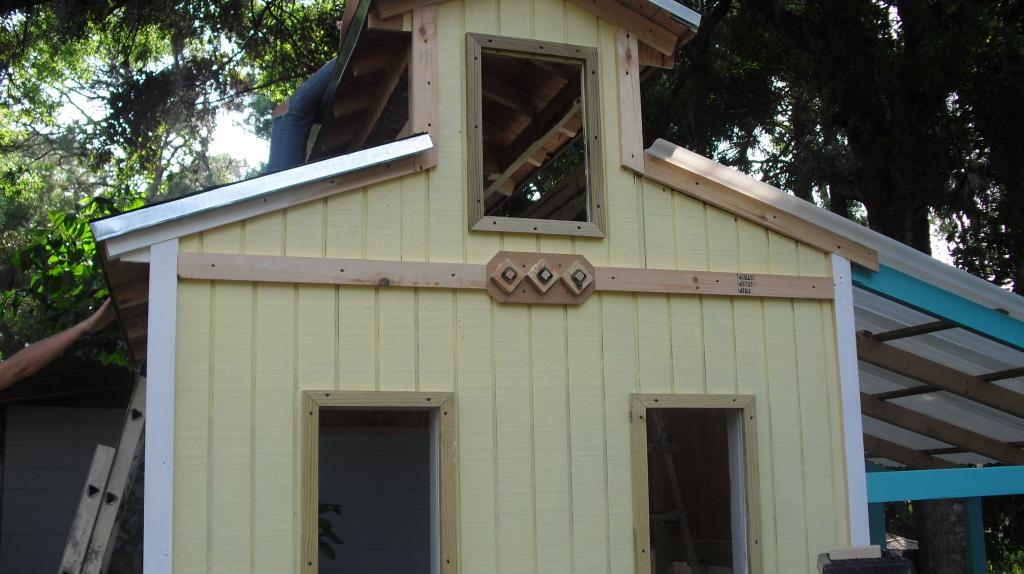 some of the trim work....
May 26th.
We are really busting a move to get this coop ready for move in on Saturday. We have the main doors to put up and work to do on the floor. That is all scheduled for tomorrow. The girls painted the inside today, gave themselves a nice base so they can paint some awesome artwork on the inside for our chicks and ducks viewing pleasure. Domenic and Michele will be putting the last of the wire up in the cuppola. Today we wanted to make our own feeder and Mike came up with a great design so Dom and Mike built it. Turned out awesome! Trying to decide if we should run feed and water inside coop or outside in the run. Any suggestions? Traci seems to think we should keep the feeding and watering outside of the coop. She feels that the coop is for roosting protection at night and laying. Any comments on this??

My sons design..He is sealing up the seams.. tomorrow it will be painted! It holds 100 lbs. of feed.
We made this feeder at of scraps of wood that where laying around..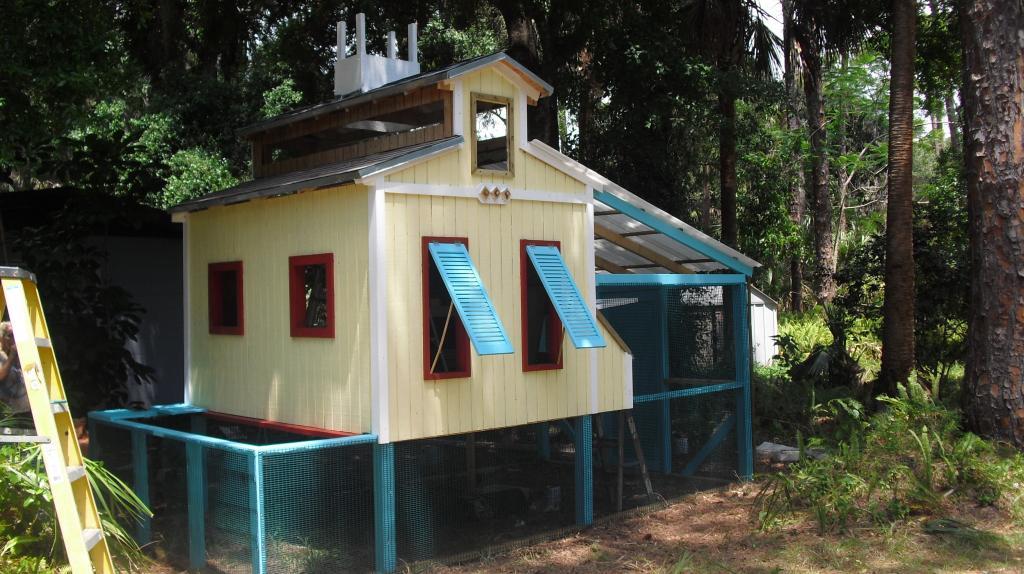 we are getting closer to the key west look that Traci was looking for.. So i also decided to add some bamboo to the edges of the structure...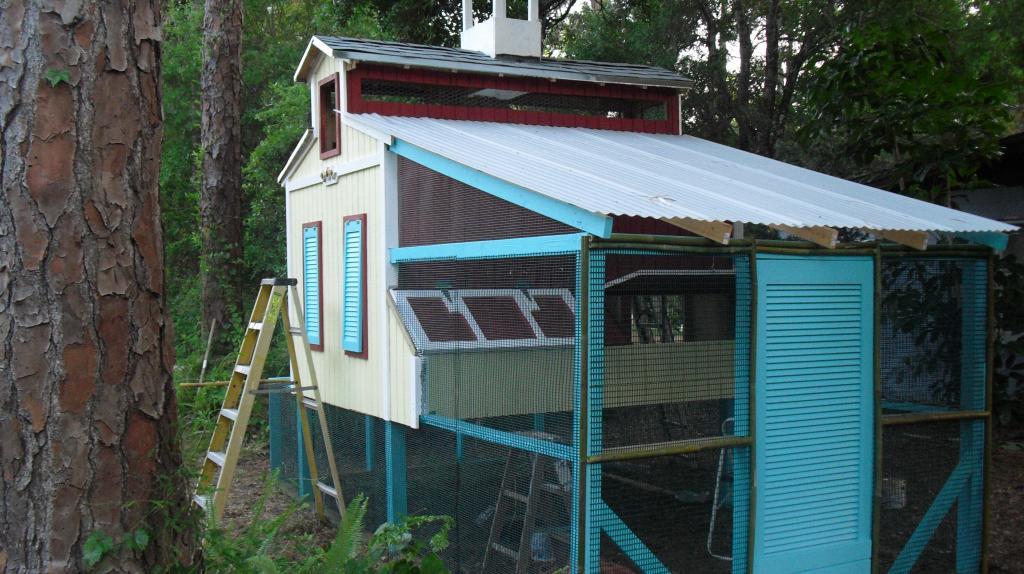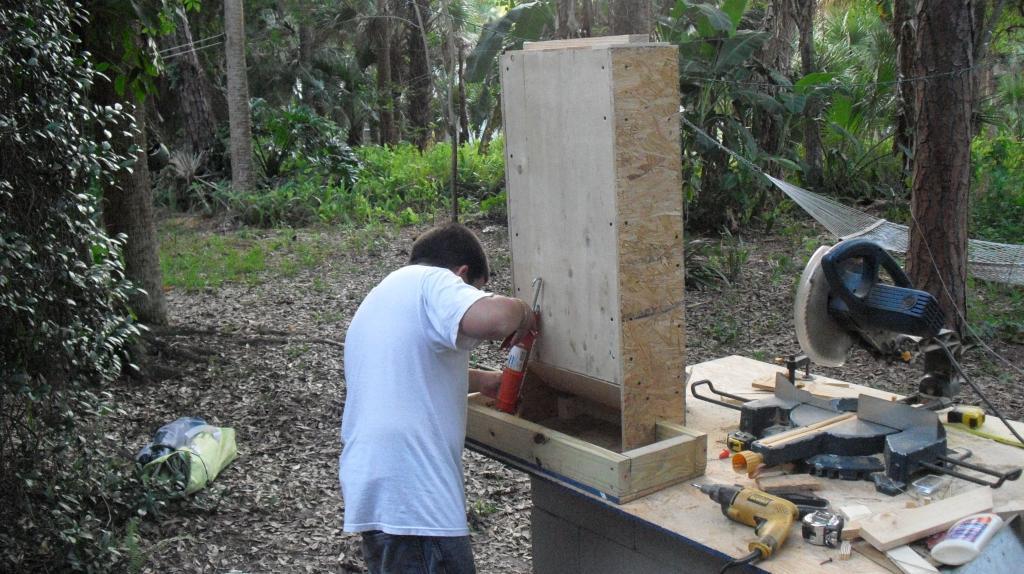 It will hold 100lbs. of feed!!
June 4 2011


The overall coop is 16ftx8ft. We are so close to saying finished! The ducks have been sleeping in the coop now for 2 days.
this is the ramp Domenic and Mike made. Awesome huh? We tried our best to use materials from the property. Utilized all we could. The entire thing is bamboo.

This is the view from underneath the coop. Oscar and Betty looking on.



Inside of the coop. Angelinas' lovely tree.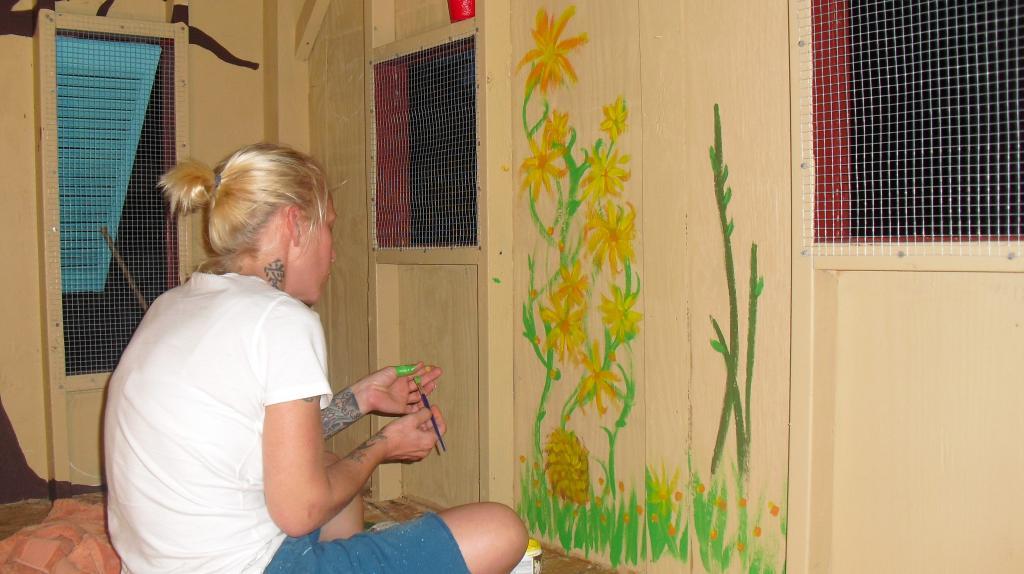 Traci's flowers.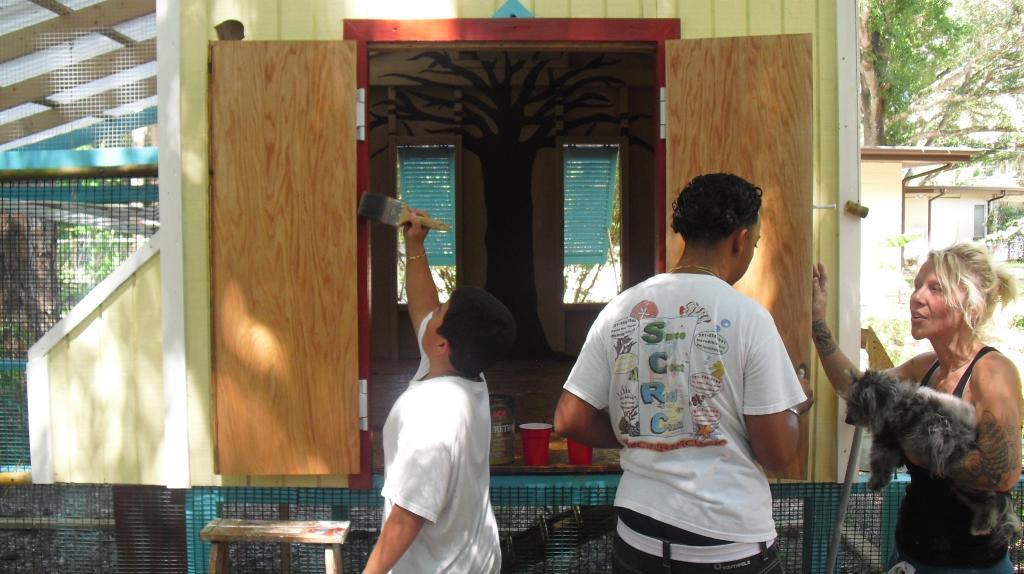 The boys busy staining the doors.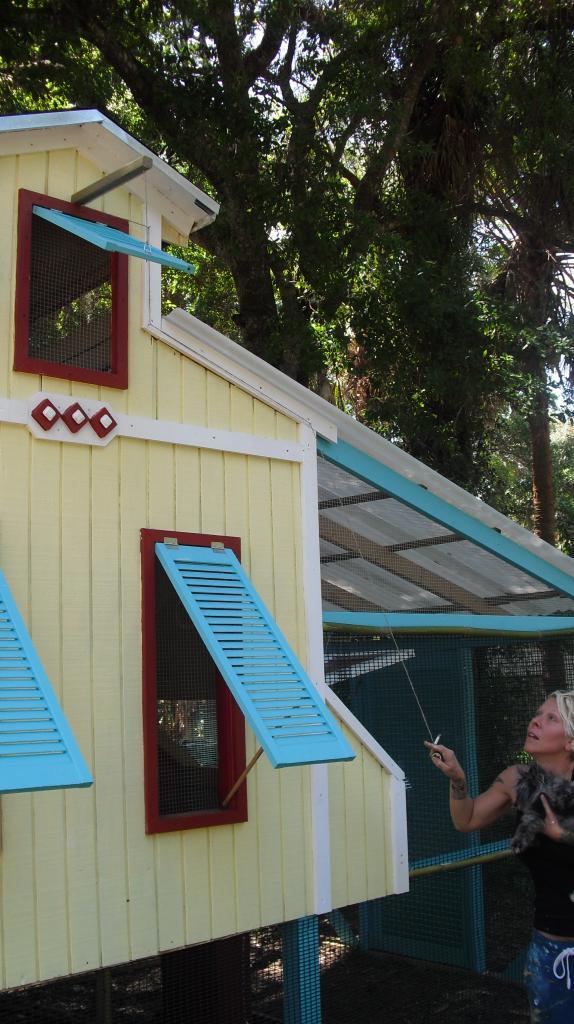 Trying out the pulls for the shudders.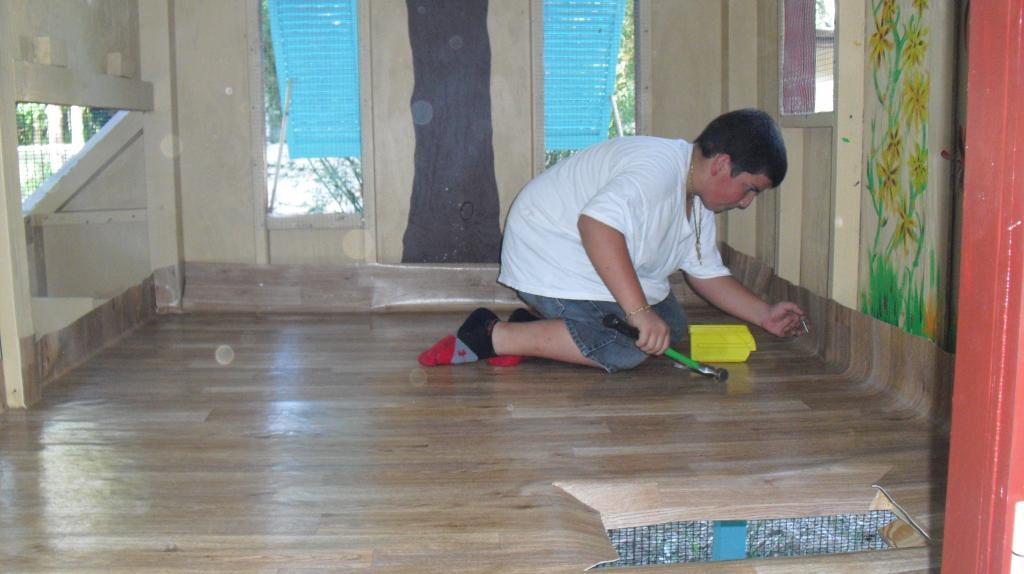 Finally putting the linoleum down. Mike hard at work.

We have decided to leave the edges uncut. Thought it would be easier cleaning.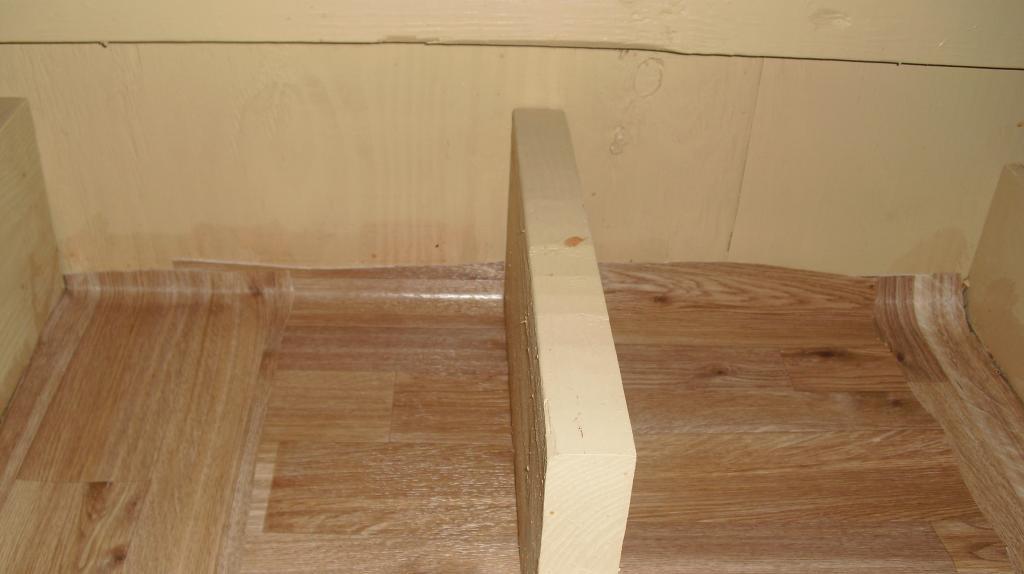 had remnants left over from the floor so we put them down inside the nesting boxes. Hope it helps.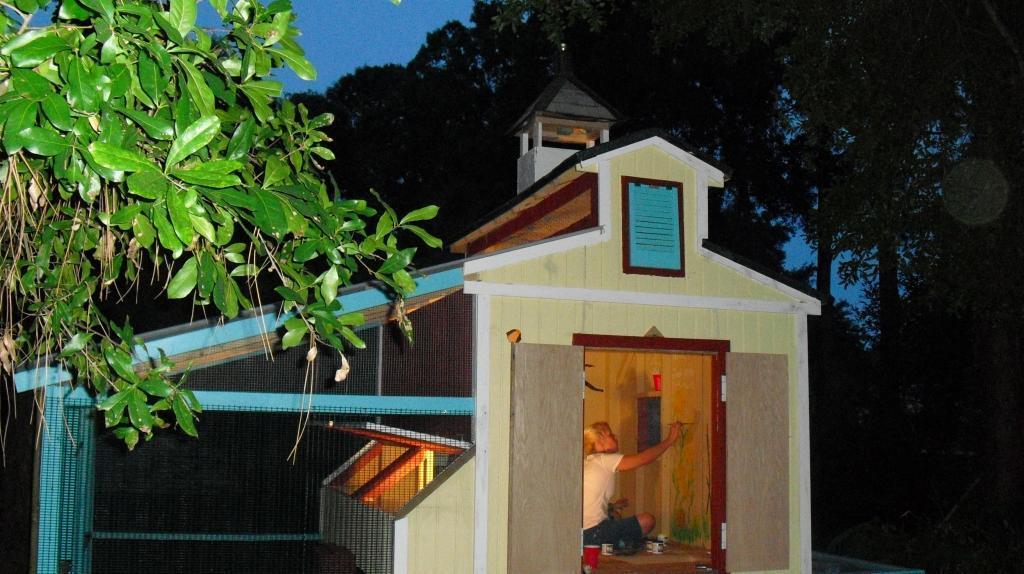 We love the shots at dusk and night time. To bad the ducks dont require any light cause it sure looks awesome when they are on.