July 31, 2011
Where is our beloved brown chinese goose named "Papa??????"
​
Well, it has been quite a year with our two beloved Chinese geese, Papa and Mama. Since May 7, 2010, our lives have been consumed by saving, caring, and watching over these two beautiful creatures...here's just the latest chapter of many that lie before it:
Our beloved was finally ready to be released from the veterinary clinic after enduring many surgeries to save his battered right foot, which had been mangled by a gator attack on April 2, 2011. Papa endured many surgeries including debridement of dead tissue, amputation of his middle toe, partial amputation of his outer toes, and several episodes of skin grafting:brown Chinese goose we named "Papa"
Immediately after gator attack: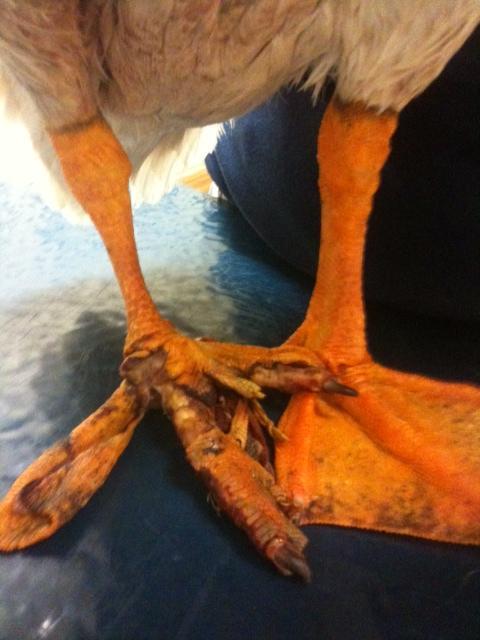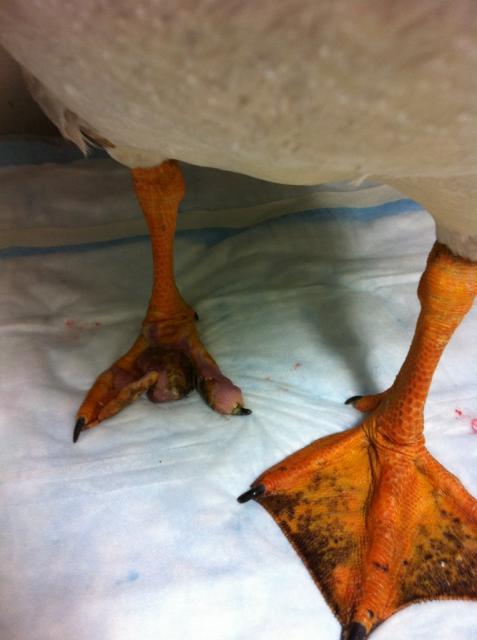 After several surgeries and 3 months later...
​
This was just the latest chapter in this sweet little goose's amazing life since entering our lives at our community pond over five years ago. He was just hospitalizaed last summer for three months after I rescued him from the golf course with a severely broken leg. In fact, it weaves such an amazing tale that I am in the process of writing his story. I'm not sure how far it will go...if a publisher will pick it up, maybe a television human interest story, but it is in fact a story that needs to be told. Anyway, back to the latest adventure...
We found a woman who was willing to take Papa into her home and care for him. She lived in a beautiful home that sat on the edge of John's Lake in Florida. She also had a shelter that she could bring him into at night for protection from predators. We were a bit concerned about the lake availability, known for its gators and vicious otters, but we were since he was rapidly becoming severely depressed. So, a couple of weeks ago, we brought him to his new foster home. For a week she kept him in his protective environment and then decided to try him down by the lake. He immediately took to his new surroundings frolicking in the lake and making a fast friendship with the resident duck. They became glued to each other...it was love at first site.desperate to get him out of the cage at the vet and into some sort of free environment,

Papa Goose and his friend "Duck" taking in the view
All went well for the next few days. However, last weekend I received a panicky call that Papa would not come in from the water, and it was getting dark. Gators were swarming. It took four people, but finally they were able to get Papa out unscathed. However; Papa's duck friend wouldn't come in. The next morning, when they led Papa down to the water it was discovered that his beloved duck friend had met his demise by a gator....all that remained on the beach were his feathers. Papa was frantic, honking constantly with his calls to find his little buddy. In fact, he even went as far as picking up each one of the remaining feathers one by one and dropping them neatly into a pile.
​
Papa proudly taking a swim in Johns Lake the day before the gators arrival.
​
It was decided that this location would not be safe for Papa to remain because of the frequency of the gators. Papa is a very vocal little guy and we wonder if all of his honking was attracting the gators? We just didn't know, but regardless, we had to play it safe.
Papa's new foster mom (he has had a few foster mothers...his nurse and I are his true mothers but have no resources where we live to keep them, or we definitely would) consulted with us and we found a woman who was known to a local feed store owner as having 8 acres of property about 45 minutes away consisting of geese, ducks, chickens, llamas, cows, horses and who knows what else!? She did not have a pond, but did have several baby pools scattered throughout so that they would have plenty of water for swimming, dunking, and drinking. Actually, we were happy to hear there was not a pond because of the threat of gators in any body of water in Florida. She told us her property was fenced in and that she put the flocks to bed in a barn overnight for extra protection. She came down and picked Papa Goose up and took him to yet another foster home last Saturday night assuring us that we could come to visit anytime. However; she left without giving us her address, leaving only her cell phone number.
Since then, she has reported to us via phone that Papa is fitting in and adjusting very well. In fact she told us that he immediately took to one of the white female geese and that they are inseparable. That was great news....we couldn't have been any happier.
However; we are now becoming concerned. She asked us to give her a few days to get Papa acclimated before we visited, which we agreed to do. We asked for pictures...she was hesitant. It has now been over a week and we don't even know where he is living...all we know is that he is on an 8-acre piece of property in the area of the town of Tavares, Florida. Calls to her by all three of us over the last couple of days have gone unanswered.
Papa has a very long history with his nurse and I. He lived in the pond in my gated community for over 5 years until I rescued him off of the golf course in May of 2010 with a severely broken leg. After two surgeries and three months later, he returned to our community pond. By the way, our community pond has NEVER had a gator...just wildlife birds and Florida softshell turtle and a few fish here and there. ANIMAL CONTROL ordered him out, thanks to our shallow-minded community master board officers (another long story), and it was where we were forced to relocated him that he was attacked by a gator and returned to the vet hospital for another three months. Every time we relocate him, we explain to the new fosters his history with us and how we would like to have permission to come and visit him occassionally. This woman who took him last Saturday night was made aware of this as well.
So, as of this writing, we do not know where our beloved Papa is living (we only know what we have been told) and we have no idea when or if we will ever see him again. We are holding out and hoping that we will hear from her and this anxiousness will be behind us. We love him so very much, and we hope to be able to see him again very soon.
Will re-post with updates as they become available.
Please keep Papa Goose in your prayers.

Thank you so much!