Yucaipa Chicken Coop
"Regard it as just as desirable to build a chicken house as to build a cathedral." - Frank Lloyd Wright


Yucaipa used to be home to many chicken farms. Most of them are gone
now so I wanted to do my part in restoring chickens to Yucaipa.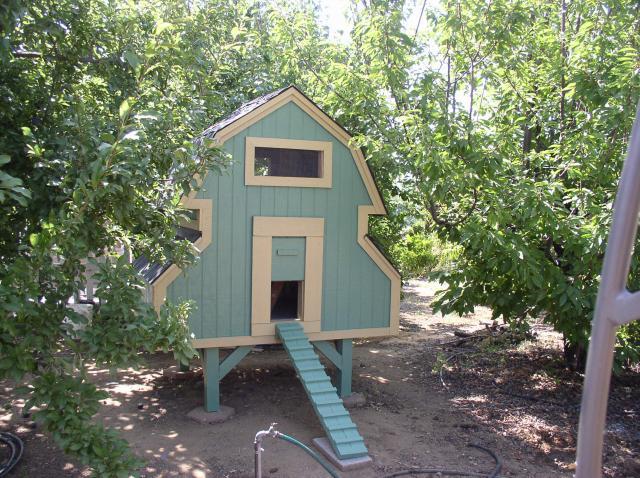 I built this in the shade because we get really hot summers here in Southern California. I built it between a Plum Tree, a Cherry Tree, an Apricot Tree, a Persimmon Tree and a Peach Tree. We have since added another Peach Tree, a Nectarine Tree and an Apple Tree along the side of the Run. Plenty of shade during the summer and plenty of sun during the winter.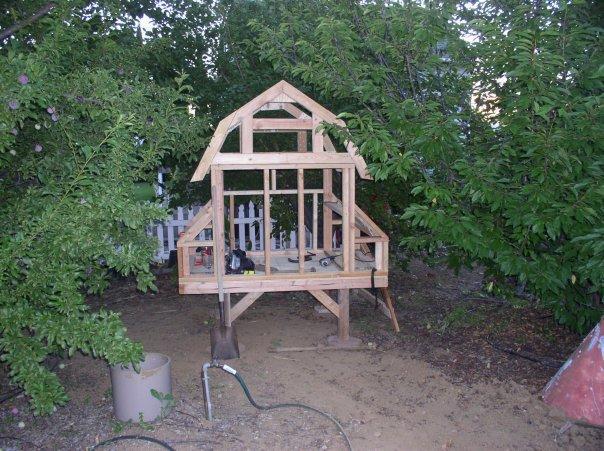 ​

I built this from some scribbles on a piece of paper and a plan in my head. I originally planned to make the roof a simple roof but then decided that a gambrel roof would look more like a barn. I built it 24" off the ground because I thought I could move it around if I ever needed to. But once I was finished I decided that I would NOT be moving it. The floor is 4 ft. x 6 ft. which includes the nesting boxes.

When I completed the run I enclosed the underside on three sides with chicken wire and lattice panels so that the girls could hang out in the shade. I have also hung their food there, out of the weather.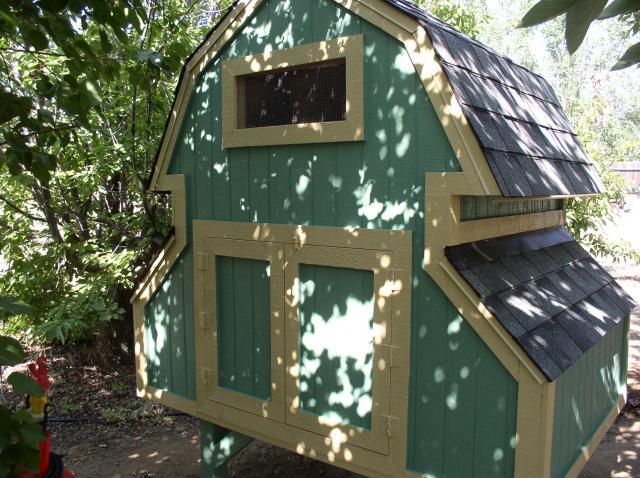 The double doors open to allow for easy cleaning into a wheelbarrow.
The large ventilation windows have hinged windows on the interior that are covered with clear plexiglass to close when the weather changes to cooler temperatures.
A Side View

This side, and the other side, lift up for easy access to the nesting boxes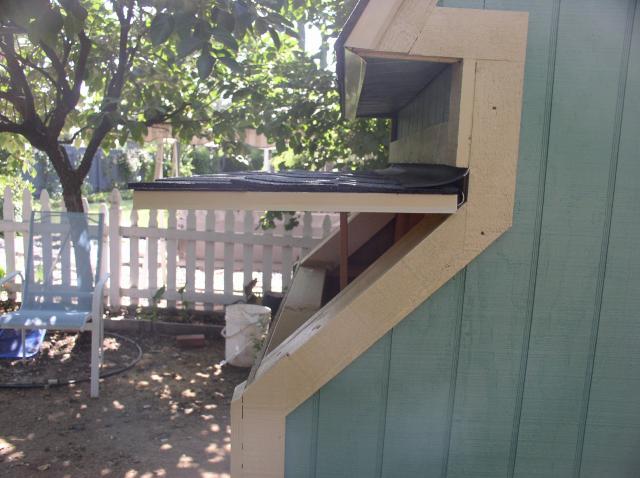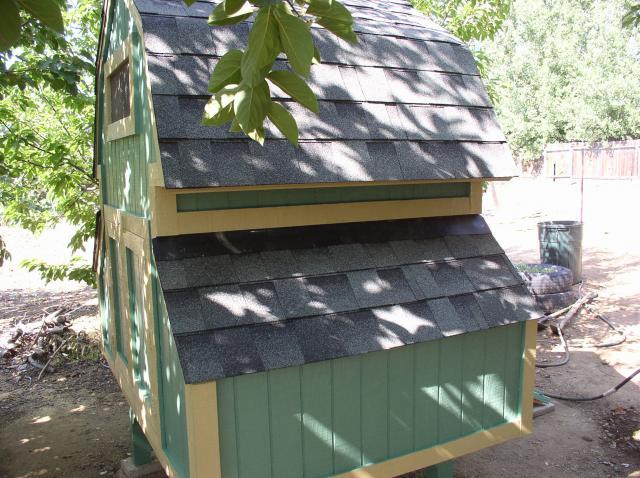 A View of the Inside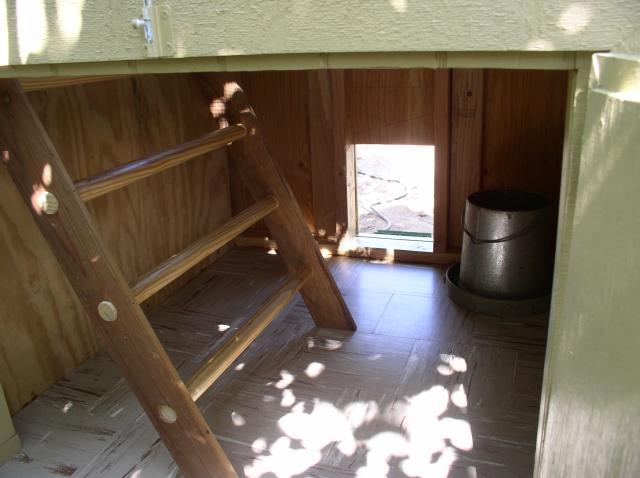 My Dad had some boxes of floor tile out in his barn so I figured it would make a good floor for my girls.
It's now covered with straw for their comfort.
The Run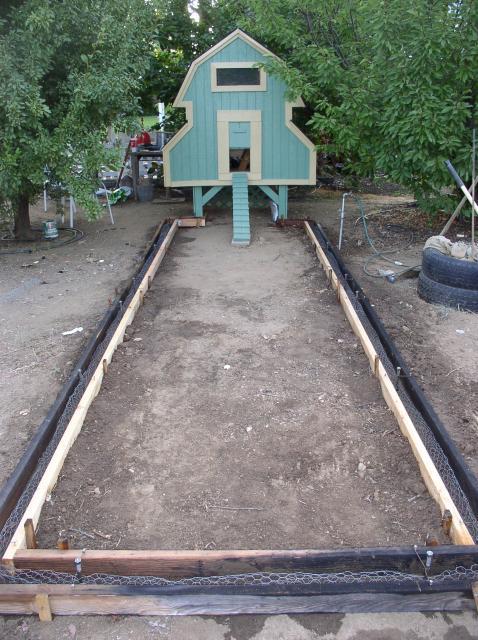 At first I planned to build the run on the bare ground using wood that is treated for termites. But I decided to pour a simple cement base to which I can attach the run.



I cut a couple of 12" wide pieces of chicken wire about 20 feet long and rolled them into a tube. I then put these tubes into the forms to give the cement strength if it cracks. I also added a small coffee can of cement to each bag of concrete ready mix. The bolts sticking up are what I used to hold the bottom plate down.

The Finished Run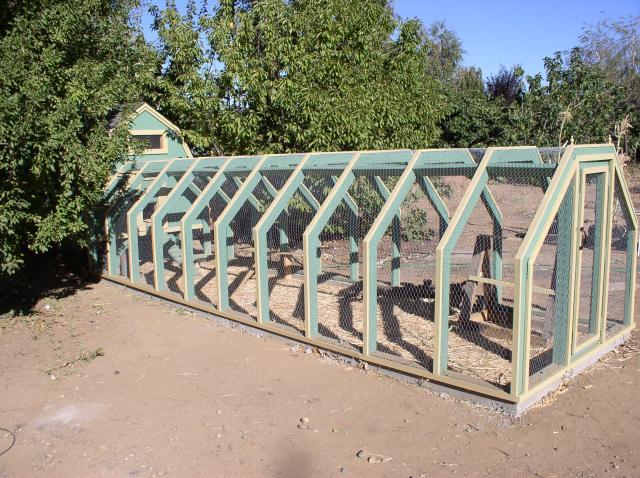 Ok, so I got a little carried away with the run.
Dad gave me a miter saw so I got into cutting angles.
I wanted to kind of follow the shape of the Coop's roof and make it look unique.



I figure I can cover and enclose some of this if I ever need to enlarge the coop for more girls, but I don't think I will ever have more than 10 or 12 at once. My family can only eat so many eggs.

The Side Door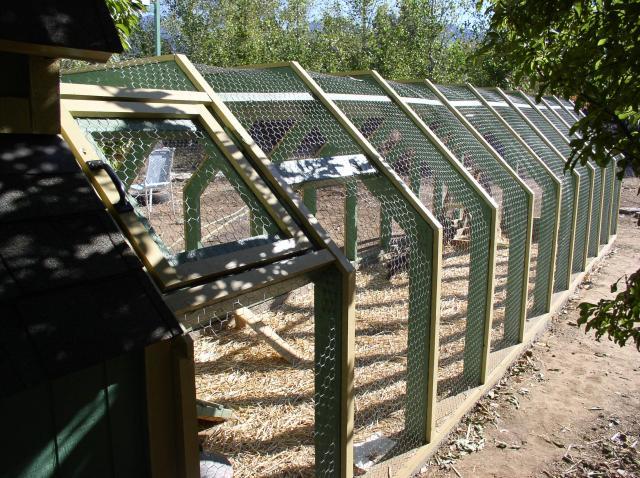 Notice the little door above. I added this so that I could drop in daily kitchen scraps without having to walk to the door at the far end.

This has truly been a fun experience, building while the girls grew from eggs in our incubator to needing to get outside. That is what kept me motivated to get it done.

My Dad taught me everything I know about building things. He gave me all his tools and encouraged me to build. About two weeks before he died I showed him pictures of my coop. He said "...that is the Best looking Chicken Coop I have ever seen." That is all I needed to hear.

A Tribute to My Dad
Kenneth David Ervin
November 27, 1932 - October 3, 2009
​