I've always wanted to learn how to quilt. A few years ago, I decided I was going to finally learn, so I found a quilt block pattern online and began hand piecing the quilt blocks. I think I completed 10 or so of them by hand. At that point in time I was afraid of sewing machines (I tried to learn how to use my mom's, but I always seemed to mess up or break something, so I gave up). Eventually I got the opportunity to buy a nice old Singer sewing machine and I finally learned how to use a sewing machine! It was amazing how fast those blocks went together with a machine! This is my machine - it was built in 1938!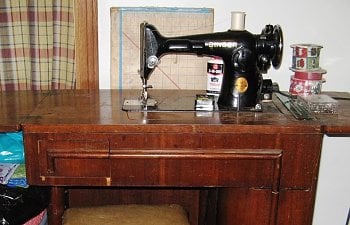 ​
I got my blocks all done and put my very first quilt top together. I used the Double Friendship Star pattern for the blocks and the rest I just made up. It still needs one more border around it before I can get it all ready to quilt it. This one is one I intend to keep. When it is done, I hope to put it on our bed. One of these days I hope to finish it. It keeps getting put off while I work on other projects.
This one is my first completed quilt ever. I made it for a friend's baby girl. The pattern I based it off of was Rail Fence, but I altered it a little and made the blocks larger. I know it wasn't perfect, but I was pretty excited about it, anyway! It is completely hand quilted. I enjoy hand quilting and it means a lot to me to do it that way. It took me 2 weeks total (around working fulltime and other respnsibilities) to complete it from cutting the fabric, piecing, quilting, binding it, and finally sewing on the tag.

Here's a close-up of some of the hand quilting. You can also see that I really wasn't sure how to do the quilt binding. I have since learned how to do this properly!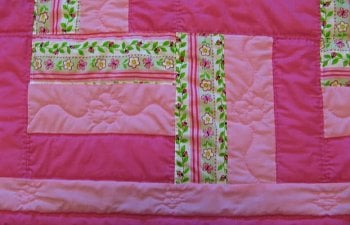 Next I made a quilt for my best friend's baby girl. She lives in Seattle, so she told me about how they were going to decorate her room and I did my best to choose fabric that would coordinate. This one is also using the Rail Fence pattern (but it's the size the pattern called for, that's why it looks different than the other one). This one also took me about 2 weeks to complete (extra note... these first two quilts were done during the winter and early spring months, so I had a little more time to work on them than during the summer).
In October I completed this quilt for my nephew. I used a 9 patch quilt block alternated with a large square of cute farm scene fabric. This quilt took me about a month and a half to complete. Like the others it is hand quilted. I also appliqued his name and some animals on it. The quilting is the most creative I've done so far - it has letter Ls quilted in the large squares and barns and fences quilted around the outside. My sister and her fiance were thrilled and had a lot of fun discovering all the little details.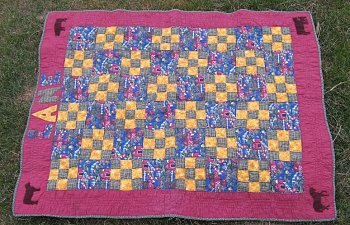 Our Jr. Fair Committee is having a benefit dinner and chinese auction to help raise money to make improvements to some of the buildings on our fairgrounds. Because this cause is very dear to my heart, I made a wall hanging for them to include in the chinese auction. I used double friendship star blocks alternated with snowball blocks showcasing animal print fabric. I quilted the shape of our county in the large animal print squares.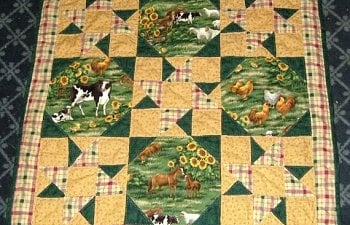 Here's a table runner I recently made, using a variation of Ohio Star blocks. This is a Christmas gift for my aunt.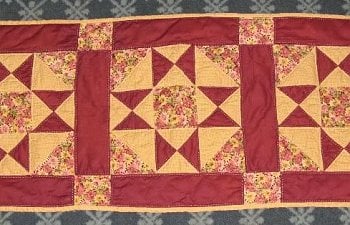 Here are some potholders I made as Christmas gifts: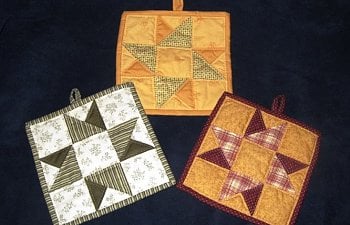 ​