This was a Great Dane dog house that I bought on Craigslist for $150.00 delivered. I reworked it and violla - it is now stricktly for my Rhodies. Here's what it looked like when I bought it.​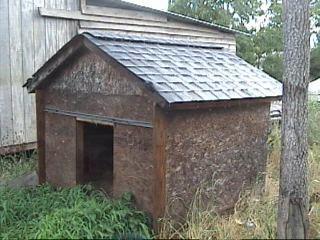 Now here's the finished product!
​
Here' what the progress looked like along the way.
​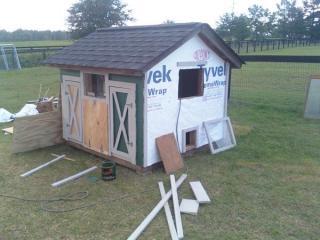 The two X doors are for feed. The door below the window is an egg door so that I can access eggs from the outside. I had designed this to house bantys and standards and added a chicken wire divider in the middle to divide the two pens.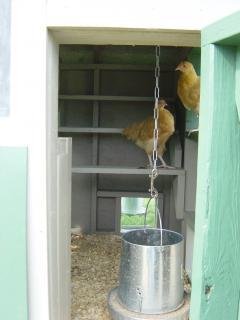 Here are the feeders which I hung just inside the door for easy acess. Egg door opens down and has a lip to prevent bedding from jamming door hing.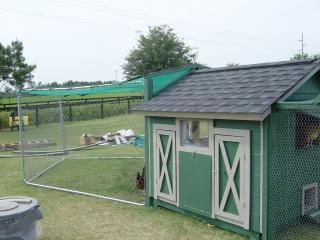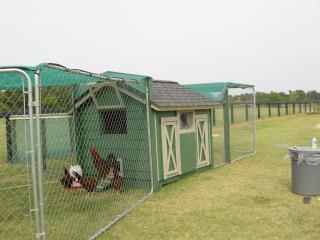 I added another small Pen on the back. I installed shade cloth over the top of all pens.
​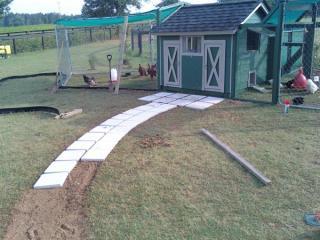 Next came the sidewalk and the landscaping. I edged the sidewalk with varigated border grass, and put in two gardenias on either side of the doors. Tea olives and knock out roses are in the front. The tea olives should eventually hide the pens. They are also very fragrant! The trees are one Pin Oak and a Mimosa tree.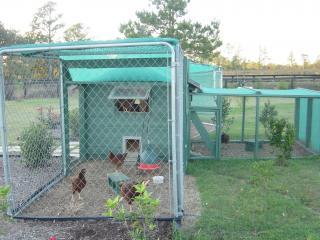 ​