Rachel's Backyard Chickens Journal

Start of my backyard chickens journaling. 9-13-2010
I guess that I am really a country girl at heart, but equally enjoy the convenience of city life. I am an avid gardener and grew up raising and tending to chickens, so this notion of urban backyard chickens seems ideal to me. Gathering vegetables and eggs in my spare time is just the medicine for the soul that I need right now. The garden will benefit from the chickens, the chickens will benefit from the garden and I will benefit from it all. I will enjoy giving veggies and eggs to my neighbors and work friends as well. My children will get to eat fresh veggies that they picked from the garden and fresh eggs that they gathered from the coop.
When I get something on my mind, I usually follow through with it. On August 29, 2010 I got the idea to put a chicken coop in my backyard. I looked all over the internet and did lots of research on the subject. There are so many designs to pick from and do I buy one straight out or do I have one built for me. I drove to Calahans General Store to look at what coops and breeds of chickens that I could pick from. The coops there were very basic...too basic. They had baby chicks, caged hens and free-range hens. So there is yet another debate, get adults chickens and start getting eggs right away or get baby chicks and wait 4-6 months for eggs.
I watched craigslist.com for several days and made a few inquiries about coops for sale, but in the end I decided that building was my better option so that I can get exactly what I want. MobileChickens.com (Burnet, TX) has nice pre-built coops (with delivery), but they are pretty pricey for the size that I wanted.
On Labor Day 9/6/2010, I drove to several feed stores in the area (Cedar Park, Georgetown) to talk to folks about raising chickens and options for coops.The last place that I stopped at was Hill Country Feed & Supply in Leander. When I went in to chat with the workers about coops, one of the workers actually offered to build me one. So right away, we put pen to paper and started drafting a basic design based on some of the elements that I knew that I wanted. Over the next few days via phone calls the plan came together a little more and by Thursday I was at Home Depot making the first purchase of building materials.
Coop Progress: The chicken coop has now been under construction for 20 days.
Friday 9/10: Basic frame built. Total coop dimensions are 8 x 12'. The hen house is 4' x 8'.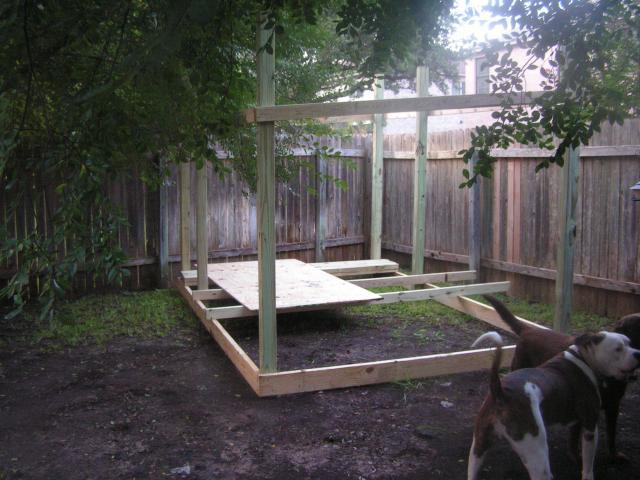 Saturday 9/11: Hen house platform, 2 hen house walls, roof reinforcements and wall reinforcements were built.


Sunday 9/12: Bottom half of fencing put into place and tin roof partially installed.
We had a bunch of bad weather come in...and also random delays with my builder.
Sunday 9/26: Hen house mostly enclosed, fencing complete and doors installed.
My Girls: On Saturday 9/11 I purchased 3 chicks from Hill Country Feed & Supply along with all of the necessary equipment to raise the chicks through 6 weeks. Galvonized 16 gallon tub, heat lamp, waterer, feeder, wood shavings and starter food. I then drove to Georgetown Feed & Supply to purchase the remaining chicks, but they had the same variety of chicks as Hill Country. On my way out I ran into a girl selling jelly, pies and cookies to raise money for neglected horses. She mentioned that her family ran H & H Poultry in Burnet and that her Aunt April bred all kinds of chickens. A few phone calls later and I was on my way out into the middle of no where in Burnet, TX. Literally I was driving through narrow dirt roads and actually had to stop my car to let a cow cross the road. Eventually I found the place. April was very friendly and knew a lot about chickens. I spent some time carefully picking out 5 more baby chicks and in the end was very happy to have made the drive to get the different varieties of chickens.
When I got home I setup the chicks new home for the next 4-6 weeks. I took the temperature to ensure that I had it around 90 degrees. I had read about what all care was necessary for baby chicks already. They seemed to get settled in quickly. I had fun picking them all up and making them go to sleep in my hands. Cute little puff balls. I do need to research how I can keep the water from getting so hot when the heat lamp is always on. For now I am just changing the water out frequently to keep it clean and cool. Several times I cut grass from the back yard and put it into the tub for them to eat. We also went out on a field trip on Sunday morning. I let the little ones (with help from Syndey) run around in the front flower beds and scratch around in the dirt. My daughters got home on Sunday around 7 p.m. and they quickly fell in love with our new pets. We gave them all names:




On Sunday 9/26 I went to Calahans General Store and purchase 4 additional chicks to add to my flock. I got a Welsummer, a Black Australorp, a Specked Sussex and a Spangled Russian Orloff. I felt lucky to get the Speckled Sussex as I had been looking at hatcheries and feed stores and all had said that none would be available until the Spring 2011. Now it is complete at 12 chicks. All different varieties.
The pictures are what they should look like when they are adult hens.
Production Red - Lucy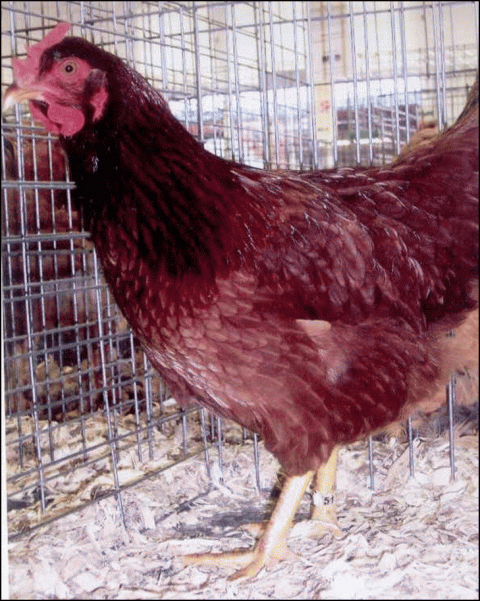 Buff Orpington - Jenny


Barred Rock - Carmen


Silver Laced Wyandotte - Lacey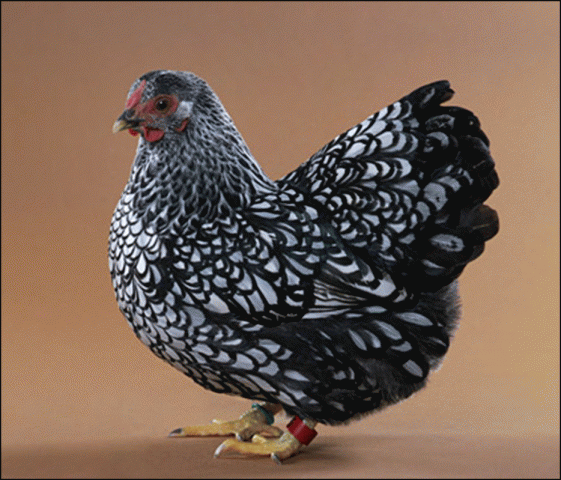 Golden Laced Wyandotte - Goldie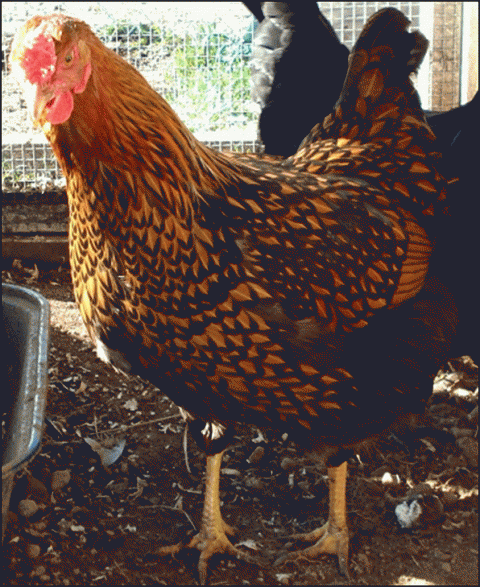 Blue Wyandotte - Ella Blue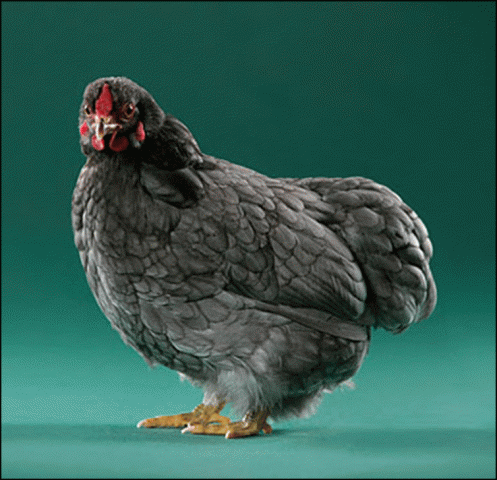 Delaware - Kate


Ameraucana - Jane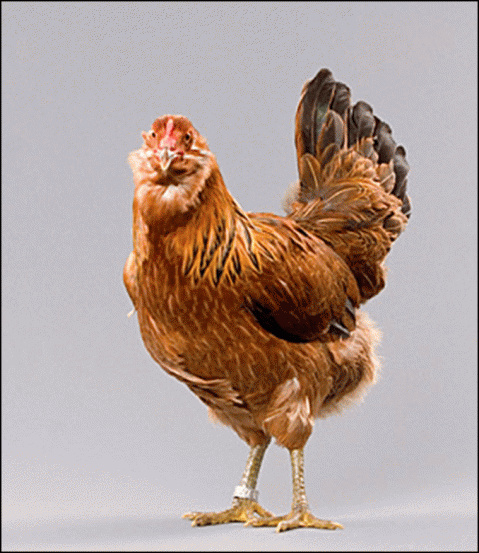 Welsummer - Cocoa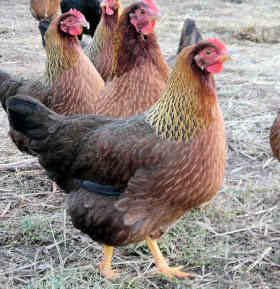 Black Australorp - Mya



Speckled Sussex - Sally



Spangled Russian Orloff - Vitalina