http://www.facebook.com/people/Cris-Weber/1408446977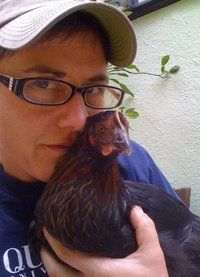 Hi fellow chicken lovers. I am new to BYC Forum, and find it to be a wonderful resource! Welcome to my BYC home.
​
I am an Art Director in a Graphic Design Firm, an artist and urban farmer. I live in a wonderful old neighborhood in Sacramento, CA for the past 20 years.
I have posted some pictures of my little family below...enjoy! The picture to the left is me and my lovely Black Star, Sadie.
​
The pictures in the header from left to right are: Tig Welder the cat, Sadie (Black Star), Wilma (RIR) and the lovely Audrey my rescue Pitty pup.
​
The girls really only sleep in the coop and are free range in my small backyard the remainder of the day. After work each night, I love sitting out on my deck with dog, cat and chickens and appreciating the lovely summer evening. Many times Wilma will fall asleep in my lap and Sadie will be laying on the arm of my chair. They do wonders for my stress level and make me so very happy. Deciding to have pet chickens was one of the best things I've ever done.
​
​
​
​